Alumni Alley runs every week on PhiladelphiaEagles.com and features a former Eagle who writes about his time in Philadelphia and his perspective after his NFL career ended. This week: Vai Sikahema, who played for the Eagles in 1992-93 primarily as a return man. One punt return for a touchdown against the New York Giants in 1992 helped propel Sikahema into his next career: Since 1994, Sikahema has been a sports anchor/sports director in Philadelphia. He celebrates his 20th year at NBC 10 In April.
It is fair to say that a punt return for a touchdown on November 22, 1992 at Giants Stadium, and the actions afterward when I boxed the goal post, created a career in local television. It is amazing to understand that by returning that punt for the Eagles against the Giants and then sprinting to the goal post and doing my "Rocky" impersonation, I defined the next phase in my life.
My career expired in February of 1994 and I went home to Phoenix. I was clearly at the end of my NFL tenure and I wasn't sure what to do next. My agent told me the Rams were interested in bringing me for a workout, but it was February and I was tired and I wanted to possibly explore a career in television.
Steve Doerr the news director at then-WCAU in Philadelphia – they were owned by CBS in those days – told me he was exploring the idea of having me take the job as a weekend sports anchor and report three days a week. When I sat down with the station's management, one of the many things that we discussed was the goal post punching. This is what they said to me: "That was so brilliant as a marketing strategy for you, whether you came up with that on your own or whether somebody prompted you to do it, it was ingenious. You captured the Philadelphia fans' personality and their attention. And you created for yourself a singular moment that will live on for the rest of your life, whether you come to Philadelphia or not. Philadelphia people will remember that moment."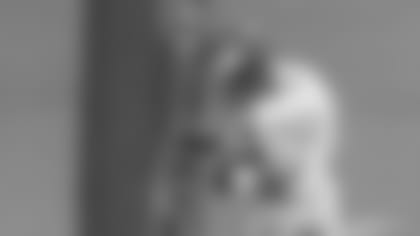 Punching the goal post wasn't done with that purpose in mind, but I'm sitting there in an important moment in my life, in my professional career, and I'm realizing that I have to capitalize on this. So I said to them, "You know what? I am a marketing genius and if you hire me you're going to get more of it!"
So they hired me and I'm still here today.
I didn't have that in mind when I scored the touchdown and punched the goal post. In retrospect, it was perfect because Philadelphia is a fight town, a blue-collar town and they hate the Giants. A confluence of those factors is something I've been able to capitalize on and make a career of in my life.
So why did I punch the goal post? It's an interesting story. The Tuesday before the game, I had taken my family to the Art Museum and NFL Films somehow found out and asked if they could tag along as I ran the steps with my little boys. NFL Films filmed us running up the steps and they filmed it in a weekly segment on "This is the NFL." As we ran up the steps and I was bouncing around at the top with my sons, shadow boxing, hands raised, as everybody does when they run the steps of the Art Museum, I'm thinking, "I'm in Philadelphia and there is such a rich boxing history with men like Benny Briscoe and Joe Frazier and Rocky Balboa" … I thought, "If I score a touchdown I'm going to do something that I've never seen anybody do, and that's go punch the goal posts." Then I just sort of filed it away.
Well, the next weekend I scored a touchdown. The instant I crossed the goal line the feeling from the Tuesday before came rushing back and I did it. I thought about my father, who was back home in Phoenix. He trained me to be a fighter – that was the intention of our immigration to the United States, that I would someday be the heavyweight champion of the world and I had been a Golden Gloves fighter and was a champion as a middleweight when I was 14 – and I dropped the ball upon scoring and went over the worked the goal posts. It wasn't planned, but it all came together at that moment.
It's funny how many iconic moments In this Eagles-Giants rivalry emerged from the punt return play. Three punt returns help define this rivalry, and I think that's rare. I'm so proud to have had the moment and for what it has meant to me in my life. DeSean Jackson's punt return won a game and is one of the greatest plays in history. Brian Westbrook's return changed a season.
For me, it helped define my life. To this day, when I go to a Giants game up there, the same people sit in that corner of the end zone and they recognize me and they say, "Sikahema, stay away from our goal posts." I have a lot of fun with them and they laugh and throw things at me.
That play not only helped me in my next career, but my kids have had the privilege of growing up around the play. It's helped define their lives as well, and for my family. That one play means so much to me to this day.
So, I'm excited about Sunday's game. I love the Eagles-Giants rivalry, one that helped change my life in so many ways.