Though defensive coordinator Bill Davis explicitly stated that none of the starters at safety have been selected, Patrick Chung has spent more time with the first-team defense than anyone else. The second starting safety spot offers less certainty, and Saturday evening's third preseason game against the Jacksonville Jaguars could be the determining factor. If the distribution of reps and rotation order are any indication, Nate Allen has the inside track.
The fourth-year pro is entering the final season of his rookie contract and will play under his fourth defensive coordinator in Davis. Davis spoke before Training Camp began about how the defense would be configured to fit a player with Allen's skill set.
"I want to take some of the responsibility of the internal run game away from (the) secondary (so) they can play a little deeper in the alignment," Davis said. "Their eyes can be more focused on the pass and hopefully that'll make a difference here."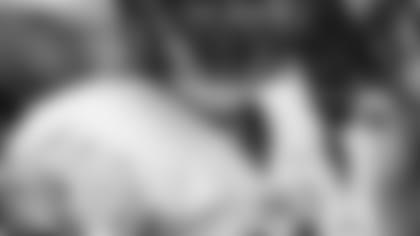 Nearly a month later, as the defense has started to take shape throughout practices and games, Allen echoed his coach's vision and explained how Davis' defense is benefiting the safety group as a whole.
"It puts us in position to make a lot of plays as safeties," Allen said. "We're pass-first guys. … It gives us an opportunity to make plays on the ball in the passing game."
In a secondary that struggled mightily in 2012, Allen is the only holdover starter currently running with the first-team defense. Though strides were made against the Panthers in the second preseason game, he admitted that the group is still learning the scheme and working on understanding one another's tendencies on the field.
"The main thing we're focusing on right now is just learning the defense and jelling as a secondary, as a defensive unit and as a team," Allen said.
Allen referred to himself as a "pass-first" defender, which means he is suited for traditional free safety responsibilities that allow him to focus primarily on playing coverage and patrolling centerfield. That is where he feels most natural and confident. Patrick Chung is more the enforcer, a physical, hard-hitting player who is a tackling machine and makes his presence felt down near the line of scrimmage and in run support. Allen and Chung have complementary styles and can feed off one another. They are building a relationship and achieving a certain comfort level.
"It's still evolving," Allen said of him and Chung's chemistry as a safety tandem."I feel like we're making great strides as an entire secondary, not just me and Pat."
Allen also touched on Chung's experience in New England, the perspective he brings to the defensive backfield, and how he's emerged as a leader.
"Pat, he's seen a lot," Allen said. "He was in New England for a while and he practiced with [Tom] Brady every day. He brings a new perspective back there to the safety position for us, views on things. Even Kenny Phillips, all the guys we have back there bring different views and different perspectives on everything, and that's just beneficial for all of us."
As for what it will take from Allen on Saturday against the Jaguars to solidify his standing as a starting safety for the Eagles when the 2013 regular season opens against Washington on September 9:
"Have a great game," Allen said. "No mental errors, just go out there and make plays."