Since the bye week, quarterback Donovan McNabb has embarked on a disturbing trend.
Against the Falcons, he completed just five of 14 pass attempts to start the game and then went 14-for-20 the rest of the way. In Seattle a week later, McNabb missed on his first nine passes before making his first completion to running back Correll Buckhalter. Against the Giants last week, McNabb started 0-for-6 before hitting receiver Reggie Brown for a completion with 8:15 left in the first half.
That said, the Eagles can ill afford another slow start against the struggling Bengals in Cincinnati come Sunday.
"We hope we can get things going," head coach Andy Reid said Friday. "The last game we scored a touchdown and I thought that was a pretty good start. We have to make sure we keep that going through the next couple of series there."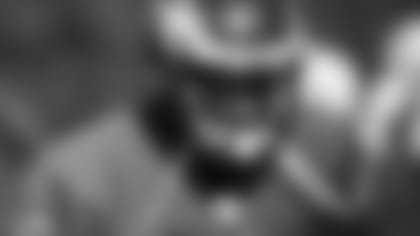 The Bengals could see a heavy dose of RB Brian Westbrook
Receiver DeSean Jackson scored after taking the direct snap and running for nine yards and a touchdown on the Eagles' second offensive play from scrimmage last week, which partially masked McNabb's third straight chilly start.
The Eagles then fumbled a kickoff before going three-and-out on their next two possessions as New York came back to take a 10-7 lead.
Against the Seahawks, the Eagles' offense had four consecutive three-and-outs before sustaining a drive.
While the Eagles may not be able to score on every opening possession, they have to produce more than they have been.
"In this league it's important to push yourself to do that every week, whether it's this week or any week," Reid said. "The teams are way too good in this league. Every possession that you have the football you want to try to get a score on that possession. And that's the mentality you have to have. It doesn't matter.
"I don't care who you are playing or where you are playing, that's the mentality you got to have, and that's what we're doing as coaches and players. Realistically, is that going to happen? Probably not. But that's the way you have to approach it and then if you don't you have to get right back up on it and try to get the next one."
The Bengals went into the Meadowlands in Week 3 and gave the defending Super Bowl champion Giants all they could handle. Cincinnati took a four-point lead in the fourth quarter before falling in overtime, so Reid is aware of just how dangerous another slow start can be.
"I thought they did a nice job defensively (against the Giants)," Reid said. "They have some explosive players on offense. Now, (Bengals quarterback) Carson (Palmer) was playing at that time and he did a nice job against them."
Despite the slow starts, Reid stressed the positive aspects of McNabb's play.
"He's doing so many good things," Reid said. "You're not going to complete every ball. The main thing is we are scoring a lot of points and we've got to continue to do that and score more. That's the mentality that you have to have. He's having one of his better years. Every game is not going to start the way you draw it up. It's important that you keep firing and get it right. I'm proud of him for doing that."