Several key free agent acquisitions - and some notable departures - have changed the competitive landscape of the NFC East. Washington added a 6-foot-6 320-pound behemoth to their defensive front; New York, too, beefed up their defense; and Dallas released the receiver formerly known as No. 81.
And now that the initial free-agent rush has calmed down, we examine what each of the Eagles' divisional foes has done thus far in free agency. For all three, the common theme has been defense. Let's take a look today at the Giants ...
While the Giants did not quite make the splash the Redskins did, New York made some solid additions to a defensive unit that ranked fifth in points and yardage allowed last season.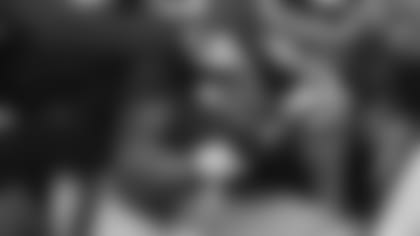 The Eagles are quite familiar with Giants running back Brandon Jacobs
Addressing the defensive line, linebackers and secondary, the defending NFC East champions added defensive end Chris Canty (Cowboys), defensive tackle Rocky Bernard (Seahawks), linebacker Michael Boley (Falcons) and safety C.C. Brown (Texans).
Canty and Bernard add depth to a front four that will also welcome back defensive end Osi Umenyiora in 2009.
The 6-foot-7, 300-pound Canty, a 3-4 end in Dallas' defense, will likely get a chance to showcase his versatility both inside and outside in the Giants' 4-3 scheme. Bernard, meanwhile, is a steady veteran presence at defensive tackle who can pressure the quarterback. Canty collected 10 sacks in four seasons with the Cowboys and Bernard had 29 sacks in 103 career games with Seattle.
Boley, meanwhile, figures to start at the weakside position, and Brown helps offset the release of defensive backs Sammy Knight and Sam Madison.
On offense, New York locked up running back Brandon Jacobs to a four-year deal, but watched his backup, Derrick Ward, sign with Tampa Bay. Ward rushed for 1,025 yards and two touchdowns in 2008 while sharing playing time with Jacobs, who also gained over 1,000 yards.
The Giants have come up in trade rumors involving wide receiver, a position which remains a big question mark for New York. As it stands now, the Giants could open the 2009 season without its two starting receivers from last season. Plaxico Burress, whose return has not yet been ruled out, has a March 31 hearing stemming from gun changes last Nov. 29. Veteran Amani Toomer, the Giants' all-time leading receiver, has not been offered a new contract.