Another year and another impressive crop of young pass catchers entering the NFL. This draft class is full of players who cover a variety of skill sets, all of which will be put on display in Indianapolis. Here are some names you need to keep a close eye on.
These are the players who analysts expect to see perform best in the athletic testing portion of the workout.
Calvin Austin, Memphis – A big-play machine in a small package, Austin (5-foot-7, 173 pounds) was one of the top players in Mobile at the Senior Bowl, creating consistent separation and rarely letting the ball hit the ground. He has a chance to build even more momentum in Indianapolis. Austin not only won nine state titles on the track in high school, but he ran track in college for the Tigers, participating in both sprints and relays. His speed will show up at Lucas Oil Stadium.
Chris Olave, Ohio State – Olave is viewed as one of the top route runners in the country but his speed will attract fans as well. A high school track star who reportedly hit 10.8 seconds in the 100-meter dash, Olave has wheels at 6-foot-1, 188 pounds.
Jahan Dotson, Penn State – Dotson proved to be one of the top receivers in the country this season as the No. 1 threat for the Nittany Lions, catching passes at all three levels of the field as a reliable pass target. Dotson starred on the track in high school and comes from a PSU program that has seen a lot of players tear up the athletic testing portion of the Combine in recent years.
Wan'Dale Robinson, Kentucky – A Nebraska transfer who blew up the SEC in his first year with the Wildcats in 2021 with over 100 receptions, Robinson proved to be more than just a gadget player in that Kentucky offense. Robinson has speed to burn, which showed up downfield on deep throws and with the ball in his hands in the screen game. He should impress in athletic tests.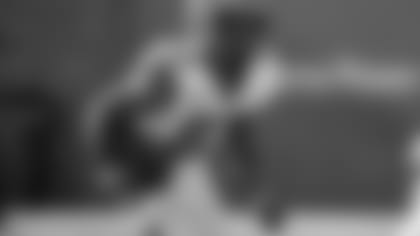 One of my favorite drills to watch over the course of the entire week is the Gauntlet Drill with the receivers. The prospect starts on one sideline and runs across the width of the field, catching footballs coming at him from both his left and his right in rapid-fire fashion before he reaches the other side, where he pulls in his final reception and sprints to the goal line. Some of the things you can notice when watching this drill:
1. How cleanly the receiver catches the ball – look the pass in, secure it, and toss it aside while looking for the next throw.
2. Balance and body control while staying at near-top speed.
3. Battling through adversity – if they have a drop or a bad rep, do they have a short memory and finish the drill strong?
Here are the players who have a chance to shine in these drills.
Treylon Burks, Arkansas – A big, strong, physical wideout who was used in a wide variety of ways for the Razorbacks, Burks was a big-play threat in college with gigantic mitts that he used to pluck the football on the move consistently. He should look good in the Gauntlet Drill.
Garrett Wilson, Ohio State – A former big-time recruit out of high school, Wilson is a different kind of player than Burks in that he's known more for his separation. You may see shades of Stefon Diggs with the way he is able to snap routes off, and he's no slouch at the catch point either.
George Pickens, Georgia – Pickens was a human highlight reel from the time he stepped on campus in Athens and he is known for having one of the most natural pairs of hands in the nation. That doesn't just show up in the SportsCenter Top 10 plays, but the analytics will point in his favor as well. According to Pro Football Focus, Pickens' Drop Percentage was just 3.2 percent, one of the best rates in this receiver class. At 6-foot-3, 200 pounds, he came back from a torn ACL this spring to chip in late for the National Champion Bulldogs.
Drake London, USC – London started his career playing in the slot for the Trojans before transitioning outside as a junior this past fall. Standing 6-foot-5, 210 pounds, the former USC basketball player excelled at the catch point, making plays above the rim on a consistent basis in that offense before an ankle injury derailed his season. As of this writing, there has been no report regarding his status for the week's events, but if he can go, he should perform well in this drill.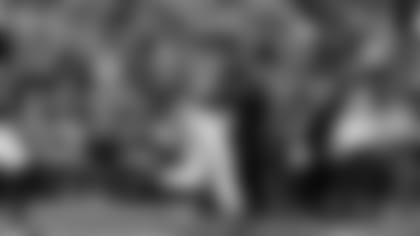 All of these players have great stories to tell, but who has taken the most unique journey to get to this point?
Jameson Williams, Alabama – Williams had just 15 catches in his first two seasons at the college level playing at Ohio State, and with so much star power returning to Columbus in 2021 he opted to transfer to Alabama, where he went nuclear in the SEC. Williams put up 79 receptions in 2021 at nearly 20 yards per catch with 15 touchdowns, earning first-team All-SEC honors in the process. Not bad for his first season on campus.
Alec Pierce, Cincinnati – Standing 6-foot-3, Pierce is a physically intimidating presence at the receiver position, so it stands to reason why the Cincinnati coaching staff tried to move him to the defensive side of the football. That happened, briefly, early in his career, before they realized that his playmaking potential was too good to pass up on with quarterback Desmond Ridder and the offense. Pierce's parents both starred at Northwestern (dad with football, mom with volleyball), while his older brother played basketball at both North Carolina and William & Mary. He could surprise with how he runs at almost 210 pounds.
Tre Turner, Virginia Tech – An intriguing talent at 6-foot-1, 179 pounds, Turner was used in a variety of ways with the Hokies. The senior lined up at all three receiver positions on offense and not only caught passes downfield, but was also given the ball on jet sweeps and end arounds routinely to try and get him the rock early to let him create. Turns out that athleticism runs in the family as Turner's older brother, PJ Hairston, was a first-round pick by the Charlotte Hornets in the 2014 NBA Draft.
Justyn Ross, Clemson – Ross looked like a future top-15 pick as a sophomore in 2019 catching passes from Trevor Lawrence. At 6-4 and over 200 pounds, the junior got surgery on his spine the following offseason, which caused him to miss all of 2020 and put his football future in doubt. Ross returned for his final season with the Tigers and is now on the precipice of an NFL career.
These are the players with a special tie to the City of Brotherly Love or to the Eagles that you should keep a close eye on.
Christian Watson, North Dakota State – At 6-foot-4, 211 pounds, Watson won the award for the top receiver of the week for the National Team down at the Senior Bowl, but despite his size, he's not just a pure possession receiver. Watson averaged 20.4 yards per catch over his career (including almost 9 yards after the catch per reception) and was an All-American kick returner as a junior. He's got some juice! Watson's father, Tim, spent the 1997 season in Philadelphia as a safety with the Eagles.
Charleston Rambo, Miami – Rambo first caught my eye in the 2019 season when early in the year he took a slant route, split two defenders, and took it to the house. The quarterback throwing him the football? Jalen Hurts. Rambo averaged a career-high 17.3 yards per reception that year pulling in passes from the Eagles' starting quarterback before eventually transferring to Miami before the 2021 season.
Bo Melton, Rutgers – A four-year starter in Piscataway for the Scarlet Knights, Melton flashed at the Senior Bowl with how slippery he was off the line of scrimmage. He posted at least 30 catches over each of the last three seasons, proving to be a reliable pass target in that offense, and he did so while staying close to home. Melton grew up just across the bridge from Philadelphia in Mays Landing, New Jersey, where he was the top receiver recruit in the state coming out of Cedar Creek High School.
John Metchie, Alabama – Metchie made waves opposite DeVonta Smith last season for the Tide as a technician on the outside and followed that up with nearly 100 catches and eight touchdowns as a junior in 2021.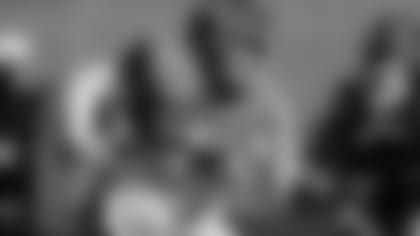 Everyone else who will take part in the events in Indianapolis (in alphabetical order):
Kevin Austin (Notre Dame), David Bell (Purdue), Slade Bolden (Alabama), Dai'Jean Dixon (Nicholls State), Romeo Doubs (Nevada), Dontario Drummond (Ole Miss), Erik Ezukanma (Texas Tech), Ty Fryfogle (Indiana), Danny Gray (SMU), Johnny Johnson (Oregon), Josh Johnson (Tulsa), Velus Jones (Tennessee), Skyy Moore (Western Michigan), Jalen Nailor (Michigan State), Kyle Philips (UCLA), Makai Polk (Mississippi State), Reggie Roberson (SMU), Braylon Sanders (Ole Miss), Khalil Shakir (Boise State), Tyquan Thornton (Baylor), Jalen Tolbert (South Alabama), Isaiah Weston (Northern Iowa), Devon Williams (Oregon), Jameson Williams (Alabama), Mike Woods (Oklahoma)
We get to read all about the measurements for all these players over the next few weeks, but wouldn't it be nice to have some context? What is considered a "good" 40-yard dash time? What about arm length? The broad jump? Here's what the average player drafted at each position has looked like over the last decade (based on my own personal research).
Unofficial 40-Time (Stopwatch): 4.46 seconds
Official 40-Time (Laser): 4.49 seconds
10-Yard Split: 1.55 seconds
3-Cone Drill: 6.95 seconds
Short Shuttle: 4.23 seconds