Correll Buckhalter's been on two 2-3 teams in his career before this season. And if there's any Eagle who knows how to stomp adversity, it's him.
That's why Buckhalter isn't panicking just yet.
"It's about being consistent," Buckhalter said. "It's about going out there, having fun and doing your job."
The problem is that the previous 2-3 teams in the Andy Reid era had drastically different results – the 2003 Eagles wound up in the NFC Championship game, while the 2007 edition didn't even make the playoffs. Differences are to be expected, especially with the shakeup of the roster over a four-year period.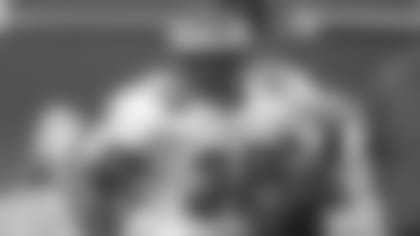 The play that saved the 2003 season
But this team, Buckhalter said, can still get over the hump. It just needs a little push. And if history can dictate potential trends, the Eagles might need a specific play or a defining drive to fuel the journey.
"At this point, we do need a spark – no matter who gives us the spark," Buckhalter said. "But at the same time, in '03, we kind of had that swagger about ourselves. When we stepped on the field, nobody could beat us. That's the same approach we have to take right now if we want to get this thing turned around."
Both the 2003 and 2007 seasons could be defined by almost one single turning point. With 2-4 staring the Eagles in the face in 2003, Brian Westbrook returned a punt – THE punt return – 84 yards to pay dirt late in the fourth quarter against the Giants to give the Eagles a thrilling 14-10 win at the Meadowlands. The win sprung the Eagles to a nine-game winning streak and a third consecutive division title.
Conversely, with a respectable 3-3 on the doorstep last season, the Eagles managed to snatch defeat from the jaws of victory in allowing the Bears to romp 97 yards down the Lincoln Financial Field turf to close out a crushing 19-16 loss, en route to a disappointing 8-8 season.
Both turning points came during the team's sixth game. Will San Francisco have a defining moment?
"I think the one area we can break through this year is on special teams," said strong safety Quintin Mikell, who played almost exclusively on special teams as a rookie in 2003. "This year, I feel like we have all the pieces in place like we did during that 12-4 season. It's more liable to happen this year than last. I don't really count last year – too many things happened that got in our way."
The Eagles have a young playmaker on special teams, like in 2003 – DeSean Jackson. But unlike that year, the NFC East is abnormally strong in 2008. The Eagles are already 0-2 in the division, while they finished 5-1 in 2003.
"We are what we are right now, as far as making mistakes and allowing teams to score too many points. This is a long season. If you want to look at the standings, you just look across the board," free safety Brian Dawkins said. "From my understanding, we have all played the same amount of games and we still all have the same amount of games to play. That being said, we have to keep focus on what we have ahead of us. The past is gone; there is nothing we can do about those games, besides learn from the mistakes."
It all comes down to consistency, Buckhalter said. The bright spots, especially from the last two games, have been few and far between. Over the final 11 games, one big play or nice drive will certainly start things, but it can't carry the team the entire way.
"Man, I think we need a spark each and every game, not just one game," Buckhalter said. "If you get a spark one game, and the next week you have no spark, then you're back to where you started at.
"At this point, on this level, we're grown men. It shouldn't take too much to get you fired up to go play a football game. Would a spark help? Yes. But at the same time we have to have our minds right on Sunday to play some football and come out with a win."