The 2018 NFL Draft kicks off at 8 p.m. from AT&T Stadium in Arlington, Texas. Our coverage begins with Eagles Draft Central presented by Dietz & Watson at 7 p.m. as Eagles Insider Dave Spadaro and I set the table for the weekend's activities. The show will feature an exclusive look at the Eagles' new draft room, one-on-one interviews with two of the top decision-makers in Howie Roseman and Joe Douglas, a Film Room breakdown by Fran Duffy, and NFL Network's Daniel Jeremiah on potential targets for the Eagles on offense.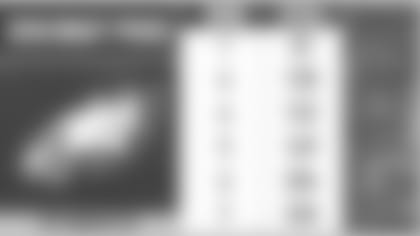 Eagles (Currently) Have Six Draft Picks
The Eagles are scheduled at No. 32 overall to end the first round but don't select again until the fourth round on Saturday. Spadaro outlined the team's options in the first round.
A Look At The Past 10 Picks At No. 32
2017 T Ryan Ramczyk, Saints - Started all 16 games (13 at RT, 3 at LT), played 100 percent of the team's snaps on offense as a rookie.
2016 DE Emmanuel Ogbah, Browns - 9.5 sacks in 26 career games. Missed last six games of 2017 with a broken foot.
2015 DT Malcom Brown, Patriots - 8.5 sacks in 45 career games. Played 50 percent of the snaps on defense in 2017.
2014 QB Teddy Bridgewater, Vikings - Knee injury derailed his career. Signed with Jets in offseason.
2013 DB Matt Elam, Ravens - Released after three seasons and has been in off-field trouble since exiting NFL.
2012 RB David Wilson, Giants - Career lasted just two seasons due to a neck injury.
2011 T Derek Sherrod, Packers - Started just one game over four seasons. Right leg injury impacted development.
2010 CB Patrick Robinson, Saints - Revitalized career in Philadelphia this past season, but prior to that was an oft-injured journeyman. Rejoined the Saints in offseason.
2009 DE Ziggy Hood, Steelers - Played five seasons for Steelers, starting 46 games. Entering his third season with Washington.
2008 DE Phillip Merling, Dolphins - Posted justs 3.5 sacks in four seasons with Dolphins. Was never a full-time starter. Spent two more years in league.
What Could The Eagles Get In A Trade?
Here are recent trades that took place late in the first round of recent drafts.
Atlanta received No. 26 overall
Seattle received No. 31 overall, 2017 third-round pick, and 2017 seventh-round pick
Cleveland received No. 29
Green Bay received 2017 second-round pick and 2017 fourth-round pick
San Francisco received No. 31
Seattle received a 2017 second-round pick (No. 34) and 2017 fourth-round pick
New Orleans received No. 32, 2017 third-round pick
New England received WR Brandin Cooks and 2017 fourth-round pick (*Traded to Philadelphia and used to select WR Mack Hollins)
Denver received No. 26
Seattle received No. 31 and 2016 third-round pick
San Francisco received No. 28
Kansas City received 2016 second-round pick, 2016 fourth-round pick, and 2016 sixth-round pick
Denver received No. 23Detroit received No. 28, 2015 fifth-round pick, and 2016 fifth-round pick
New Orleans received No. 20Arizona received No. 27 overall and 2014 third-round pick
Cleveland received No. 22 overallEagles received No. 26 overall and 2014 third-round pick
Minnesota received No. 32Seattle received 2014 second-round pick (*No. 40 overall) and 2014 fourth-round pick