After Philadelphia's passing attack experienced a setback in 1989, due in large part to five-time Pro Bowl receiver Mike Quick missing most of the season because of knee injuries, head coach Buddy Ryan felt he needed to shore up the team's receiving corps. In the 1990 NFL draft, that's exactly what he tried to do.
The Eagles used three of their first four selections on receivers. Among those was Calvin Williams, a fifth-round pick from Purdue. Williams, however, was not concerned about being the third one picked behind Mike Bellamy in the second round and Fred Barnett in the third.
"I knew from speaking with guys how the numbers game worked," Williams said. "But my thought was I had one of the better workouts of the receivers at the (scouting) combine, so I just felt like if I had an opportunity to prove myself that I'd be able to do that. And I did get an opportunity."
And, yes, he did indeed prove himself.
Williams earned veteran incumbent Cris Carter's starting position opposite Quick during training camp and went on to lead the Eagles with nine touchdown receptions, breaking the team's rookie record set by Bobby Walston in 1951. In the process, he was named to Football News' All-Rookie Team.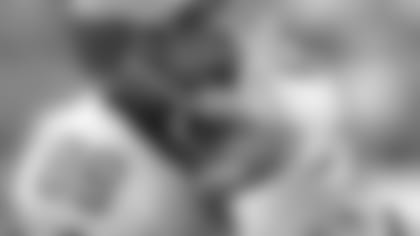 WR Calvin Williams
"It was great. It was an exciting time," said Williams, who racked up 602 receiving yards on 37 receptions. "I never really thought about it. I never even knew what the record for touchdowns by a rookie receiver was. I was just playing and having fun and not concerned about records or anything like that.
"We had an exciting bunch of guys on offense and defense."
The Eagles posted winning records in each of Williams' first three seasons, making the postseason twice, but seemed to be just a step away from making a mark in the league.
"I always felt that even when we didn't go to the playoffs. I always felt we had the make-up or the ability with the weapons we had on offense and defense, but we never just put it together. The ball didn't bounce our way," Williams said. "I thought we had great opportunities to put something together, yet we never did it. We always lost to the eventual champions. It seemed like everybody in the NFC East won a Super Bowl during that range except us."
While Williams led the team in touchdown receptions in 1990 and 1992, he was exceptional in 1993. Again the team leader with a career-high 10 touchdowns, he also set career marks with 60 catches for 725 yards.
During the third game of the year, on Sept. 19 against Washington, the 5-foot-11, 187-pound receiver played as if he was the biggest man on the field.
Trailing 14-3 in the second quarter, Eagles quarterback Randall Cunningham hit Williams on a crossing pattern that turned into an 80-yard touchdown play. Williams struck again with less than 9 minutes left in the fourth quarter and the Redskins ahead 24-17. Hauling in a 9-yard pass, he found the end zone to tie the game. He provided an encore with just 4 seconds left on the clock.
With Washington leading by four points and the Eagles with the ball at the Redskins' 10-yard line, Cunningham zipped a high pass to the back of the end zone which Williams grabbed for the game-winning touchdown. Eight catches for 181 yards and three touchdowns earned Williams the NFC Offensive Player of the Week award.
"Without a doubt, my best game ever," said Williams. "Making the winning catch for a touchdown, that's probably the biggest highlight of my career. And probably my last (full) year with the Eagles (in 1995) when I caught (a career-high 63 passes) is probably second-best.
"(I'm proud of) the fact that I had a chance to play seven years in the NFL. Making it to the NFL — which was always a dream of mine — and then having the ability to play as long and as well as I did, I'm just astonished that I made that accomplishment."
What makes the accomplishment even more impressive is that Williams did so while playing for three different head coaches — Ryan, Rich Kotite and Ray Rhodes — during his seven seasons in Philadelphia.
"To be a successful team, you always want that continuity. But that was difficult with the injuries," Williams recalled. "A couple of years, Randall went down. I think during my Eagles career, I probably played with as many as nine quarterbacks. So it was real up and down. You learned a lot, but you never had that real consistency for a four- or five-year stretch to be a really successful receiver. But when you get lemons, you make lemonade out of them and that's what I tried to do."
Williams is now residing in his hometown of Baltimore with his wife, Charese, and their children: Jonah, Sydney and Rachel. He is the athletic director and a physical education teacher at the Bluford Drew Jemison S.T.E.M. Academy. The school is for sixth to 12th grade male students of Baltimore and, according to its Web site, is designed to educate scholars who will meet or exceed college preparatory school and post-secondary entrance standards.