Bob Picard, Sunday's Honorary Alumni Captain presented by Santander, was a special teams standout for the Philadelphia Eagles from 1973 to 1976 and is also the patriarch of an extraordinary family.
He and his wife, Donna, have five adult children: Gabe, Jared, Georgia, Maria, and Jennifer. Each one is either currently enlisted in the military, previously served in the armed forces, or is married to a veteran. And while they're now all scattered across the country, or at times the world, this is the first Eagles game that most of the family will attend together. Jennifer is unable to be present.
"When we were kids, every time we went to a game, my dad would take me or take my brother. It'd be individual things," says Gabe Ricard. "I remember when we were there, I would see him recognize guys on the field like coaches that he had played with, coaches that had coached when he was playing. And they'd say, 'Why don't you give us a call? We'll get you a locker room pass. We'll take your kids down on the field.'
"And my dad always said, 'Nah, I don't deserve that. I don't want to take that away from someone else.' It wasn't something he took advantage of from like a perks kind of thing."
One of the perks that Picard's children did have while growing up in suburban Philadelphia was bragging rights that their dad was an Eagle.
"The thing is that my dad is a real quiet, humble, demure kind of guy," says Gabe. "So it wasn't like it was a topic of conversation all the time. In fact, I would say that other people and we would bring it up to him 99.9 percent of the time. You wouldn't really hear him talking about it too much unless people asked questions. But it was definitely really something that we used to brag about as kids. It was really cool."
A modest man who came from modest beginnings, Picard was a walk-on wide receiver at Eastern Washington State University and left with 166 receptions for 2,373 yards and 19 touchdowns. A two-time NAIA All-American, he was chosen by the Eagles in the sixth round of the 1973 NFL Draft.
When he did talk with his kids about playing on Philadelphia's special teams, he told them that he had made it his mission to be the hungriest, dirtiest, bloodiest, hardest-hitter of anybody on the team.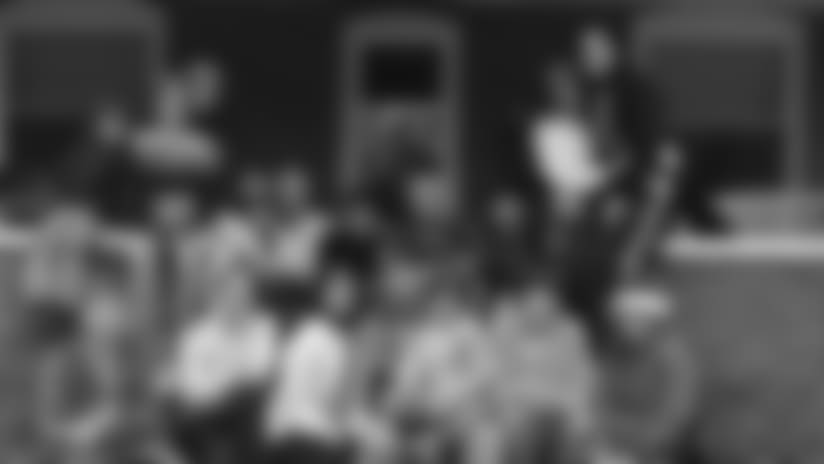 Former Eagles wide receiver and special teamer Bob Picard surrounded by his loving family.
Picard's family kept the fact that he will be the Honorary Alumni Captain a surprise until Saturday. What does Gabe think it will mean to his dad, who now works as a mental health counselor in Norristown.
"I think that it's going to be equally as meaningful to be the Honorary Alumni Captain as it is to be there with his kids," says Gabe, who helped keep the accolade a surprise. "You've got a guy that in the last 30 years, has quietly been aware of his own history as a standout football player at the college and local level and as an NFL football player. I think what this means to him is that there's somebody out there that's recognizing his story. He would never ask for something like this. He would never try to put his name or brand out there.
"When he left football, he went through a phase where he didn't want to tell people that he had been an NFL football player because he wanted to be playing football so bad that the thought of saying, 'I was a football player,' was too much to handle.
"He still to this day will smell fresh grass in the spring and says it gives him butterflies in his stomach because he wants to be out on the field. He is a football player's football player. If you read Sports Illustrated from the '70s, that's how they described him. That spark is still alive in his head and his heart. This is going to be a lot for him to take in, but I think it's going to be one of the most meaningful things in his life.
"I've spent my whole life bragging about him, telling people about him. It's going to be awesome for me because I'll finally be able to just stand back and let someone else talk about my dad. It's going to be meaningful for all of us to see him receive some recognition for something that we think is a truly amazing accomplishment."