Quick! Who backed up baseball's ironman, Cal Ripken? Exactly. Now we know how Ty Detmer felt during his four seasons with the Green Bay Packers.
Playing behind the NFL's answer to Ripken, Brett Favre, it was as if Detmer was in the witness protection program between 1992-95 without having the goods on anyone. The former Heisman Trophy-winning quarterback came out of hiding, though, in 1996 when he signed as a free agent with the Eagles.
"I had known (Philadelphia head coach) Ray Rhodes and (offensive coordinator) Jon Gruden from our time in Green Bay and felt like it was an opportunity to get out from behind Brett Favre, where you may never play," laughed Detmer. "It was one of those things where I was four years into the league and had no playing experience, hardly.
"(The Packers) offered me a couple more years to stay as the backup, but I felt like if I stayed there and didn't play, then I would be six years older, 30 years old, with no experience and there may not be a big market for somebody like that. So I felt like I had to get out from under him and try it for myself."
Initially finding himself in the familiar role as a backup, Detmer was pressed into action when starting quarterback Rodney Peete ruptured a tendon in his right knee during a late-September game against Dallas and was sidelined for the season.
"He had torn his knee up pretty bad and I was finally going to get my chance and get some extended playing time," Detmer said. "And I actually got a concussion a little bit after that and I don't remember most of the second half. It wasn't probably the first impression I wanted to leave the Philly fans with, but I appreciated Ray and Jon sticking with me and giving me that opportunity."
The first occasion for Detmer to take the field as a starter occurred two weeks later, following a bye, when the Eagles traveled to the Meadowlands to meet the division rival Giants. Was he nervous? Anxious?
"Oh, yeah, I was a little of both," chuckled Detmer. "That first start is something that you've waited for your whole life. I just wanted to go out and perform and not embarrass myself, but at the same time play well and help the team. And at that time, we had a good defense. We felt that they were going to do a good job with them, so go in and take care of the football and not make mistakes and make a couple of plays along the way and we'd probably be successful. And that's what happened."
It is also what happened the next game against Miami. And the game after that versus Carolina ... and the following game in Dallas, which was a homecoming for the Texas native and one-time Cowboys fan. Philadelphia outscored its opponents 105-68 during the four-game win streak, improving its record to 7-2 en route to a 10-6 mark and a Wild Card playoff berth.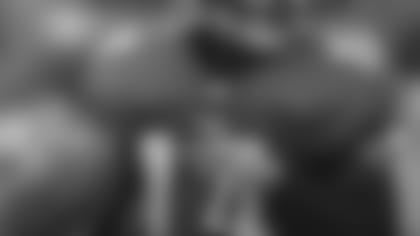 QB Ty Detmer
"Obviously it was a bitter rivalry," Detmer said of the Dallas game. "I remember that game. It's kind of stuck with me just because it was my fourth start, and having the chance to go down there and play them with all their firepower: Emmitt (Smith) and Troy (Aikman) and Michael Irvin. I grew up a Cowboys fan, rooting for (Roger) Staubach and all that, but that kind of changed when (longtime coach Tom) Landry got fired. And I learned not to like them real quick in Philly."
Detmer made seven starts in 1997, his final season with the Eagles. That was also the year that the team doubled the number of Detmers on the roster by drafting Ty's younger brother, Koy.
"I thought it was great. They called me a little bit before the draft and said, 'Hey, if Koy is there, we like him. What do you think?' " Ty recalled. "I was all for it. We never had a chance to play together. And I knew we had three solid quarterbacks at the time, but if he could come in and just get a chance to get his feet wet ... It kind of worked out good that he hurt his knee and spent the year on IR (Injured Reserve). It was a fun year for us to be able to hang around each other."
Leaving Philadelphia as a free agent, Detmer would spend the '98 season with the San Francisco 49ers, followed by two years with the Cleveland Browns, three with the Detroit Lions and two with the Atlanta Falcons.
Heisman Trophy or no Heisman Trophy, a 14-year NFL career for someone who was initially a ninth-round draft choice is impressive.
What's also impressive is that Detmer began his second career the same way he began his gridiron one — from the ground up. During one off-season, he started as an intern at Triton Financial in Austin, Texas.
"The owner, Kurt Barton, was a good friend of mine. I had kind of turned over all my financial stuff to him and then wanted to learn what it was all about," Detmer said. "Then things progressed to coming in a few times a week and learning the business and seeing how there's so many bad deals out there that guys get into, that if we could provide something good for the guys, I was happy to be a part of that. It's kind of a different world when you get done playing.
"Now I head up our athlete services. Koy and I work with guys, giving them post-career opportunities where they can have a home and find ways for them to be able to work with Triton. Almost like a marketing agent to find deals for them to get into and ways to make a little revenue when they get done playing. We train guys and find places for them to fit. That's what we're all about: helping retired players find what they want to do afterwards."
Another venture that Triton is fully involved with is the Heisman Winners Association.
"We have a sports management division and do all the marketing," says Detmer. "And that's been a lot of fun for me because I have a pretty good relationship with a lot of those guys. We're trying to get the word out that HWA is there and want to look for opportunities. It's a way for guys that maybe have everything ... they need to be a part of it and use their name to help other guys that maybe need a little extra hand. So we're happy to be a partner with them."
When he's not dealing with the athlete services and real estate investments such as the Triton Sports Center in San Antonio, a health club they've converted from a tennis center, Detmer is with his wife, Kim, and their four daughters: Kaili, Aubri, Mayci and Rylli.