Mike Bartrum reflected on his past while planning his future in 2000, when he chose the Eagles in free agency over the New York Jets. The tight end/long snapper played six seasons with the Kansas City Chiefs, Green Bay Packers, and New England Patriots before coming to Philadelphia.
"Coach (Andy) Reid was my tight ends coach in Green Bay in '95," Bartrum says. "And then I signed with New England. We played Philly in '99 and I'd seen Coach Reid. He said, 'Hey, if anything ever happens, let me know.' Well, Coach (Bill) Belichick came to New England in 2000 and cut me.
"Coach (Bill) Parcells, who I played for in New England, was now with the Jets, so I talked to him. But I just felt very comfortable with Coach Reid. He treated me like a son. There was a lot of mutual respect there. I felt like number one, he held me accountable even though I had that respect for him. He was always such a great mentor for me."
During Bartrum's first five seasons in Philadelphia, the Eagles played in four consecutive NFC Championship Games, and capped the 2004 campaign by advancing to Super Bowl XXXIX.
"The whole seven years I was there, it was about family. Once you build that bond with each other, you trust each other and you know that you've got each other's back," Bartrum says. "(Reid) brought in some guys from T.O. (Terrell Owens) to Jevon Kearse. Donovan (McNabb) was already there. I was very minuscule in that part, but those guys, the high-profile guys, were really, really good football players.
"I wish we could have made it to the Super Bowl those other years, but it's all God's time and I feel that he put us there for a reason. It was really, really cool that we were all able to stay together that long and be able to try to make a good run. I feel it was a blessing every day that I was fortunate enough to be on those teams."
Bartrum, long considered as one of the best long snappers in the league, was acknowledged in 2005 by being chosen to play in the Pro Bowl.
"Dave Akers was fortunate enough to make the Pro Bowl a couple years, and he was nice enough to fly my wife and me over to the Pro Bowl, saying thank you for snapping for him," Bartrum says. "I never went to meetings or anything like that, but I was like, 'Man, that would be so cool.'
"It was just an honor and a privilege. We still have video and pictures of the kids over there. We always stay very grounded with our kids, and very humbled with how fortunate we were that God allowed me to snap a football between my legs to play in the NFL a few years."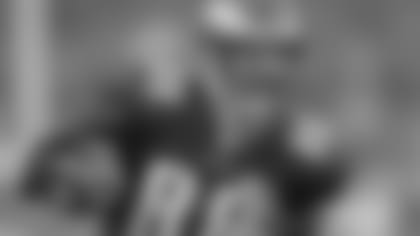 Fortunate and modest. Undrafted in 1993 out of Marshall, Bartrum was able to play 13 seasons in the league, more than tripling the average length of a player's career. Granted, his forte was long snapping, but as a reserve tight end, Bartrum proved to be a reliable target in the end zone, as well. Six of his 11 career receptions, four as an Eagle, were for touchdowns.
After experiencing a career-ending neck injury late in the 2006 season, Bartrum retired the following June. What is he most proud of in his career?
"Probably the most proud is adversity, proud of not giving up," Bartrum says. "Proud my family and friends got to go see things that I would have never had an opportunity to do if I wasn't fortunate enough to play in the NFL. Proud to know that God had my back through it all. I know I couldn't have made it if it wasn't for Him.
"And all the relationships. Chad Lewis and Jeff Thomason, they're like my warrior brothers that I still talk to on a weekly, daily, monthly, yearly basis. And Dave Akers. I'm just so fortunate to have all those people in my life. That's what I'm most proud of, just the relationships that I've developed and continue to have."
Following his retirement, Bartrum and his wife, Jennifer, who grew up as neighbors and became childhood sweethearts, moved back to their hometown of Pomeroy, Ohio, which is where they still call home with their children: Cody, Zach, Ty, and Taylor.
Bartrum is now into his second and third careers – 10 years as a Meigs County commissioner and the last seven years as the head football coach at his alma mater, Meigs High School.
"My buddy was the juvenile judge, and he said, 'Hey, you might just want to come (to county meetings) and listen.' I did and said, 'Hey, I kind of like this.' So, I went to Republican meetings and Democrat meetings. I didn't agree with either, not to say I disrespected them. I ran independent and God blessed me to get in there," said Bartrum, one of three county commissioners.
"We oversee the budget and work hand in hand with all the officeholders. And also with economic development, which is what we really love, to try to bring jobs to our county. We're very fortunate that the other two commissioners are awesome, good Christian guys. We're all on the same page. We don't always agree, but we get through things and work with our fellow constituents and make things better for Meigs County. That's why we're all here."