 Keith Krepfle had to make a decision in the spring of 1974. Not only was the Iowa State tight end selected by Philadelphia in the fifth round of that year's NFL Draft, but he was also being pursued by the upstart World Football League's Jacksonville Sharks. He chose to head south.
"The Eagles had a tight end named Charle Young, who was in his second year and was an All-Pro. So it was pretty obvious that I was not going to play in Philadelphia. At least not initially," said Krepfle.
"(The Sharks) gave me a guaranteed contract. Seemingly, it was a good opportunity. So I guess probably the deciding factors were the guaranteed contract and the ability to play pretty much up front. Florida's climate was not too bad either."
While Jacksonville's weather may have been hot, ticket sales to watch the Sharks were not even lukewarm. The team went bankrupt and folded after just 14 games.
"To my benefit, the Eagles contacted me and said that they were still interested for the following year, and they ended up giving me a guaranteed contract," Krepfle said. "Granted, the numbers back then were pretty, pretty minimal. Nonetheless, it was a guarantee and I was just very happy that the Eagles were still interested."
Krepfle's contract may have been guaranteed, but how much playing time he'd get at tight end wasn't. Krepfle collected just one reception for 16 yards in 1975. That, however, doesn't mean that he didn't make his mark while, frankly, leaving opponents with a few black and blue marks along the way.
"The only thing I can say is in my rookie year, I was voted special teams captain," laughed Krepfle, who was given the nickname Captain Crunch because of the seemingly relentless hitting and blocking he displayed on the field. "I was the wedge-buster, but I don't know if it was my personality or just the way I played or I had a passion for it."
Prior to the 1977 season, second-year head coach Dick Vermeil traded Young to the Los Angeles Rams for quarterback Ron Jaworski. The writing was on the wall and in the local newspapers that Krepfle would become the starting tight end.
"Dick didn't say that I was promoted to first team, but all you had to do was read the press," Krepfle said with a laugh. "The press was basically saying that Keith Krepfle will now be the starting tight end. Now Dick never, ever said that to me because you always have to earn your position. But as it worked out, it was that way.
"In Training Camp that year, I was under an initial four-year contract, and one day after practice Dick came up to me and says, 'Keith, we're going to redo your contract.' I didn't ask for it. He reached out to me. So they re-did my contract and I was very happy about that. That was typical of Dick Vermeil."
Four games into his first season as a starter, Krepfle hauled in what would be a career-long 55-yard reception for a touchdown during a game against the Giants in the Meadowlands.
"I remember the play like it was yesterday," Krepfle recalled. "For some reason I did a corner route and I don't know if there was a bust in the secondary or if we just hit a defense right. I probably caught the ball 20, 25 yards downfield and when I caught it I was wide open. I just barreled down the sideline and the free safety took a diving leap at me about the 5-yard line. It was a thrill."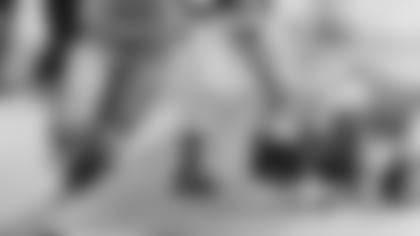 Krepfle would experience more thrills during the 1980 campaign when the Eagles posted a 12-4 record, won the NFC Championship and met Oakland in Super Bowl XV. The Raiders took home the Lombardi Trophy after the 27-10 victory. In the loss, Krepfle scored the first touchdown by an Eagle in a Super Bowl.
"From an emotional standpoint, in a course of two weeks it was the highest high to the lowest low when we got beat," said Krepfle. "But in the weeks and months to follow, you reflect on the whole season. What it took to get there over a period of years building the team under Dick Vermeil.
"To me personally, it was inner pride because every year it's such a battle just to get to the playoffs. And then in the playoffs and get to the Super Bowl, it was just really ... The only thing that I didn't accomplish in my career was being on a winning Super Bowl team, as far as I'm concerned. But coming from a town of 800 people (Potosi, Wisconsin), it was quite a ride."
Krepfle's seven-year ride with the Eagles came to a close following the 1981 season. He played one more year with Atlanta before embarking on a second career in health care.
He began by owning two businesses, a medical billing company and a clinical research site management company. Krepfle then spent the next 15 years working for three large pharmaceutical companies – Novartis, Bristol Myers Squibb and Delta Pharma.
"I was a project manager for medical research," said Krepfle, who recently retired. "My last job with Novartis, I headed up the U.S. early-phase oncology development program. When I joined Novartis in 2010, they had no in-house early-phase oncology development programs. They used to contract it out to CROs (contract research organizations) for that early phase. I became involved in that aspect. When we started to bring the early-phase oncology development programs in-house, we had 10 trials that were contracted. In five years that I worked for Novartis, we grew that from 10 trials to 57. I had responsibility for those 57 oncology trials in the U.S.
"I honestly accomplished more in my (second) career from a business standpoint than I think I did or certainly as much as my NFL career. I'm very, very proud of being able to do that. It was a hard decision for me to make to finally just let it go and retire."
An outdoor enthusiast who enjoys hunting and fishing, Krepfle lives in a log cabin in the Poconos region of Pennsylvania. He has one adult son, Bryan, who is a network security engineer for Comcast in Philadelphia. !