If nothing else, former Philadelphia Eagles tight end Chad Lewis isn't opposed to looking in the rearview mirror and turning around.
An undrafted free agent out of Brigham Young University in 1997, Lewis caught 12 passes and scored four touchdowns as a rookie, but was waived in September 1998. Three months later, he signed with St. Louis after recuperating from a broken ankle. He returned to Philadelphia in November 1999 after being released by the Rams.
"Andy Reid was the head coach then and I knew (assistant coaches) Juan Castillo and Ted Williams were still there, and coach (John) Harbaugh and Mike Wolf, the strength guy, so I still had some friends there," Lewis said. "I was excited for the opportunity to go back and be a part of his program."
During the 2000 campaign, he led the Eagles with 69 receptions for 735 yards and three touchdowns.
"I think there were a couple of keys," Lewis said. "Number one was teaming with Donovan McNabb. I thought he was incredible as a person, as a quarterback, as a leader. His playmaking ability is just absolutely phenomenal.
"And then they brought in Mike Bartrum and Jeff Thomason as backup tight ends and I learned a lot from those guys. Jeff had been with Mark Chmura and Keith Jackson for several years in Green Bay, so he knew how those guys ran the same routes that Andy was trying to run. Jeff could take Andy's coaching and put it in my brain and tell me what he really wanted. So I felt like I understood what Andy wanted out of me as a tight end and I was able to deliver that."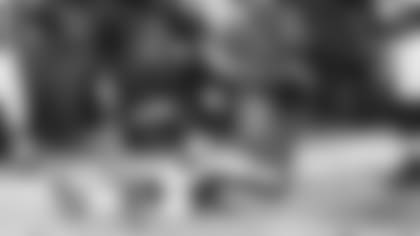 Lewis helped deliver a sound playoff team to Philadelphia and its fans starting in 2001 when the Eagles began a streak of four consecutive trips to the NFC Championship Game.
"Our team chemistry was unbelievable," said Lewis, who was selected to three consecutive Pro Bowls from 2001-03. "A lot of that was fostered by, I felt like, three key individuals: Andy Reid, John Harbaugh as the special teams coach, and Donovan as the team captain. Those three had an influence over the whole team. And we had incredible leaders in Troy Vincent and Brian Dawkins. Brian Mitchell was such a powerful special teams player for us.
"I could go down the list and name every person on the team. I felt that we bought into the Eagles' team mentality and we were not there for ourselves. We were there for the team."
Lewis caught two touchdown passes in the 2004 NFC Championship Game when the Eagles beat Atlanta and earned their way to Super Bowl XXXIX. Unfortunately, the veteran tight end's season ended on the second scoring reception.
"I was running to the corner of the end zone. I stopped and turned around to catch the ball and when I did that, my foot just exploded," Lewis said about what was diagnosed as a Lisfranc foot sprain. "I think it was a combination of very, very cold temperatures and long spikes that I had in my cleats. It snowed a foot the day before the game and they had semitrucks parked in the end zone as they did the snow removal.
"I think the end zones were packed down just enough that when I planted my foot, it didn't tear through the grass right. It just held it steady enough to explode my foot."
While his teammates prepared to meet New England in the Super Bowl, Lewis underwent surgery to insert two titanium screws in his foot. Lewis returned to Philadelphia midway through the 2005 season for his third stint as an Eagle after rehabbing for over nine months at his home in Utah.
"It was the hardest rehab I'd ever gone through," he said. "I can't believe the amount of work and pain and sweat and effort that it took to get my foot back. When I got back there, I thought we were going to win the Super Bowl. And then Donovan got hurt and that was the end of that season. Just like that. It was crazy.
"I worked as hard as I could to be the best tight end I could be for the Philadelphia Eagles. I was proud to take the field as an Eagle. I just feel like I gave everything I had. I mean, I left it all on the field."
In 2010, Lewis glanced in the rearview mirror again and returned to his alma mater, BYU, and is the associate athletic director – development.
"The athletic director, Tom Holmoe, who played for the 49ers and was a coach for the 49ers and has four Super Bowl rings, asked me to come back and run the fundraising team for the athletic department," Lewis said. "I would describe it as the best job in America. I get to work with the best people in America. I love the fact that I'm still involved with football, specifically, and all the sports and the student-athletes. It's been a great job, very fulfilling.
"BYU certainly means so much to me. I believe in the mission of BYU. So to be on this campus with these people, it's really important to me. I've enjoyed it."
Lewis and his wife, Michele, a former All-America volleyball player at BYU, have seven children: Emily, Sara, Jake, Jeff, Max, Tanner, and Todd.
History recently repeated itself.
"Interesting enough, my daughter, Emily, who plays on the volleyball team at BYU just married a tight end on the football team at BYU," Lewis said. "When I was at BYU playing football, I married my wife who was on the volleyball team. It's just so crazy, some of the similarities.
"She married Matt Bushman, who was a freshman All-American tight end last year. A great player. I'd love for him to play on the Eagles someday. He's certainly good enough. He's better than I am."