 You can't say the Eagles' college scouts didn't do their homework before visiting Vanderbilt in 1978 to work out defensive end Dennis Harrison.
"Watching films of Dennis, I guess they saw me," said Brenard Wilson, who played safety for the university. "So while they were in town they asked if I would come along."
Philadelphia selected Harrison in the fourth round of that year's NFL Draft. Wilson, who signed as a free agent, played well during Training Camp before a hamstring injury resulted in his release.
The Eagles, however, didn't allow that to end his playing career before it started and re-signed Wilson for the 1979 season.
"The first year I had to be more of a question mark in terms of my injury," Wilson said. "I had recovered, but I don't know if they felt I had fully recovered enough to play the entire season or to take a chance on releasing a veteran in hopes that my hamstring would hold up. The second Training Camp, there were no injuries. That in itself gave me an advantage. I made the team and became a starter."
In his first game, the 1979 season opener against the New York Giants at Veterans Stadium, Wilson made head coach Dick Vermeil and his staff look like geniuses for giving him that second chance.
With the Giants trailing by six with 48 seconds left in the fourth quarter, New York's late drive came to a halt when Wilson collected an interception at the Philadelphia 10-yard line and returned the ball for what would be a career high 50 yards. The Eagles won 23-17.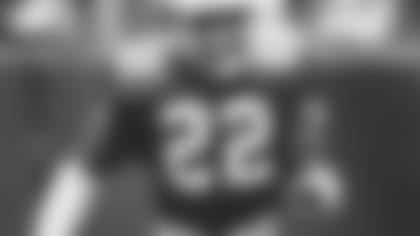 "Joe Pisarcik was the quarterback," said Wilson. "It was a play perhaps they thought was successful earlier and they came back to the play. It was a recognition play. The receiver makes a break here and you realize that this is the type play that they're running, so I was able to do that through various reads and be in the position to make the interception."
The following season, Wilson read opposing quarterbacks well enough to lead the Eagles with six interceptions. He also led the team's defensive backs in tackles to help Philadelphia earn a 12-4 record and the NFC Championship.
"The key, I think, without a doubt was being able to stay healthy," Wilson said. "If I recall, most of our players were healthy the entire season. We got a real good early start and gained momentum. We beat some pretty good teams along the way and just gained confidence. And, of course, beating the Dallas Cowboys in the NFC Championship Game was one of those things that you won't forget for a long time.
"Just to realize that you're going to the Super Bowl. Just that feeling at the moment that the clock ticked down to zero, that was unbelievable! We were actually going to the biggest game in professional athletics. I could replay that moment a few times."
Two weeks later, the Eagles would be in New Orleans to meet the Oakland Raiders in Super Bowl XV. They returned to Philly with a 27-10 loss.
"Actually, I would have liked to have played the game the next week," said Wilson. "Between that and the meetings and the press and all of that, once you got to the game, for me, it lost something in terms of ... We had so much preparation; I felt it took a little bit off for me.
"I was so excited at the NFC Championship Game; I could have played the next day. So that's kind of what I was looking for. We had so much time in between. Now that's not an excuse, but I would have savored the moment a little bit more had I known how difficult it is to return. Football has a business side of it, but I still think it's a game."
Wilson retired following the 1986 season. Missing only three games during his eight years with the Eagles, he played as a strong safety, free safety and cornerback. He collected 17 interceptions. What makes him most proud of his career?
"I would say the respect that I got from teammates, the relationships," Wilson said. "I think most of the guys, when we get together, we can speak fondly of each other. I'm proud of that. I know that's not true in all cases. Some guys that played together, they really don't like each other.
"That wasn't the case (with the Eagles). Dick Vermeil did a great job in terms of assembling quality players that were not just good athletes, but were good people. To be a part of that, I'm proud of that because of the respect that we had for each other."
In a business he began while still playing football, Wilson and his wife, Genora, own a small company, Brenard K. Wilson Investments, which sells residential homes in the Nashville, Tennessee area.
"It initially started out, we were buying real estate for our own personal investment portfolio and then other people started asking us to do it for them. So we just incorporated and started doing it for other people," said Wilson, who adds that his biggest enjoyment from the business comes from providing a service to his customers.
The Wilsons have two daughters: Raeshell, who is a surgeon in Nashville; Kanetha, who is one year away from earning her Ph.D. at Vanderbilt; and a son, Brenard II, who is a general contractor in Nashville and an agent with the real estate company. They also have a granddaughter, Savannah. !