Persistence paid off for Bill Bradley, and in turn for the Eagles. Chosen by Philadelphia in the third round of the 1969 NFL Draft, Bradley had played at quarterback, wide receiver, defensive back and punter for the University of Texas. Scouts simply labeled him as a player.
As a rookie, that's what he hoped to do – play. Sure, he was handling the team's punting duties, but Bradley wanted to be on the field more often than to just kick the ball away when the offense was stopped.
During an October game in Dallas, pleading, begging and just generally being a pain presented the rookie with an opportunity to see action in the defensive backfield.
"They were beating us up pretty good," Bradley said. "In the middle of the third (quarter), it was way out of hand, so I walked up to (defensive coordinator Jimmy Carr) and said, 'Why don't you let some of us rookies play? You won't get the veterans hurt and it will give you a chance to look at some of the rookies. This game's over with!'
"I did that about two or three times. So about the middle to the end of the fourth (quarter), I did it again and Jimmy said, 'Okay Bradley, just get the hell in there!'
"So I went in and by then, they had their second team in and some of the older guys they had gotten. In particular, (rookie quarterback) Roger Staubach and a tight end they'd just gotten from Chicago, Mike Ditka.
"They were at the 46-yard line, trying to run the clock out. I had looked at enough tape and back then when people all-out blitzed, which we were doing at the end of the game to try to get the ball back for the offense, they ran little adjustment routes where they just look for the ball real quick. We had shown a blitz look and Staubach checked off to a quick slant to the tight end.
"These two working together for the first time, Ditka missed the check. I ran to the spot where Ditka was supposed to go to, Staubach threw the ball and it hit me right in my hands. I caught it and took it back for a 56-yard touchdown. I touched the ball for the first time on the first defensive play and scored."
The following season, Bradley was limited to only punting duties because of a knee injury. In 1971, he was Philadelphia's starting free safety and led the NFL with a career-high 11 interceptions. He led the NFL again the next year with nine, becoming the first player to ever lead the league in interceptions two consecutive seasons.
"I got to study behind Joe Scarpati at free safety and Nate Ramsey at strong safety, so I had two pretty good mentors," said Bradley. "The interceptions just came from studying and, I think, playing quarterback in college helped me a little bit kind of get inside what I thought was the mind of a quarterback's thinking. I studied and knew the philosophies of the defense.
"You had to learn the game plan, so I got in on the ground floor of learning the philosophies of defenses and then got to be active as far as calling the coverages according to the formations and what adjustments you had to do. Getting all the interceptions was just basically anticipation and knowing where the quarterback was going, which made up for the lack of speed."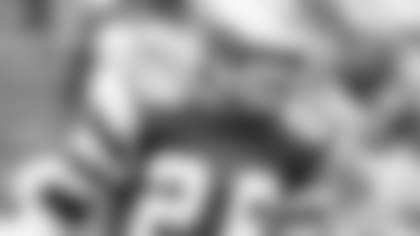 A member of the Eagles Hall of Fame and a three-time Pro Bowl selection, Bradley left Philadelphia following the 1976 season as the team's all-time leader with 34 career interceptions, a record he now shares with Eric Allen and Brian Dawkins. In 1983, he found himself on football's ground floor again. This time as a coach for San Antonio of the USFL.
That was the start of a 32-year career on the sideline. Bradley would go on to coach college football as well as in the NFL, CFL, WFL and UFL. He retired this year as the defensive coordinator at Lamar University.
"You can't have been a player and just put the word coach by your name and be a coach," Bradley said. "You've got to understand the game. You learn how to study football as a player and then once you get to be a coach, you learn how to coach studying.
"Coaching is teaching. You just can't go in front of the room and say I made All-Pro three years, y'all better listen to me. You need to learn the finer points of how you can teach football to professionals. You've got to sell the team."
Bradley may be retired, but he's still involved with the game. This fall he plans to be part of a three-man booth with former Eagles offensive tackle Jerry Sisemore, analyzing the University of Texas games for a website in development tentatively called T Plus. He's also working with Rivals.com and Football University.
"Rivals.com is a great recruiting service on the internet for colleges," said Bradley. "Our job is to go from the East Coast to the West Coast and train the top 100 athletes in each area of the country, and then have the ultimate game in Florida. They'll show the game on ESPN, I believe, and then they put on a hat where they're going to commit to college."
Bradley and his wife, Susan, make their home in the "hill country" between San Antonio and Austin, Texas. They have two adult children: Matthew and Carissa.
Matthew, 28, suffered a brain injury during a 2009 altercation near where he was attending college in Sacramento, which required three immediate surgeries. He has since received several stem cell injections.
"He's lost a lot of his movement," Bradley said. "He's totally with it, he's a genius upstairs, but he lost all his motor skills when they had to take out a certain percentage of his cerebellum to keep him alive.
"So we take care of Matthew, who is a wonderful human being. He's rehabbing every day to try to walk. That adds a different dynamic to your family. You've got to understand where you came from and where you're going."
Matthew, whose goal is to finish the work for his college degree in business online as he gets more movement, has a 501c3 approved foundation – The Matthew Wright Foundation – which is in development. Its mission statement is "Guiding Your Journey Through Brain Injury."
Carissa, 25, is a graduate of San Diego State with a degree in child development. She will complete her master's from Arizona State in May with a degree in applied behavior analysis. She is also currently working with autistic children.