Granted, they weren't exactly shooting off flare guns, but the Eagles definitely needed to be rescued following the 1972 season.
Managing to find the end zone just 12 times, Philadelphia finished the year with a 2-12 record. Poor results had become commonplace considering that over the previous four seasons, the team won only 15 out of 56 games.
The owner, Leonard Tose, hired Mike McCormack as the new head coach and headed west looking for someone to help McCormack turn things around. That someone would be the Los Angeles Rams' 11-year veteran quarterback Roman Gabriel.
"Leonard Tose and Mike McCormack, in January of that year, 1973, traveled out to California to meet (Rams owner Carroll) Rosenbloom and made a deal to get me," Gabriel said. "Then Rosenbloom changed the deal. I had a conversation with Mr. Tose, 'We want you here, but right now, we're trying to negotiate. Even though they want to get rid of you, they're trying to get too many people.'
"So finally, in June of that year, I had a call from (Rams general manager) Don Klosterman, 'Well, we're sending you to Philadelphia.' I said, 'That's great! Because that way, my friends that live in North Carolina will be able to come see me play. You're not sending me anywhere I don't want to go.'
"Especially after I met Leonard Tose and Mike McCormack, who were first-class people. It was pretty good, actually like coming home."
While Gabriel was "coming home," wide receiver Harold Jackson and running back Tony Baker were leaving the nest. They went to Los Angeles as part of the trade along with the Eagles' first-round draft choice in 1974, and first- and third-round selections in 1975.
What did McCormack, a first-year NFL head coach, expect from the three-time Pro Bowl quarterback?
"Mike said that with my experience and leadership, he felt with a young football team that I'd feel like Moses," laughed Gabriel. "He said, 'With this young football team, we need your leadership and work ethic because I'm aware of your work ethic.' I said, 'That's fine, because I don't have to do anything different than what I've been doing with the Rams. I'll come in and have some fun and enjoy and lead by example.'"
Which is what he did. Even though the Eagles struggled to a 5-8-1 record, Gabriel led the league in pass attempts (460), completions (270), yards (3,219) and touchdown passes (23). Earning a fourth trip to the Pro Bowl, he was selected as the NFL Comeback Player of the Year.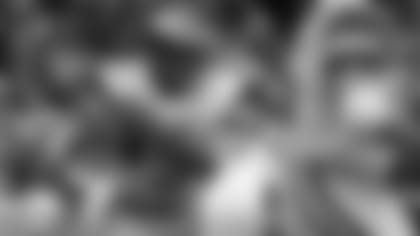 Gabriel remained Philadelphia's starter the following two seasons under McCormack. However, when McCormack was replaced by first-time NFL head coach Dick Vermeil in 1976, the veteran's role with the team changed.
"I was having trouble with my knee and I had to have it completely re-done," said Gabriel, who knew Vermeil from his time as a Rams assistant coach. "Dick said, 'We're going to go with Mike Boryla. Why don't you just go home and retire.' I said, 'Well, Dick, I'd like to coach.' He said, 'I don't hire people to coach for me that have played for me.' So I went back to California and started working on my knee.
"And then with about six weeks to go in the season, I get a call from John Idzik, who was our offensive coordinator. John says, 'How's your knee?' I said, 'John, it will never be 100 percent, but it's good enough that I can play and still throw.' Because I've always stayed in shape, he said, 'We'll be in St. Louis the following week. Why don't you fly in and bring a suitcase just in case.'
"So I come in on the Saturday before the game and they had me running and throwing. Of course, I couldn't run great, but then I never could run great anyway. So I played and started the last four games."
Gabriel retired following the 1977 season, his 16th in the NFL, and would go on to work in a different sport – baseball.
"I was the president of the Gastonia Rangers and the Charlotte Knights," Gabriel said. "Charlotte was AA and then when I retired from there they became AAA. And Gastonia was A ball. They used to be the Texas Rangers' farm team. And do you know who was playing in Gastonia? (Ivan) 'Pudge' Rodriguez, the great catcher who became a big star. And in Charlotte, we had Curt Schilling, Jim Thome and Greg Olson. We had some pretty good kids."
Now semi-retired, Gabriel is associated with a third sports – golf.
"I represent a friend of mine (Mac Adams Golf Sales) in Little River, South Carolina, who sells items like golf shirts, T-shirts, shorts and stuff like that," said Gabriel. "And I also represent a company out of my hometown of Wilmington (North Carolina) called Tournament Promotions. I've been with both of these companies about 15 years. It's for companies that do auctions to make money for charities. And also people who do charitable golf tournaments. I'm more involved in setting up the structure and helping them get people to participate."
One of three that he'll be involved with is the "Friends of Gabe Golf Tournament" in Little River on July 10-12. It will raise money for veterans.
Away from the links, Gabriel follows the Eagles and his girlfriend's hometown Steelers, and appreciates it when he's asked to take part in card shows and other autograph signing events.
"It still blows me away," Gabriel said with a laugh. "I've been to Philadelphia a couple times and some people come in with a scrapbook from when I played with the Eagles. And the fact that these people still follow me ...
"Here's one for you. Two young kids, back when I was doing baseball, in Baseball Weekly, there was an article where this dad had named his sons after me. Roman Slaybaugh and Gabriel Slaybaugh. Roman was No. 18, the quarterback, and Gabriel was No. 81, the receiver. They both graduated from the University of Indiana and played football there several years ago. Guys should get out amongst the fans because a lot of these were kids when I was getting older." !