A blockbuster trade that would have likely done considerable damage to Twitter occurred 42 years before the social network was launched.
Following back-to-back 10-loss seasons, Philadelphia's first-year Head Coach Joe Kuharich made a series of changes in 1964, highlighted by acquiring two-time Pro Bowl quarterback Norm Snead from Washington for seven-year veteran quarterback Sonny Jurgensen, who had led the NFL in passing yards two of the three previous seasons.
"I was happy in Washington and my family was close to there," says Snead, a Virginia native who was drafted second overall in 1961 out of Wake Forest. "When you're traded, you have to make the adjustment. You had to accept it. And then you have to fit in and all of the things that go with team sports.
"The players that were there, there was a natural period of adjustment for them to see if I did fit in. There's always that period. You do that anytime you have a new teammate, a new rookie. They draft a guy No. 1, you want him to fit in. You want him to help. When that happens, somebody else has to go, so the evolution is always taking place."
Passing for 4,252 yards and 29 touchdowns during his first two seasons in Philadelphia, Snead helped the Eagles post a 9-5 record in 1966 and make the playoffs for the first time in five years.
"They didn't have the system that they have in place now. They called it the Playoff Bowl," Snead says. "The two teams that finished second in each conference played a game in Miami.
"It was like kissing your sister. Because if you win, you didn't go anywhere. But players will play. Tiddlywinks or gin rummy. When the whistle blows, you play."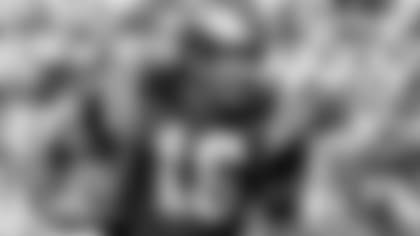 Snead answered the whistle and played well the following season when he passed for a career-high 3,399 yards and 29 touchdowns. The Eagles, however, struggled to a 6-7-1 record.
"We had receivers named Harold Jackson and Ben Hawkins (who led the NFL and set a then-team record with 1,265 receiving yards). They were exceptional players," Snead says. "And (tight end) Pete Retzlaff had a great season. So, we were able to throw the ball. We scored a lot of points, but we didn't stop anybody. We had a lot of people hurt. That sort of thing happens in football."
With the Eagles for seven of his 16 NFL seasons, Snead looks back fondly at several aspects of his NFL career.
"I played. I played whether I was hurt or whether I was expected to play or whatever the reason, I played," says Snead, who also suited up for Washington, Minnesota, the New York Giants, and San Francisco. "I enjoyed all the cities that I played in and the people I played with. That's what I'm most proud of – that relationship.
"I didn't win any Super Bowl rings and all that sort of things. That's what you play for and that was everybody's goal, but there's been a lot of great players that never got there."
Following his playing days, Snead returned to his hometown and worked in the human resources department at Newport News (Virginia) Shipbuilding. He also coached football for 10 years at the Apprentice School.
He and his wife, Susan, then made their home in Florida, where he became a realtor. He's now retired.
"Life is good. I wake up in the morning and I'm very thankful that I got up. Everything's fine. My kids visit me, I have five children and 14 grandchildren. I'm looking at the Gulf of Mexico, a beautiful beach, if it gets any better than that, I'd like for you to tell me," Snead said with a laugh.
"My wife and I are enjoying ourselves. People ask us what we do different in the pandemic, and I say, 'Well, when I go (on errands) and so forth, I've got to wear a mask. Other than that, it's nothing different.'"
While Snead enjoys the outstanding view from his home, he also keeps an eye on the Eagles and the NFL during this highly unusual season.
"Yeah. It's kind of strange," he says. "It's hard to watch it with nobody in the stands. The players are doing the best they can with it and I admire them for that."