Sean Landeta had played 14 seasons in the NFL, including nine with the rival New York Giants, before joining the Eagles as a free agent in 1999 and returning back to where it all started, in a sense.
"It came down to the Dolphins and the Eagles, and I signed with the Eagles," the veteran punter said. "There were a couple of reasons. One, I had played in Philadelphia (for three seasons) earlier in my career in the old USFL with the Stars. So I was familiar with the town. And another reason is the fact that I had played the (1998 season) in Green Bay and had gotten to know (Philadelphia's first-year head coach) Andy Reid."
The five-time All Pro not only appreciated the opportunity, but he also suspected that Reid had what it took to make a difference with the Eagles.
"I recall in Green Bay that besides being a quarterback coach, he would watch everything," Landeta said. "When we would have special teams or punt team (practice), I noticed that he was always taking little notes about things. So just by his actions, you could see he was a very, very prepared guy who was on top of everything."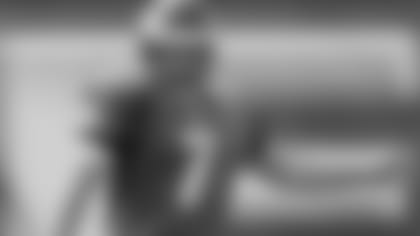 Landeta has made Philadelphia his home after retiring last year
Even though Landeta had experienced the gamut of what professional football had to offer, including winning two Super Bowl titles while with the Giants, he entered his first season with the Eagles with the enthusiastic attitude of a rookie.
"I always thought that every year as a player, you go to training camp, you compete and try to make the team. And the day that you make the team is always kind of like your best day of the year," Landeta said. "You made the team. You succeeded."
While a 5-11 record during that first year in Philadelphia wasn't what they had hoped, Landeta and his teammates went 34-14 over the next three seasons, making it to the playoffs each year, and advanced to the NFC Championship game twice.
"I think the combination of the players and the system that Andy brought to the Eagles definitely was a major factor," Landeta said. "Andy had been around a lot of winning while in Green Bay, so he saw and lived and knew what worked and he was able to bring that here. And now, looking back 10 years into this, he's had tremendous success."
Landeta, who officially retired from the game in March of 2008 after 22 seasons in the NFL and three in the USFL, had tremendous success, as well. Named to the NFL's 1980s and 1990s All-Decade Teams, he was also a member of the Eagles' 75th Anniversary Team.
He made Philadelphia his home. And he'll always be impressed with Philadelphia's fans.
"The way I like to put it is - you can only equal the passion and the love that these people have for their teams. It cannot be surpassed," said Landeta. "I've played in real good cities that love their teams but, as I said, Philadelphia cannot be surpassed as far as how much they care."
Landeta has a son, Joey, and is engaged to Northeast Philadelphia native Donna Bretzel and splits his time between Bucks County, Pa., and Long Island, N.Y. And while he may be retired, he isn't at the "sit-on-a-rocking-chair-on-the-porch-and-shoo-kids-off-of-the-lawn" stage just yet.
"I've been staying busy by doing a lot of appearances and events related to football. The Eagles do a great job with their alumni, including them in different events throughout the season," Landeta said. "I really enjoy the opportunities I get to do those things, to be in and around the community and the team. That and getting to spend a lot of time with Joey certainly keeps me on the go."