Four trades. Three teams. One player. Even Rand McNally would have had a difficult time mapping Ron Heller's path to Philadelphia.
It began shortly before the 1988 NFL Draft when Tampa Bay traded the fifth-year veteran offensive tackle to the Eagles. However, Heller, who was without a contract, could not agree to terms and was traded back to the Buccaneers.
Following the draft, he was traded again. This time to Seattle, where the Seahawks had penciled him in to replace veteran Mike Wilson, who was coming off a mediocre season. That seemed to light a fire under Wilson, and led to coach Chuck Knox making a decision to trade Heller to the Eagles.
Although excited to be heading back east and having an opportunity to play for Buddy Ryan, Heller's world was temporarily on tilt after being told he had just 90 minutes to catch a flight.
"I probably could have said, 'Wait a minute,' but at the time I wanted a starting job. So I raced home and literally packed in about five minutes," says Heller. "I was packing dirty laundry and everything. And I couldn't get a hold of my wife!
"The phones were down in our apartment and back then we didn't have cell phones. My wife was taking a written test to become a pilot, so I had to run down the street to a pay phone. I got her out of the test, and she said, 'What are you calling me for? You know this isn't an ordinary day.' I said, 'Well, I've just been traded.' She said, 'Oh, my gosh! Ron, I'll be home in about an hour.' And I said, 'No, I'm leaving now.' So she said, 'Well, call me when you get a chance.'"
After phoning his wife, Heidi, during a layover in Denver, Heller continued on his way to Philadelphia, where he was surprised again.
"I got to the hotel about one in the morning and was just exhausted. And Jimmie Giles, the tight end, he and I had played in Tampa together, and this is one of the greatest things that a friend and a teammate could do, he was waiting for me at the hotel," Heller said. "He just kind of told me what I'd be facing because Buddy Ryan ran kind of a different program."
Even though Ryan had traded for him twice, Heller still had to prove himself to the coach. And as he learned just minutes after joining his new teammates at practice, right then was just as good a time as any.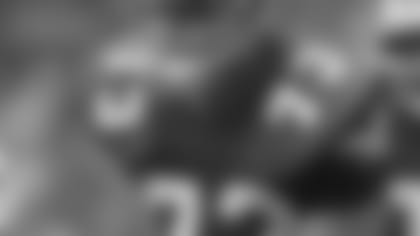 Heller was once the team's offensive MVP and will now face the Eagles as a member of Jacksonville's coaching staff
"I'm adjusting my chinstrap and Buddy stopped practice and said, 'Well, let's see if this guy is worth a damn.' He made all the defensive linemen line up in single file and says, 'You're going to do one-on-one pass (protection drills) against all of them.' And all I remember thinking is which one is Reggie White? Because I didn't know anybody!
"So I got down in the stance and I had to pass block the first guy, then the second guy, the third guy, the fourth … I just went through it. There were about 10 of them. And when I was done with that, Buddy Ryan said, 'All right. He'll do.' And then we lined up for team period and I went to the back to watch and he came over and said, 'Hey! We didn't trade for you to sit here and watch. Get in there with the first offense!'"
He remained with the starters the following season and became what's believed to be the first Eagles' lineman to be voted as the offensive MVP by his teammates.
"That was the single great award I've ever received as far as sports," said Heller, who was also one of the team's captains and the only player on offense who didn't miss a single snap. "To receive that was overwhelming, but knowing that the team voted on it … To this day it's one of the only trophies I display in my home."
Playing with injuries that would have put others on injured reserve, Heller clearly earned the respect of his teammates. Some opponents, on the other hand, didn't share that opinion.
"I hate to even mention this, but I did have somewhat of a reputation for being a dirty player. And that always bothered me," Heller said. "In 12 years that I was a starter (with Tampa Bay, Philadelphia, and Miami), I never had a late hit; I never had a personal foul. I got my share of holding calls and such, but I never hit anybody late. I never did any of that.
"But, yeah, it tended to make guys mad when some linebacker's going to dive on a pile and I would dive and pick him off. They'd get up yelling at me that that's a cheap shot. And I'm like, 'Wait a minute, you're in the air ready to hit my running back and yet I hit you while you're doing that action and you're saying I'm late?' They just weren't used to it.
"So I did get that reputation and I had a coach early on telling me, 'Whether you're good enough or not, you're never getting voted to the Pro Bowl because you piss people off. What are you going to do about it?' And I told him, 'Well, coach, nothing. I can't play any other way.' He started laughing and said, 'That's good because I don't want you to change and I wish more people were like that.' I'd much rather walk off the field and have some guy come up to me and say, 'Hey! You're a nasty S.O.B.' rather than, 'Gee, what a great guy you are, Ron.'"
After retiring as a player in 1996 and enjoying success in the business of designing and selling industrial pumps, Heller realized that he missed the thrill that football offered, and called Tennessee coach Jeff Fisher, who was Philadelphia's defensive coordinator when he played for the Eagles, and asked about coaching.
"(Fisher) said, 'If you want to find out what it's like, come down to my training camp.' And so he brought me down for a week and I worked with the offensive line coach, Mike Munchak. Although it was just a week, I got a taste of it and just being around that competitiveness is what compelled me to continue doing it. So I got into it because I wanted to be there on game day. I missed that excitement."
Heller would coach three seasons with Amsterdam of NFL Europa, and last year in the CFL with Toronto. And now he's an NFL rookie again this season as an offensive staff assistant with Jacksonville, the Eagles' opponent this week.
"Jeff helped me get a job in Europe and I thought the games would be the most exciting and the practices would be the second-most excitement, and I'll just put up with the meetings and all that other stuff. But quite honestly, I found that I loved the meetings. I loved teaching. I loved having a kid look at me and say, 'Coach, I don't know how to do this.'
"Most athletes spend their life going around telling everybody how good they were. And now I get a chance to get paid to tell them, 'This is what helped me become good and this can help you.' And being in NFL Europe, I had nothing but young kids that were on their last chance of making it in the NFL, so they wanted it! They just wanted so much information and I found the classroom just so rewarding because you weren't worried about hurrying up and getting to the next drill, I could really teach them. I just found that so rewarding.
"Then I was fortunate enough to go coach in the Canadian Football League where you have 34-year-old players and you tell them something and it's 'Yeah, OK. I've done it before.' So that created a whole new challenge and I started to enjoy being able to break through to that guy. I really enjoy the game and all that, but teaching and helping players become better players has been really exciting."