As an undrafted free agent out of Duke in 1982, Brian Baldinger had to prove himself on the field in order to have any chance of playing in the NFL. And to help do that, the offensive lineman had to gain an advantage by learning the playbook inside out. Once on the team, he benefited by studying game films to discover weaknesses and tendencies of his opponents.
Given the fact that he had spent six seasons (five active) with Dallas and four with Indianapolis before making his way to Philadelphia in 1992, he proved to be an exceptional student of the game.
And even though he hasn't played a down since leaving the Eagles following the 1993 season, Baldinger is still a gridiron scholar. Only now he is a color analyst for FOX Sports and a studio analyst and co-host of the Playbook NFC and Playbook AFC shows for the NFL Network.
During the season, Baldinger spends so much time at the NFL Films office in Mount Laurel, NJ, that one might think that his last name was really Sabol.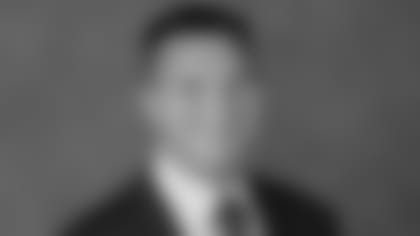 Football remains a very big part of Brian Baldinger's life
"I come in Monday nights around seven or eight o'clock because the films don't come in until around six o'clock, and I usually stay for about five hours," Baldinger said. "(I'm there for) about 14 hours typically on Tuesday. It's what I call 'loading the robot.' I don't know if I can even speak. It's not that I don't trust anybody else, but I'd like to see it myself. So I try to watch as much as I can. Wednesday, I'll come in and review a lot of my pieces that I'm going to show on Playbook and get ready for a lot of local television. And then on Thursday, we tape Playbook and that usually takes about six or seven hours to do the two shows."
While he's studying the various tapes, is he looking for something specific or are his eyes wide open?
"A little bit of both," says Baldinger. "Sometimes you don't know what you're looking for and sometimes I'll have a hypothesis that I want to test out. It could be the Chicago Bears' inability to get to the quarterback with a four-man rush. So I'll go in there and watch the Bears' defense and they can't beat Green Bay's front five. They have to force to get pressure. You go, 'Gosh, Green Bay really has a good protection scheme.' And you come out with that.
"Sometimes you go in there, like I said, with a hypothesis. You want to test it and see if it holds up. If it does one week, you may go check it out another week. And then sometimes things just sort of blindside you. You just can't help but notice a particular player.
"(As an example) this kid, Spencer Larsen, played both ways on (Nov. 16th) for Denver. You can't help but notice him. He was a sixth-round draft choice that's starting at fullback and starting at middle linebacker for them. How'd that happen? They had injuries at linebacker and all kinds of injuries at running back. So they took their starting fullback, Peyton Hillis, and moved him to tailback. They asked this kid, Larsen, when they drafted him out of Arizona, have you ever played fullback before? Is it something you'd consider? He said, 'I just want to play in the NFL.'"
Now in his 11th season working for FOX Sports, Baldinger is partnered with veteran play-by-play announcer Dick Stockton. Every Thursday evening after completing his duties for NFL Network and watching game films of the teams he'll be covering that weekend, Baldinger travels to the game site where the production team will watch practice and meet with players and coaches of the home squad on Friday. They'll do the same with the visiting team when they arrive on Saturday.
The meetings allow Baldinger and his colleagues to gather even more information in preparation for Sunday's game broadcast.
"I've found that when I come in there fully prepared, having watched their film and kind of knowing what the philosophy is, that when you ask them real football questions, not general questions that the media has floated at them all week long, they tend to be very honest and up front with you," said Baldinger. "They appreciate the fact that you've done your work, that you've really watched and studied the game. I find that you can really engage them at that time. I like to come to the meetings with a pretty good series of questions that can challenge them about things that they've done or things that they might have done or things that they might do.
"I love looking at them face to face. I love seeing them in good times. I love seeing them weather the bad times and get through it, see some resiliency in the team. I really enjoy that. Almost like a player, you do all your homework, you put all your notes together, and then you just go kick it off. And then as the game dictates, you sort of drop in the knowledge that you've gained hopefully when it's appropriate."
He continued. "I'm proud of the fact that I started from nowhere, doing high school football games on Friday nights on the radio, and have worked my way up to being the longest-tenured analyst at FOX. I feel like I can really walk up to any single person in pro football, whether it's a general manager, an owner, a starting quarterback, an assistant coach, and strike up a good, healthy football conversation."