 Acquired as part of a 2007 trade with the Buffalo Bills, the Eagles knew right away what they were getting in Takeo Spikes – a proven playmaker. And the nine-year veteran linebacker knew just as soon why he was excited to be heading to Philadelphia.
"It was the first big market that I played in," said Spikes, who besides Buffalo had also played for Cincinnati at that point in his career. "I always felt like I wanted to be known. My peers knew I could play the game at a high level, but I wanted at that time what every other player wanted, justification. When people mentioned my name I wanted it to be, you know what, this guy is legit."
Besides being known as legit, Spikes also found it important to lead by example.
"I thought my father (Jimmie) was one of the best leaders of all time, and he never really talked about what he must do in order for us to see what he was doing," Spikes said. "That's the way he portrayed himself.
"I always knew that some guys who wanted the leadership or the captain role, they would go out and politic for it. But I took everything that I knew of people who I respected, like a Brian Dawkins, those types of guys who were similar to my father. They were just guys who worked, worked, worked. I just respected that so much. So for me, it was important to come in and just show people this is who I am without even saying a word."
During Spikes' only season as an Eagle, he finished second on the team in tackles despite missing the final two games after having shoulder surgery. A two-time All-Pro, he would go on to conclude his 15 years in the league by playing for San Francisco and San Diego.
What makes him most proud of his career?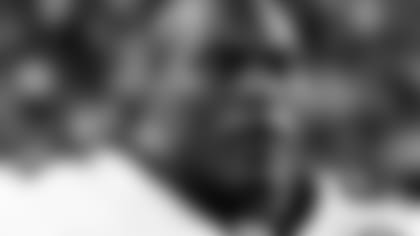 "Two things," said Spikes. "I was nominated to be a captain 13 out of the 15 years. The two times that I wasn't nominated captain was my first year in Philly, which is understandable when you've got Brian Dawkins and Donovan (McNabb), and my first year in San Francisco.
"For me it says when you have that C on your chest, that's something that's not political. It's the guys telling you directly, but indirectly, without them saying anything to you, that I respect you as a captain.
"And I tore my Achilles my eighth year in the league. It was only a matter of time before you were done. That was the biggest obstacle that I had to get over. I had to not only prove to everybody else, but I had to prove to myself that I'm so mentally strong that I can overcome it. I think, I don't think, I know, that's one of the proudest moments and one of the things that I've been able to accomplish. Because not only did I tear it in my eighth year, I came back and played seven years after that, and played at a high level, too. I'm very proud of that."
Spikes hesitantly discovered what would become his post-playing career while with the Bengals.
"We used to lose so much back in the late '90s, and they asked me to do a radio show," Spikes said of the team that selected him in the first round of the 1998 NFL Draft. "I told them, 'I'm not sure if I want to do it.' And then they asked me again the next week and I was like, 'Oh, man, I hope we win, I hope we win,' and we lost to Jacksonville pretty bad. So reluctantly, I went into the studio, did the show and I hated it. But it put me on a platform to where I actually talked to a bunch of fans and for whatever reason I felt a little better.
"I harvested so much emotion and feelings from the game if I never talked about it I would always feel bad. And so having the opportunity to talk about it on the radio show, that's what got me first turned on to the media. I was able to make a connection. From that point, I just felt like I've got the personality for it. Why not?"
Besides appearing each week on the college football highlights TV show, ACC Gridiron Live, Spikes can also he heard every Saturday evening as a co-host on SiriusXM NFL radio. In addition, he's writing, photographing and producing a series of books about the greatest NFL players of all time. While he plans to separate each book by the position the men played, the first one he chose to create will be about the position that he knows best. Among the former linebackers Spikes has spoken with are Ray Lewis, Willie Lanier, Harry Carson, Mike Singletary and Eagles legend, the late Chuck Bednarik.
"With all of the stories, I'm not necessarily looking to motivate anyone because I think when you motivate someone, that only lasts for so long," Spikes said. "When you inspire, and to me, inspire means you change from within. I want to inspire people.
"And to just tell the stories. What makes this book so special is it has never been done before – from an athlete to an athlete. The first thing I tell the guys is, 'Look, we have all sat down and let someone else tell our stories. Now, I want you to be the author of your own autobiography.' What makes it special is we talk just as if it's in the locker room.
"I did the research. I don't know any other ex-football player who turned photographer that's been able to go put a compilation together. I think that's what makes this book so special, because it's unprecedented. They share their most intimate stories. The book is going to be so detailed you can't go on the first three or four pages of Google and find the information that you'll be reading in this book."