Ray Farmer, a two-time All-ACC safety at Duke, was ready, willing and able when he was chosen in the fourth round of the NFL Draft by the Eagles in 1996. Well, that is with the exception of his knees. They were just willing.
But even with the chronically bad "wheels" and playing at a new position, outside linebacker, Farmer rolled into the starting lineup six games into his rookie season.
"Marc Woodard started the first five games," said Farmer. "I wouldn't say that he played bad. I just got my opportunity. I was told when I got there that they wanted me to play and then as it happened I ended up starting the rest of the regular season. And then I missed the playoff game (vs. San Francisco) because of an injury, a knee issue."
Healthy for the '97 campaign, Farmer and his teammates followed up their playoff appearance with a frustrating 6-9-1 record.
There was even more disappointment the next season, team-wise and personally. The Eagles managed only three victories and Farmer was released after just a few games.
"There was promise and hope for a lot of things. But nonetheless, bad things happen to good football teams for whatever reasons," Farmer said. "I think if you go back and review what happened in those seasons after '98 - getting high draft picks, drafting Donovan McNabb and putting some other pieces in place is probably why you had to take a couple of steps back to go forward. And then moving forward is how they then put that team together that went to four straight (NFC) championship games before getting a chance to play in the Super Bowl.
"Here's my thing: I played the '98 preseason and injured my knee again. And when I was released, it was not explained to me that way, that I was being released because of my injury. So subsequently I went and tried out for numerous other teams prior to finding out where my knee was. So nonetheless it was an interesting state of events that I was released and the time of my release."
With his playing career curtailed, Farmer felt the need to understand how and why this sudden fork in the road came about. And which way he should turn.
"Initially, I was distraught. I was hurt. I'll be honest, I cried. I drove home in tears and sucked it up before I saw my wife," Farmer recalled. "It was like, 'Hey, I was released and I'll figure something out.' At the time, I wanted to go play for a division rival and play the Eagles twice a year and show them that I still can play and I'm talented and smart and all these good things. And it didn't happen.
"I flew all over the country, went to several teams, some more than once. I had a chance to try out against a lot of guys. And there were guys that I thought I was better than that got jobs that I didn't. It became discouraging. I signed with Carolina after the season, was there for a few weeks and failed a physical. And that was it.
"That's when reality sunk in for me that it's time to go to the next phase of life."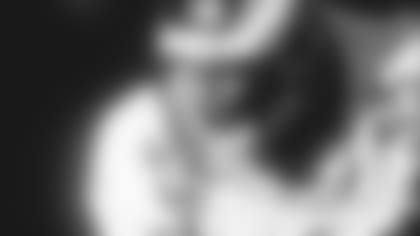 LB Ray Farmer
Farmer's next phase included trying things, several things. Investment banking, real estate, pharmaceutical sales, business sales and co-hosting a radio sports show. Eventually, however, Farmer's focus was back on football. He returned to his college alma mater in 2001 to become the team's academic coordinator and assist with recruiting.
And even though he was happy at Duke, in the back of his mind Farmer still had a goal of returning to the NFL in some capacity. Not as a player or as a coach. No, he wanted a chance to work in a team's front office. And so, by using some connections and having his agent put out feelers, after eight months Farmer got a position with the Falcons as a pro scout.
After four years with Atlanta, Farmer moved on to his current position as Kansas City's director of pro personnel.
"I get a chance to work hand-in-hand with a lot of great people and be involved from a variety of aspects," said Farmer, who just completed his third season with the Chiefs and will work with new general manager Scott Pioli and head coach Todd Haley. "I help manage the roster and make sure that we have the right type of players that we want. And in a lot of respects I think right now we're similar to where Philly was in those '96, '97 and '98 days.
"We had a really good season my first year here. The second year we took a step back and went 4-12, similar to (the Eagles' '98) 3-13 year. And now it's time to make sure we have the pieces in place to make that run."
League followers had an opportunity to witness Farmer at work prior to the 2007 season when the Chiefs were the subject of HBO Sports' "Hard Knocks," a behind-the-scenes NFL Films-produced documentary of training camp. In essence, the former Eagle delivered the hardest knock by breaking the bad news to those players who didn't make the team. It's an experience he's now lived through from both sides of the table.
"It adds perspective and depth to the young man that is going through it," Farmer said. "You have to give a guy a chance to express what he's feeling and why he's feeling what he's feeling because it's tough. You're talking about guys that have been the crème de la crème from the time they were kids.
"Guys that don't make NFL teams ... they were the best kids on their Pop Warner league clubs, they were the best kids in high school, they were the best kids at their college and then now they've got a chance to play in the National Football League. And at the end of the day, (53) guys will travel to our first game. Every other guy in that room is going home. It's just a fact."
It's also a fact that Farmer has paid his dues to get to where he is now, and that he would not have wanted to get there any other way.
"One of the things that I govern my work habits by, other than my religious beliefs, is a book called, 'Good to Great,' written by Jim Collins. It talks about building from within, growing your own, having people that understand the goal from the ground up," said Farmer, who lives in suburban Kansas City with his wife, Vernèt, and their children, Boyd and Kennedy.
"Having been a player, having worked from the ground up from just being a general pro scout where you pick guys up at the airport and doing all the grunt stuff to now being in the director's role and potentially doing bigger things, working with budgets and seeing how everything comes together ... to me, there's a value in experiencing the whole gamut."