On the field, Mike Caldwell knew his role. A reserve linebacker, he was an outstanding special teams player during an 11-year NFL career which included four years with the Eagles.
"I knew my role and I went out there and played hard and gave it everything I had every time I was called on," said Caldwell, who was voted by his teammates as the Eagles special teams most valuable player in 1998. "I always looked at myself as a team player, someone that put the team first on many occasions."
Now in his second year as an assistant coach under Andy Reid, Caldwell has a different role. He spends his days - and nights - trying to figure how out what works and what doesn't when it comes to motivating players and teaching techniques.
"It's not a defined role," Caldwell said of his position as the team's defensive quality control coach. "It's just whatever I can do to help the coaching staff and help the team get better, that's what I'm here to do. Just like a player, whatever is needed I'm here to do it."
During a four-year stint in Philadelphia which spanned from 1998 to 2001, Caldwell witnessed first-hand the franchise's remarkable turnaround under Reid and he was no doubt influenced by some of his teachers. He played in an attacking defense crafted by the late Jim Johnson. He played for a top-flight special teams unit under the direction of current Ravens head coach John Harbaugh. And his position coach was a guy by the name of Steve Spagnuolo, who is now the top man in St. Louis.
Caldwell played in 159 career regular season games and posted 14.5 sacks and eight interceptions, while proving to be a top special teams performer during a career which began when he was selected in the third round by the Cleveland Browns in 1993. He went on to play for Baltimore, Arizona, Philadelphia, Chicago and finally, Carolina, in 2003.
Four years later, Caldwell found himself back at Lehigh University as an intern coach during the team's 2007 training camp, working with the linebackers.
"As a player, I remember talking to Coach Reid and he had mentioned something (about coaching) and I was like I would never be a coach, never wanted to be a coach," Caldwell recalled.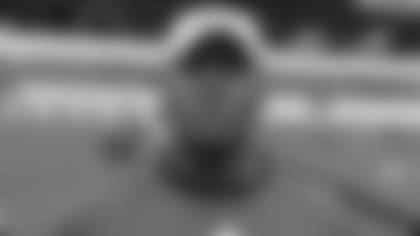 Coach Mike Caldwell
But in 2008, Caldwell joined Reid's coaching staff.
Reid saw something in Caldwell. During his playing career, Reid and Harbaugh always thought of Caldwell as a "coach on the field."
"When you hire coaches, you want to hire teachers first," Reid said. "That's what we're here to do."
Caldwell always thought of himself as a student of the game and his new job allows him to both study and teach.
"There's definitely more studying involved," Caldwell said. "We're not just studying the past couple games. We go back and try to pick up any tendency we can. That's thing. As a player, the information was given to you. As a coach, you have to go find the information to present it to the players, so there's much more involved.
"It's good because once you get out there and you see the results on the field, the hard work you put in is well worth it."
Caldwell's primary duties are breaking down game tapes and tendencies of the offense of upcoming opponents, coordinating the offensive scout team during practice, and assisting both with the linebackers and the defensive line.
Caldwell's day, like the rest of the coaches, begins before the players arrive at the NovaCare Complex and it ends well after the last player is gone.
While the biggest difference for Caldwell is not being in the locker room, he noted there is a special camaraderie among the coaching staff who have offices on the second floor of the NovaCare Complex.
"We have it up here as coaches," Caldwell said. "We're together just like the players are together. There's not as many of us so it's a closer-knit group. We have our fun. We pick at each other. We have a good relationship."
In fact, as a coach, Caldwell sees the same even-keel demeanor Reid has with the players. However, the one thing Caldwell has discovered is the head coach's sense of humor.
"He has more of a sense of humor now that I'm a coach and I'm around him a little bit more than I ever knew as a player," Caldwell said. "I didn't see that side of him much."
Caldwell was an integral part of Reid's early teams, the foundation of which was good defense and solid special teams.
"We took it upon ourselves to go out there and just play hard defense and give the fans something to cheer about," Caldwell said. "It was a bunch of guys that trusted each other and cared about each other and just went out there and played hard."
Caldwell's familiarity with Reid and the defensive scheme made his transition into the coaching fraternity that much smoother. Certainly, his experience as a player adds to his credibility with the players, even veteran Jeremiah Trotter, Caldwell's one-time teammate.
"I think sometimes it's easier because you know how players are thinking," Caldwell said. "Players need a certain amount of information to get them through. They don't need a variety of information. They don't need to know what everyone's doing and what everyone's thinking. They just need to understand what they can do to perfect their job within the scheme.
"I played the game, so I understand. I want to be able to communicate and get the information to the players, the information that they need to make them better players, mainly get them to understand where they need to be and try to put them in the best position so that they can succeed."
That's what it's all about, especially with this Eagles team.
"I just see a bunch of young guys that are hungry to get better, real similar to the way we were," Caldwell said.