 Mark Simoneau was given a fresh start. Following three seasons with the Atlanta Falcons, the linebacker was traded to Philadelphia in 2003 for two mid-round draft choices.
"I was a restricted free agent that year," Simoneau said. "I was assuming I was just going to sign my restricted tender and play out that year and then become a free agent. But I was excited. In Atlanta, I think I had a chance to start maybe seven or eight games and play a lot of nickel and that sort of thing. I was just looking forward to the opportunity to compete for a starting job.
"The main thing going into that situation was learning the defense. It was a pretty complicated scheme. There's a lot of checks and tons of different blitzes. Coming in, that was the main thing that I had to focus on, just getting the scheme down."
Starting at middle linebacker every game during his first season as an Eagle, Simoneau led Philadelphia in tackles and was named as the NFC's Defensive Player of the Month in October.
He was still manning the middle when the 2004 season opened at home against the New York Giants, and recorded seven tackles and a half-sack in the victory over the division rivals. The next week during a win against Minnesota, he had a season-high eight tackles.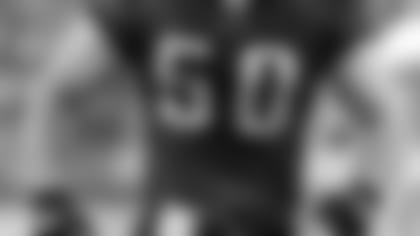 However, after recording 32 total tackles during the first five games, Simoneau had to sit out of Philadelphia's Week 7 game in Cleveland because of an ankle injury. Three games later, he was replaced by veteran Jeremiah Trotter and moved to weakside linebacker.
"That was a transition because I never had played at all on the weak side in the scheme," Simoneau said. "I had a pretty good feel for the calls, but just from the perspective of a different position, it definitely takes a little bit of time to adjust to that."
Simoneau handled the adjustment well and helped the Eagles post a 13-3 record, win the NFC Championship and meet New England in Super Bowl XXXIX.
"It was a team effort. It was about the team jelling together," Simoneau said. "Maybe we didn't always win the exact same way, but you knew that you were always playing good defense and the offense was making plays. I think it was just a good mix of guys and everybody came together. The guys made the plays when they needed to make the plays.
"(Reaching the Super Bowl), you don't really know what to expect. Coming from college where you play in bowl games, that's the only thing you can kind of base anything off of and that's not anything compared to the Super Bowl. There's a lot of media attention, but when you're there for your week of preparation it can be pretty quiet.
"As you get closer to the game, it really builds. And as a player, you're just thinking through your whole career, your whole life of playing the game and that this is something that every little kid dreams about and this is going to be your opportunity to do that. So going into it, it's a special time and you're just trying to take it all in and get ready and to play your best game."
Traded to New Orleans prior to the 2006 campaign, Simoneau spent three seasons with the Saints and concluded his 11-year NFL career with the Kansas City in 2010. Playing in Atlanta, Philadelphia, New Orleans and Kansas City, he saw a noticeable difference in the fan support between the cities.
"Each one I enjoyed very much, but every one is different," Simoneau said. "We loved Philadelphia. We lived in the city our last year and a half there and just loved being in the city. And the fans, they just loved the game. Everybody in the city was all about the Eagles, and that was what was always fun.
"Other places, especially in Atlanta, it wasn't quite as much that way. People had a lot of other things and they weren't really always focused on what the Falcons were doing. New Orleans is a smaller town, it's not quite the same type of city feel, but they're very passionate fans, too. But, yeah, it was a great time in Philadelphia."
Simoneau and his wife, Monica, now make their home in suburban Kansas City with their daughters, Livea, 6, and Lexie, 3. He owns and operates Simoneau Sports Performance in Overland Park, Kansas. It is a facility that offers customized training programs for people of all ages.
"I just have a passion for it and enjoy the interaction and working with people to help them reach the goals that they have. It's a positive experience," said Simoneau. "I wasn't certain that I wanted to coach football just because of the hours that are involved. I wanted to have something that had a little more flexibility. I wanted to do something to be able to teach. I really enjoy watching the kids develop.
"It's nice to see them put work in and see results and see them see the value in putting the hard work in. That's the most rewarding part, when you see them light up when they get a result. It encourages them to continue to work at it and continue to try to get better. They see the value in working hard."