On the field, Dwight "Ike" Kelley was a two-time All-America linebacker at Ohio State who was also a standout performer on special teams. So much so that the university has an award named after him which is presented each year to the team's top special teams player.
But on paper, in the eyes of Philadelphia's 14 rivals in the NFL, as well as the nine teams in the AFL, Kelley was practically invisible when the leagues held its player drafts prior to the 1966 season. The Eagles, however, proved to have a little sharper vision as they selected him in the 17th round.
"The [AFL's] Miami Dolphins wanted me to come down there and try out as a free agent. But at least Philadelphia drafted me and gave me an opportunity, so I decided to go with them," said Kelley. "I was pretty happy to even get drafted because I didn't know if I would be or not. Back then, they were looking for the 6-foot-3, 250-pound middle linebackers: the Dick Butkus', the Tommy Nobis', and those kinds of folks. So the 5-foot-11, 224-pounder didn't fit the mode."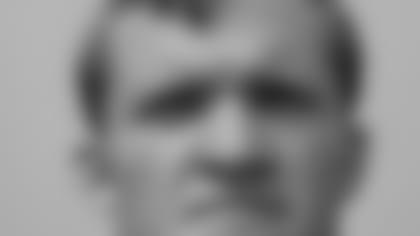 LB Ike Kelley
Fortunately for the Eagles, Kelley proved to have the ideal size needed to continue his spectacular special teams contributions at the professional football level.
"I just took advantage of an opportunity," he said. "I didn't realize that they put most of the rookies on special teams. I'd always learned that that was like an offensive play or a defensive play. You could make or break a game with any given special teams play out there. And so I gave it my all and had some success as a rookie."
And what was the rookie's mindset?
"Just be crazy and fly down there with reckless abandon and complete disregard for personal safety and make a tackle or do whatever was necessary," Kelley said. "Whether it was on a punt or a kickoff or a kickoff return, you make a block or two. We had pretty good special teams all around with the Eagles back in the '60s and early '70s."
While Philadelphia's special teams were 'pretty good' during that time period, its won-loss record, well, was not. As a result, Kelley and his teammates were introduced to a new head coach and philosophy on a seemingly regular basis.
"I started out with Joe Kuharich [1966-68] and then Jerry Williams [1969-71], and Eddie Khayat [1971-72]. And then I actually had Mike McCormack [1973], he's the one that released me after two-a-days were over.
"It was difficult. You're learning new systems every year, but you just go with the flow. It's a business. The players are working their butts off trying to make the team every year. There's no givens in professional football unless you're one of the superstars. But back then, the next year, a fresh crop of rookies were coming in and they were looking to take your position, so you got your butt in shape and came to training camp in as good a shape as you could be in and then played your way into the rest of the shape you had to be in when you started playing the games."
Evidenced by Kelley being named as a team captain, the way that Kelley played the game was respected by coaches and teammates alike. He also caught the attention of the loyal Eagles fans.
"Probably the fondest (memory I have) is never having been booed at Franklin Field or Veterans Stadium. Because you know the Philadelphia fans can be brutal sometimes," laughed Kelley. "They use to throw two banners over the side (of the stadium's concourse walls). One was 'Captain Crunch' and [had Kelley's number] 51 on it with a football player. And the other one said 'Kelley's Killers.' That's what the special teams were known as back in those days. It was kind of neat, it really was. Philly fans are great fans and they'll come to cheer you or boo you, or both - sometimes in the same game."
Following the final cheer or boo he received as an Eagle, Kelley turned to his college roots and made his home in Columbus, Ohio, where he continued to demonstrate the same work ethic for Worthington Industries that made him a poster boy in Philadelphia.
"It is light manufacturing, steel processing company. We branched out into where we manufacture liquid propane gas cylinders, the tanks you find on gas grills. We make those things by the thousands. And we are now in the metal framing business and have several joint ventures. We're about a $3 billion organization and have 7,500 to 8,000 employees.
"I worked for (them for) 35, 36 years and took an early retirement package back in November 2007 and now I'm doing some part-time work for them on a project-type basis. There are three guys who are retired and we go around and do some training at our different steel locations."
Kelley and his wife, Barb, continue to make their home in suburban Columbus. They have two children: Kerrie and Brian; and six grandchildren.