While the label "student of the game" has been tossed about, well, since there has been a game, if Byron Evans wanted to step foot onto the field for the Eagles, he had to earn a degree from the Buddy Ryan school of hard hits.
The famed architect of the elaborate "46 Defense," Ryan was in his second season as Philadelphia's head coach when Evans was chosen in the 1987 draft. And while he was a second-team All-America and the Pac-10 Defensive Player of the Year as a senior at Arizona, the linebacker was in a sense, taking trigonometry without a calculator.
"It was very complicated, probably one of the most complex defenses of all time," Evans said. "But it wasn't intimidating. I think more than anything, I was surrounded by a good bunch of guys who were willing to go the extra mile and help me out and really give me the confidence boost that I needed. If I studied, I could make it happen."
After making eight starts during his first two seasons, Evans became the full-time starter at middle linebacker in 1989 and led the Eagles with 184 tackles, which included three games with 20-plus stops. Clearly, he was indeed making it happen.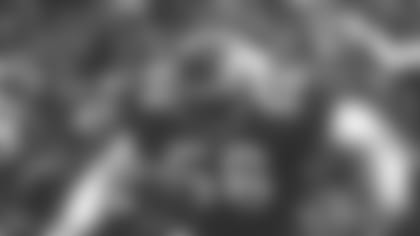 LB Byron Evans
"It just showed all the hard work I put into it," Evans said. "I remember (assistant coach) Jeff Fisher, when we played in the 'Fog Bowl' (in Chicago) in 1988, he pulled me aside and said, 'The only way the defense is really going to take off is that you have to be in there. You have to run this defense like you're able to run it.'
"So all that reassurance during the '88 season and staying (in Philadelphia) all of the offseason, spending all the excess time that I needed (to learn the intricacies of the defense), when we played Seattle in the opening game (and won 31-7), I was able to call all the signals. Buddy gave me a game ball for that."
It was one of several game balls he would receive from the coaches. The following season they presented him with a title: team captain.
"It showed that the coaches felt I was competent, I was worthy and that I was able to lead the defense. That gave me another shot in the arm and the pat on the back that I needed. That made me feel like, 'hey, I was there,'" said Evans, who finished second on the team in tackles and scored his first career touchdown after returning a Phil Simms interception 22 yards for a score. "To be named one of the captains, you had to trust the person and really believe in what they were doing. They believed that you were a leader and that made me feel real good."
Under new head coach Rich Kotite and his staff in 1991, Evans was still thought of as a team leader and was named as a defensive co-captain along with the late Reggie White. He would also soon find himself back hitting the books in order to learn veteran coordinator Bud Carson's defensive schemes.
"It was pretty difficult, but a lot of the things that we had were pretty similar, just different terminology," Evans said. "Bud was a heck of a defensive coordinator, being in the (Pittsburgh's) 'Steel Curtain' and the Cleveland Browns and all of that. Bud knew what he was doing. It was a good transitional period. I think Bud, rest his soul, was just a great defensive coordinator and a great person."
Three seasons later, Evans' standout career came to a sudden halt while tackling Cleveland running back Leroy Hoard during an early November game at Veterans Stadium. He suffered a fractured right tibia and a torn medial collateral ligament (or in layman's terms, he broke his leg and severely tore up his knee).
Strangely enough, that particular game day was unlike the 118 previous ones Evans experienced during the eight seasons he wore an Eagles uniform.
"That was one of those days, a very eerie day," he said. "I usually had a little pre-game ritual that I used to get myself psyched up. Being a middle linebacker, you have to get the team ready and I was getting the team ready; but I wasn't ready. And no matter what I would do, I just really couldn't get ready. It just seemed like everything was in slow motion for me.
"It's hard to believe (because) the Browns were 7-2 and the Eagles were 7-2. One of the biggest games of the year for us ... but it was just one of those things, just a real eerie feeling, almost like a cloud.
"Usually when you break your leg, you don't tear up your knee. And when you tear up your knee, you don't break your leg. But in that case, I did both. But never once did I say, 'Why me? Why did it have to happen to me?' It just happened to be that everything that was supposed to happen happened. It was just time. I think it was the Lord telling me it's time for you to go and do something else."
Evans listened. And for the past seven years, he has been involved in the ministry at Shiloh Apostolic Church in Phoenix, Arizona. In fact, he is now an associate pastor and Sunday School teacher.
"I just enjoy that I don't have to fake it. I don't have to wear a facade. I can be real with the people. And not only can I talk their talk, I can walk their walk," says Evans. "There was a time that I used to talk their talk about how this is what you had to do and this is how we had to do it, but I was doing a whole totally different thing.
"Now I have to be accountable for me, for my soul. I have to do what's right and be what's right and not only that, I have to walk what's right. And I have a beautiful wife (Alva) and three beautiful children (Brykara, 15; Byron II, 11; Brielle, 9). That's some of the things that came out of me getting hurt that day."