​Barefoot kicker Paul McFadden made the team as a 12th-round pick in 1984 and earned Rookie of the Year honors.
What are the odds? There were 336 players selected during the 1984 NFL Draft. Just five were kickers, and the Eagles chose two of them. Manny Matsakis out of Capital (Ohio) in the eighth round and Youngstown State's Paul McFadden in the 12th.
"To be drafted and say I was thrilled would be an understatement. I was overwhelmed because I was told I'd be borderline drafted or a free agent," said McFadden, who would compete against Matsakis and free agent Jimmy Asmus to become Philadelphia's kicker. "I look back at that rookie Training Camp and you're coming in third out of three guys and you're trying to fight through that and the margin for error … I went 4-for-4 in the preseason that year, and I think if I went 3-for-4 they wouldn't have gone with me. The margin for error was nil. That rookie Training Camp was a great life lesson."
McFadden may have been thrilled and overwhelmed, but he was also consistent. After beating out Matsakis and Asmus to make the Eagles, McFadden proceeded to kick an NFL-leading 30 field goals during his rookie season.
"I had great people around me, no question," McFadden said. "Frank Gansz was a godsend as our special teams coach. He just knew how to handle me. And I can not accentuate enough, Ron Jaworski, who is our most famous player here from Youngstown State. It was a thrill to meet him. He was my holder, and to go out on the field and have a guy with Jaws' experience and tempo and maturity just calm me down. Those two guys, I was so fortunate to be around at that time."
Prior to McFadden, Philadelphia's kicker was Tony Franklin for five seasons before he was traded to New England. The two men had something in common - both kicked barefooted.
"I saw Tony do it on TV and so my freshman year in college I wore a sock. It just felt better," McFadden said. "I had a better feel for the ball, but I got tired of messing with soggy socks and so I went barefoot like Tony.
"At the time, there were four barefooters out of 28 teams. Mike Lansford, Rich Karlis, Tony, and myself. We really thought we were the trend that was going to increase, but lo and behold, after us it faded away. Tony, he was the pioneer. Mike and Rich and I did it, but we all did it because Tony laid the path and we followed him."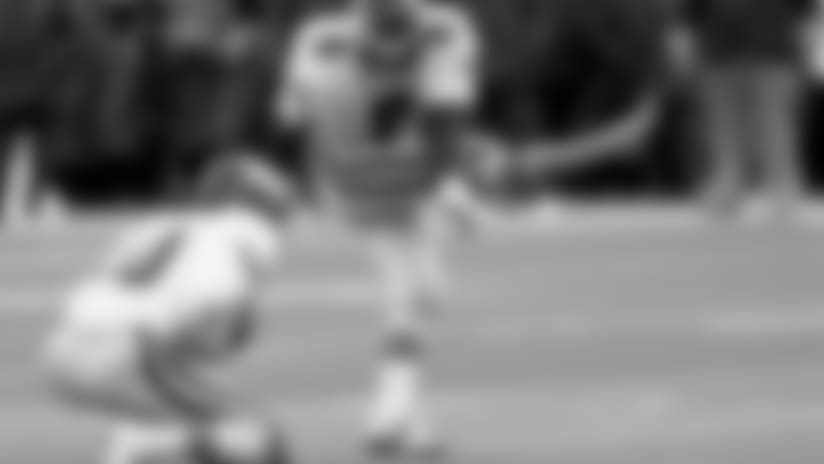 Named as UPI's Rookie of the Year, McFadden was voted as the Special Teams MVP by his teammates in each of his first two seasons. What did that mean to him?
"Everything. A lot of times folks will say, 'Boy, you were just a kicker on the team. Were you accepted?' I was always treated entirely as an equal by my teammates even though I knew in my heart I'm no equal," McFadden said. "I'm not hitting every day and working as hard as them, but they sure treated you as an equal. We were 45 separate parts, but when we came together as a team, that's when we tried to make it happen. I was so honored to be recognized by the guys like that.
"(Those four seasons I played for the Eagles) have impacted my life profoundly. They helped build the foundation for who I am today. The discipline and all of those fundamental life skills that you learn there in high-pressure situations I credit for everything else I was able to do after that. It was a tremendous honor to play in Philadelphia and play for the Eagles, but the foundation that gave me in my life, I will be internally grateful for."
Following single seasons with the New York Giants and Atlanta Falcons, McFadden was a teacher before returning to his alma mater and becoming a fundraiser in the athletic department.
"I cut my teeth there learning the trade and learning how to be a development officer," McFadden said. "After seven years, they moved me over to the central development office. So I left the stadium and went over to the main administration building, and three years later they made me in charge of all fundraising for the university."
In 2011, McFadden became president of the Youngstown State University Foundation.
"I love working with the donors because the donors are all very precious people, pure of heart," he said. "They want to help students with scholarships and seeing their lives grow and become empowered to go on and be successful. And I love being on a college campus. There's always something going on and there's energy. Especially the last three years (since former Ohio State football coach Jim) Tressel's come back – not as a coach, not as an athletic director, but as a president. His leadership is extraordinary. We're doing great things with president Tressel at the helm."
McFadden's sons, Connor, 22, and Colten, 18, are doing great things, as well.
Connor was a kicker at Youngstown State. He renounced his final year of football eligibility to start work on his master's degree at Ohio University. Colten was the No. 1-ranked kicker in the state of Ohio and is now a redshirt freshman at Kent State.