In 2000, as the second-year head coach of the Eagles, Andy Reid looked in his past to help with his future, and traded tight ends with Green Bay, acquiring Jeff Thomason for Kaseem Sinceno.
"I had played under Andy Reid when he was the tight ends coach for the Packers back in '95, '96. So Andy knew what kind of a guy I was," said Thomason, who broke into the NFL in 1992 with Cincinnati before joining Green Bay two seasons later. "I had a good relationship with Coach Reid. He was putting his team together and I was one of those pieces."
Another one of the pieces was fellow tight end Chad Lewis. The two new teammates hit it off in training camp and helped Philadelphia post its first winning record in five years.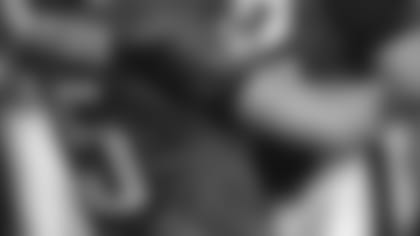 "There are not many people that Chad doesn't hit it off with right away,' Thomason said. "He's an amazing human being. We were kind of competing for the starting spot at the time, but we both wanted to see the other guy succeed. So we worked together. It was a neat environment, a pretty rare environment."
While Lewis was named to the Pro Bowl three straight years from 2000-02, Thomason contributed as well in his backup role. They helped the Eagles win 34 of 48 regular-season games and make the playoffs each year.
"It was a role that I was accustomed to. I played that role with the Packers," Thomason said. "As a backup, a guy who knows the offense, who is willing to step in and play when you needed him. And a guy who also can contribute on special teams. Outside of being able to play tight end, I also wanted to be versatile enough to help out on special teams. I took a lot of pride in my special teams work."
Becoming an Eagle offered Thomason the opportunity to be teammates with a second Pro Bowl quarterback. He had been with Brett Favre in Green Bay, and with seven of his 25 catches with Philadelphia finishing in the end zone, he proved to be a reliable red zone target for Donovan McNabb.
"They both were very competitive. They both understood the offense well and put their time in studying," Thomason said. "They both had their unique way in the huddle to motivate guys. Both were very relaxed. Both were very highly liked by their teammates. And both were just tremendous leaders. So there were a lot of similarities."
After being out of the NFL for two seasons, Thomason watched from his home in South Jersey as Philadelphia beat Atlanta in the 2004 NFC Championship Game, and move on to Super Bowl XXXIX.
"I was so thrilled for some of the guys that I just care about so much," said Thomason. "I loved seeing at the end, Brian Dawkins, just giving a big Hallelujah. I loved seeing Chad sitting on his bottom when he's cheering after scoring that second touchdown. And Andy Reid and the staff, those guys are incredible coaches and amazing people. They deserved a chance to go play in that game."
Little did he know it at the time, but they wouldn't be the only ones who would have a chance to play New England for the Lombardi Trophy. That's because the morning after the victory over the Falcons, Thomason, who was working as an assistant project manager for a construction company in New Jersey, was sitting at his desk when ...
"I got a phone call from Chad telling me he broke his foot and that he was going to call Andy or (tight ends coach) Tom Melvin and mention to them that they should consider talking to me," Thomason recalled. "I kind of laughed at that, not thinking that would ever possibly come to fruition.
"Initially, I felt bad for my friend. I wanted him to play in the game. I was sad to learn that he had hurt his foot. And then an hour or so later, Tom called and said, 'Hey, we'd like to bring you in for a tryout.' From that point it was like a blur, like you've got to be kidding me."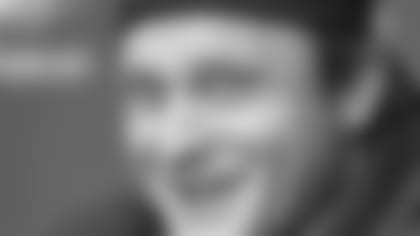 Thomason soon broke through the haze and shared the unexpected news with his wife, Blake.
"That was an emotional time, it really was. I remember just losing my mind. She was so excited for me," Thomason said. "It's hard to play a sport for as long as you do and then all of a sudden stop and you'll never be able to play again. And to get a chance to come back and play at that level for one game, it truly was a dream come true. Talking about it now I get emotional. To share it with my wife at that time when I called her… I'll never forget that phone call."
After the successful tryout, Lewis was placed on injured reserve, and Thomason began preparing for what would be his third trip to the Super Bowl. He had traveled that path twice while with the Packers. That gave him an advantage since he knew what to expect once the Eagles arrived in the host city Jacksonville.
"I think that's one reason Andy considered when the time came," Thomason said. "He knew I had been on this field before, experienced the week before, and knew how important it is to really focus on the game and not get caught up in all the things around it."
Thomason returned to his job with the construction company following the title game against the Patriots. Nowadays, he and Blake are making their home in Colorado with their children Taylor, Lily, Beau, and Piper. He is in medical sales with Stryker Orthopaedics, a company that provides healthcare professionals with a collection of reconstructive, medical and surgical, and neurotechnology products.
"I enjoy the people that I'm meeting and the doctors that I'm working with," Thomason said. "When I played, I always enjoyed the medical staff and the trainers, all those guys. I also enjoy that it's a tough learning curve, so I have to challenge myself to talk to guys who went to school for eight years for this."