In 2000, Pittsburgh planned to slide undrafted center Hank Fraley through waivers and onto its practice squad. Philadelphia had a different plan and claimed the diamond in the rough just seven days before the season opener.
"I was disappointed I didn't make the (Steelers) when I was waived," said Fraley. "But when the Eagles picked me up, I was very excited because I knew I was on somebody's roster. Being young and having never been to Philly, a lot of thoughts were going through the head, but I was still very excited for the opportunity to come to the Eagles and play."
Well, not right away. Philadelphia placed Fraley on the inactive list for every game in 2000. Fraley used the weekday experiences to be better prepared for when he did get an opportunity to suit up on Sundays.
"It was a great opportunity for me to learn from (veteran center) Bubba Miller and those guys," Fraley said. "See how pros take the game serious and become a student of the game. And Juan Castillo, being my line coach then and for the six years I was there, taught me a lot. It was an opportunity for me to learn and get better, working on the things that I knew I needed to improve on.
"I was just thankful that the Eagles saw something in me and kept me around because there's a lot of turnover with young guys if you're not playing. You never know when they'd need somebody. And fortunately, we were able to stay injury free that whole year. They didn't really need to bring anybody new in. So it worked."
Fraley was put to work with the starters after Miller suffered an injury at the end of the 2001 preseason.
"When Bubba went down I was glad that they did turn to me," Fraley said. "I know that Coach (Andy) Reid and everybody else, the fan base, (were likely saying) who's this kid out of Robert Morris? Why is he on the roster? So I was just thankful that they gave me the opportunity and stuck with me because there were definitely some growing pains."
They began in Fraley's first start, the season-opener against St. Louis.
"My first snap with (Donovan) McNabb, and me and him fumbled. My first start ever. Fumbling the ball. And they recovered. That was the first time I got goosebumps and chills in a long time," Fraley recalled.
Then he walked to the sideline and ...
"I didn't walk, I ran," laughed Fraley. "Andy Reid was very kind to me. We ended up losing that game in overtime. So to start a career, the first professional regular-season game start, and fumble the first snap… It couldn't get any worse than to start from there."
And it didn't. Fraley would become the anchor of Philadelphia's offensive line and helped the Eagles reach four consecutive NFC Championship Games, winning the title in the 2004 season to meet New England in Super Bowl XXXIX.
It wasn't easy, but it was rewarding because of what he'd gone through to reach that point.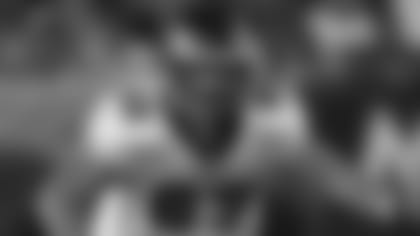 "I think I lasted because I never became complacent," Fraley said. "That came from Juan. He'd say, 'Don't be complacent or somebody's going to take your spot.' I always used that as a motivation. I always wanted to work harder. I wanted to be the best center. Was I the best center? Definitely not, but I didn't just want to be a good center. I always wanted to be the best at it.
"I'd watch the guys who were great centers and see what they'd do right. I wanted to be a student of the game. I was just never satisfied to be on the team and be that anchor of the line. I wanted to make sure that I was great for everybody. I wanted to be great for the Eagles."
One way that Fraley would try to do that was by studying game film of upcoming opponents with McNabb.
"After everybody went home, it was mainly just the two of us every Wednesday and Thursday. We would just go sit down and watch. I had a lot of control with helping call the protections and calling blitzes. We just had a great understanding.
"And it wasn't just me why the line worked well, we worked well together. Quarterbacks, running backs, we were always on the same page, and I think that goes to the coaching we had."
Fraley was known as a student of the game. Following 11 seasons in the league – six with Philadelphia, four with Cleveland and one with St. Louis, he became a teacher of the game, and is the offensive line coach at San Jose State.
"I've always had a passion for the game and when I retired or kicked out of the league, whatever way you want to look at it," laughed Fraley, "I called a guy who coached me in Cleveland, Steve Marshall, and Juan. I said 'If you know of any opportunity that opens up let me know. And let them know that there's a young coach-in-waiting.'"
The wait wasn't long. Two weeks after Fraley made the calls last year, Marshall recommended him to University of San Diego head coach Ron Caragher, who put Fraley on his staff. Caragher moved on to San Jose State this season and brought Fraley up the California coast with him.
What does Fraley enjoy about his second career?
"Especially at the college level, it's just teaching them tools that I learned from great, great coaches at the next level. And just learn about life," Fraley said. "I learned from Joe Walton who coaches at Robert Morris and coached me. His thing was it wasn't all about football. It was about growing young men.
"When they get their degree, how are they as young men off the field and when they're starting families? Hopefully I'm able to touch their lives in that aspect and make sure after the game that they're great young men in society."
Fraley and his wife, Danielle, have four great young men of their own – Trent, 9; Mason, 8; Travis, 6 and Beau, 5.