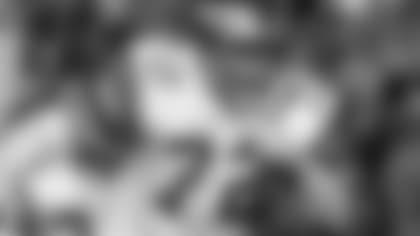 With one year of eligibility remaining, tight end Wade Key didn't have to leave Southwest Texas State in 1969. He planned on staying, but ... 
"During the draft, the Rams called five or six times," said Key. "I kept telling them, 'Look, I don't want to be drafted. I want to finish my senior year to get my degree.' And then I woke up the next morning and I was drafted by the Eagles. I kind of fretted over that for awhile and then you kind of get over it. The only thing you can do is just go on because that's what it is."
Moved to left tackle as a rookie, Key had to adjust to playing the unfamiliar position with no fewer than four different men lining up next to him at guard during his first three seasons.
"It was difficult and here's the reason why," Key said. "You've got to become a team member and you've got to love the guy playing next to you. And the guy I really loved playing next to me was Jimmy Skaggs. Jimmy helped me a ton and be really ready to play in the NFL.
"(Jimmy was) a great guy and a hard-nosed guy. I don't know why he took a liking to me, but we'd get together and he'd even knock me around a little bit. He'd just forearm me in the chest and say, 'Boy, you need to get serious about this! You need to pay attention to me because I'm going to teach you something you don't know!' And he did."
Key would value Skaggs' tutelage even more when after four seasons at left tackle, Philadelphia's new head coach Mike McCormack moved him to left guard in 1973. The move worked. Key helped the Eagles average nearly 128 yards per game on the ground that season, their best effort in eight years.
"I knew I'd found a home. I probably was always destined to play guard because I wasn't that big. I was 250 (pounds)," Key said. "I had a lot more quickness. Of course, that all depends on the kind of offense your head coach is going to run. If you're going to run the ball a lot, you want guards that can move."
In 1978, Key's ninth season, he experienced a first under his fourth head coach, Dick Vermeil – a winning record and a berth in the playoffs.
"I've got to hand it off to Dick Vermeil. Let me tell you, when Dick first got there, boy, I think our two-a-day workouts went for six or eight weeks. I mean, it was grueling. I thought, well, this guy does a lot of things really well, but he's either a genius or he's an idiot," laughed Key.
"He went about things totally different from the way (previous head coaches Ed) Khayat, (Jerry) Williams and McCormack did. It wasn't the same, but Dick was a hell of a coach. And I think what made Dick very successful was he surrounded himself with really great people. They were really good coaches. They cared about us and they worked with us and it was a really, really good time."
That, however, wasn't the case for Key in 1980. Following surgery in February to remove a calcium deposit "as big as my fist" from his right hamstring, his rehabilitation was still ongoing when he and his teammates reported to training camp in July.
"A bunch of people got hurt, including a lot of linemen," Key said. "So Dick asked me, 'Look, (Ron) Jaworski's out on the field and we need to protect him. Can you play?' I said, 'Well, I've played hurt a lot, I'll give it my best shot.' I played every game and we got down to the end of the preseason and they waived me.
"I would have loved to left the game with some integrity because I'd spent my whole career in Philadelphia and I thought I was robbed of that. But it didn't happen that way and look, I don't hold any grudges. I don't want to do that because I'm too far down the road."
The road Key followed from a small college in Texas to Philadelphia, while initially eye-opening, became a heartfelt adventure.
"I was a country kid coming into the big city and I just walked around looking up (at the buildings) with my mouth wide open," said Key, who was with the Eagles from 1970 to 1980, and was named to the 75th Anniversary Team by the fans in 2007.
"I love Philly, I love the Eagles and I'm still a big-time supporter. I'm living in the middle of Dallas Cowboy and Houston Texan fans and I think I could probably get attached a little bit to Houston. But Dallas? It will never happen. It just never will happen."
Now enjoying retirement after coaching high school football for 22 years, Key and his wife, Cathy, live on a 173-acre ranch near Hondo, Texas.
"I've got a few cows and I've got lots and lots of wildlife all around me. We live up here in seclusion, and that's the way I like it," Key said. "I told my wife when I decided to buy this place, 'I want to be at the end of the road.' And that's where I am. I'm at the end of the road. If you come in here, you're either lost or you're up to no good."
Key has three adult children. Lyle is a police officer in suburban San Antonio. Lance is the women's soccer coach at Trinity University in San Antonio. Lara lives near Dallas and works in finance. He also has "tons of" grandchildren. !