 Just two seasons after winning the 1960 NFL Championship, the Eagles posted a less than terrific 3-10-1 record. Clearly, they needed to improve.
One place where they did so was on the offensive line when they acquired second-year guard Ed Blaine from Vince Lombardi and the defending champion Packers in 1963.
After playing behind All-Pros Jerry Kramer and Fuzzy Thurston in Green Bay, Blaine became a solid starter during his first season in Philadelphia. But with just two wins, the Eagles continued to stumble and chose to replace Nick Skorich with Joe Kuharich as the head coach.
"Coming from an organization where it was clear who was in charge and things were done in a very, very almost military kind of fashion, Nick was a lot more relaxed," Blaine said. "Joe Kuharich, a lot of us thought he was going to be the salvation of the Philadelphia Eagles, even though we all were aware that he hadn't done so great in some of his previous coaching positions.
"But I think Joe was just a little too ... I wouldn't say lacking in discipline, but not quite tough enough. Having played under Lombardi and Dan Devine (at Missouri), two very harsh disciplinarians, they demanded absolute everything from you and more.
"To come to coaches who weren't of that tenor was difficult for me. I wanted them to come up and kick me in the butt when I did something wrong. And when they didn't do that, I kind of took it like, well, they're not doing their job. Their job is to make sure I do my job."
Even though Blaine did his job well in 1966 and helped the Eagles enjoy their first winning season in five years, because of integrity, that would be his fifth and final season.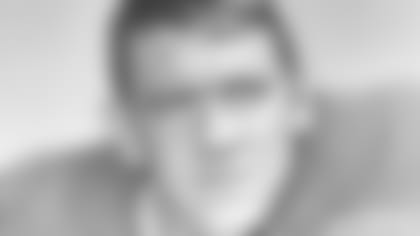 "I played in college at 215 pounds. I did get All-America honors, but the coaches took me aside and said, 'Ed, don't be disappointed if you don't get drafted. You're just not quite big enough.' So I wasn't expecting to be drafted," said Blaine, who was chosen in the second round by Green Bay.
"One of my professors, my mentor as an undergraduate, didn't like athletics; but he recognized that this was something that not everyone got a chance at. He said, 'If you promise to quit after five years, I will give you a place in my laboratory that you can come back to every offseason and work on your master's degree. And then at the end of those five semesters, you'll get your degree and you have to agree to stop playing football and finish your Ph.D.
"At that time, I didn't think I would make it in the NFL, so that was the easy thing. 'Sure, Doc (Clint Conaway). I agree.' And so it turns out that I did make it. I played the five years and I honored my promise. A lot of people say, 'You wouldn't quit professional football because you promised somebody you would.' And I did."
While doing research for his doctoral degree from the University of Missouri, Blaine's work was "to understand the role on the renin-angiotensin in blood pressure control, especially the role of the renin-angiotensin in hypertension, at that time the most prevalent medical problem around the world. My specific work in that area defined the control of the secretion of renin from the kidneys, especially the role of blood pressure on renin secretion."
Blaine would become and still remains a professor of medical pharmacology and physiology at Missouri. His best known discoveries are drugs known as angiotensin converting enzyme inhibitors, which treat hypertension.
What does it mean to Blaine to know that his work has improved people's health, and in turn, better their lives?
"So many of us in science are in science for the personal reward you get from discovery. And most discoveries don't ever have your name attached to them as they go out into the world," Blaine said.
"The difference here is, if you're involved in the discovery or invention of a new drug, you get a patent, and it has value. So many other discoveries or accomplishments in science don't have commercial value. They're just a body of knowledge that you continue to add to. Most of us are satisfied with that. That's really how we see our lives.
"But if you get that lucky chance and you can actually contribute to the fundamental value or help other people, mankind, by coming up with something that is useful, that's a so much better reward than knowing that you're creating new knowledge.
"A lot of people would say, 'Who cares?' Well, everybody cares eventually because all that new knowledge that's being discovered today maybe won't be used for 50 or 100 years, but it will come into play later on. When you discover a drug or you're involved with that kind of discovery, you actually see the benefit of people taking it and people doing much better, getting well, healing."
Blaine and his wife, Marilyn Starwalt, live in Columbia, Missouri, and have two adult children and two grandsons. After 42 years, he plans to formally retire in August and be declared a professor emeritus. That, however, doesn't mean he will not still be found working with medical students in a laboratory or classroom.
"I'm not going to stop my contributions to medical education. I'm going to continue being a facilitator for process," said Blaine. "It keeps me alive, to be quite honest. I have to worry about that I'm up to date on things. I've got to go in. I've got to interact with these students. Have a conversation with them and as they leave the room, they say 'Oh, I'm glad I got to talk to him.' Because you can't fake it with these kids, they're too bright." !