Jon Ritchie played the game of football with such toughness that his game tape could become a series on the Discovery Channel.
That may have been why Philadelphia pursued the free agent fullback in 2003 after he had spent five seasons in Oakland and helped the Raiders reach Super Bowl XXXVII. And it was the Eagles' recent success that was attractive to Ritchie, as well.
"They had the (NFL's) best record since 2000," said Ritchie, "and I was coming off of a Super Bowl and I felt like they had a chance to get there. I wanted to get back to the Super Bowl and I wanted to get back home."
To paraphrase an old adage, Ritchie could indeed go home again.
Having grown up in Mechanicsburg, Pa., a town 90 miles west of Philadelphia, he had an opportunity to do something that he had been unable to do since leading Cumberland Valley High School to a state title as a senior in 1992.
"I didn't realize when I was playing out in Oakland that no one ever got the games back here (in Pennsylvania)," Ritchie said. "Unless we were playing (in a nationally televised game) on Monday night or Thursday night or Sunday night, a lot of people - friends and family and that sort of thing - didn't have much of a chance to see me play.
"So it was nice to get back close to home and have people I knew sitting in the stands. That meant a lot to me because I had not had that experience before. At Michigan, my folks could see me play every once in a while. At Stanford (where he had transferred after two years), very infrequently; playing in Oakland, once again, very infrequently. And now all of a sudden it became kind of an event for our family and our friends. It was a nice, comfortable situation, for sure."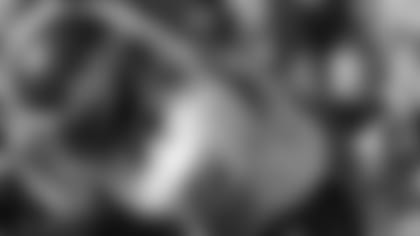 Jon RItchie's hard-nosed style made him a fan favorite in Philadelphia
As the blocking back for Philadelphia's "three-headed monster" backfield of Brian Westbrook, Correll Buckhalter and Duce Staley in 2003, Ritchie was more concerned with opening holes at the line of scrimmage than with taking handoffs from Donovan McNabb.
"It was a workmanlike mentality where you knew you had a role," Ritchie said in describing his on-field mindset. "The role kind of evolved from the time I started playing until when I was done playing. The fullback became less and less involved with the offense. It was a strange process, but that was my role. Just do what you can with what you're given. Do what the coaches asked and not ask questions."
Ritchie continued doing what the coaches asked the following season, when he suffered a season-ending knee injury while covering a punt during the third game of the season in Detroit.
"We thought they were going to rush the punt after the first series, so I went in to try to protect," he said. "And as I was covering downfield, a guy tried to block me and I tried to cut behind him and it just snapped."
Following 10 months of strenuous rehabilitation, Ritchie was front and center when Philadelphia opened its 2005 training camp. However, during a meeting with head coach Andy Reid shortly before the regular season got under way, the enthusiasm Ritchie had for his upcoming third season with the Eagles turned to depression when he learned his knee trouble had become a career-ending injury.
"It was a complete and total shock to me when they released me," Ritchie said.
Although certainly disappointed, Ritchie left the game with the respect of his teammates and opponents alike and proud of what he had accomplished on the field.
"I think that I tried to be the corporate guy," said Ritchie. "I did whatever they asked me to do. I tried to be a good teammate. I took pride in doing my job and tried to do it the best I could."
Ritchie is now tackling his second and third careers with that same work ethic. Having made his home in Central Pennsylvania with his wife, Marielle, and their children Joe and Marlowe, he's working for HydroWorx, a company that specializes in designing, manufacturing and marketing water therapy pools and conditioning equipment.
"I'm in charge of the Web content and the copy writing for all of our marketing materials, and I go around the country and film case studies of patients and athletes using our pools and edit them and put them on our Web site," Ritchie said. "I think it's rewarding, particularly with pediatric, geriatric, spinal patients, people who are so limited in their physical ability through illness or injury to do much of anything on land.
"They can get into the pool, the same kind of pool we had in Philadelphia (at the NovaCare Complex), and accomplish things. That pool really helped me a lot during my rehab with my knee. That kind of got me out of bed in the morning, knowing that I could get in there and jog in water while I could barely walk on land. I think it inspires a lot of people and that, in turn, inspires me."
Ritchie's schedule is even busier during the football season when he adds in his television broadcasting duties. As a college football game analyst for CN8, he does Colonial Athletic Association games. He also travels to Bristol, Conn., every week to work as an on-air analyst and contributor for ESPN's "First Take."
"It's really exciting for me to go up there. I mean, it's just awesome. It's like living a dream walking in that compound and seeing the faces that you see on TV every day," Ritchie said. "I get every bit as excited to do a segment on live TV as I did running out of a tunnel before a football game. Maybe more excited because this is brand new ground."