We've all heard stories about a star player taking a wet-behind-the-ears rookie and showing him what it takes to make it in the NFL. For former Eagles defensive tackle Riley Gunnels, it would take some time before he came to realize how important it was for a vet to take him under his wing.
Gunnels, a defensive tackle from the University of Georgia, was drafted in the 10th round by Pittsburgh in 1959. He spent all of training camp lining up next to perennial Pro Bowl tackle and future Hall of Famer, Ernie Stautner.
"There's a guy that did everything from a defensive line standpoint the way it was coached," said Gunnels. "He stayed squared-off. He stayed low. He did everything near perfect. He's the only guy I know that really did everything that was that good. I had a lot of respect for him because I think he was probably as good an inside guy as there was in the league. I went through training camp and I learned a lot and I felt like I was in pretty good shape, but obviously I wasn't. I was put on waivers and the Eagles picked me up the next year."
After Philadelphia signed Gunnels in 1960, head coach Buck Shaw put him with some more experienced tackles: Jess Richardson, who was in his seventh season, and Eddie Khayat, who was in his fourth.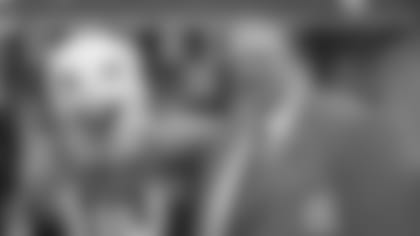 DT Riley Gunnels at the press conference to honor the 1960 championship team
"They were alternating me with (Richardson and Khayat), they were the starters," Gunnels said. "They'd been there and I was just a rookie even though the experience I had (gained while with the Steelers) helped me a lot. But those two guys helped me an awful lot, too, Eddie, in particular.
"I don't think we had a defensive line coach back then. We pretty much did our own coaching from the defensive line standpoint. And Marion Campbell was the key guy there. I think it was just a case of having a group of guys that were all looking in the same direction. We were all on the same page and we believed in ourselves."
With the trio of Richardson, Khayat, and Gunnels alternating at tackle; and Campbell and Joe Robb on the ends; the front of the Eagles' defense could have been mistaken for a brick wall. Philadelphia posted its best record, 10-2, since the NFL championship season of 1949, and won the title again.
"Defensively, we had a good group. We had a lot of determination and turned some bad efforts into good efforts," said Gunnels. "We started out the season kind of bad, kind of got knocked around the first game (losing to Cleveland, 41-24). And then the second game we played, we felt we should have run away with it to be honest with you. That was against the Cowboys and we just barely won that game (27-25). But then after that we started playing a lot better defensively. Our offense kept playing well, so we won nine straight. We kept the score down on most of those games pretty good.
"We had the best passing offense in the league. We had a great quarterback (Norm Van Brocklin) and some good receivers (Pete Retzlaff, Tommy McDonald, and Bobby Walston). Not that they overpowered people with yardage, but they scored a lot of touchdowns. And we had some real good running backs to make the passing offense work well. Ted Dean, I'll tell you what, he did a lot for that team and just never really got the praise he should have gotten."
Gunnels would spend five of his seven years in the NFL with the Eagles, and found them all to be as memorable as the championship-winning rookie season. "I had a pretty decent year; I think it was in '62. (Running back and kickoff return specialist) Timmy Brown was voted most valuable player on offense, and I got it on defense. That was a big deal to me because my teammates voted me there.
"You know what? We just had fun playing football. Back in those days, when you were a Philadelphia Eagle, you never even thought about being traded somewhere else. That was the team you played for and that was your family. That was the big thing back then. I enjoyed every day I played for the Philadelphia fans."
Of course, there was one special fan in particular. Gunnels and his wife, Kay, a Philadelphia native, have been married for 46 years. The parents of three: Tory, John, and Chris; and grandparents of four; they own and operate a company called Signal Graphics in Egg Harbor Township, N.J. "I enjoy providing customers with a product that is helpful to them in building their business."