The end of the 1994 season was a whirlwind for Rhett Hall, a reserve defensive tackle with the 49ers. Starting the final two regular season games in place of an injured Dana Stubblefield, Hall sacked Denver quarterback John Elway three times in the first game and recorded five tackles against Minnesota in the second.
And despite playing behind Stubblefield again in the postseason, he registered three more sacks, including two in the NFC title game against Dallas, and helped San Francisco win Super Bowl XXIX.
Four days after securing the championship, Hall saw his defensive coordinator, Ray Rhodes, become Philadelphia's new head coach. And on March 9, Hall signed with the Eagles as an unrestricted free agent. The cross-country move was a no-brainer for Hall, who saw it as an opportunity to start for a coach who was familiar with him.
"Up until that point I was a backup," said Hall, who had also spent parts of three seasons with Tampa Bay. "(San Francisco was) where I grew up, so I had a few things tugging on me, but ultimately at the end of the day, we're all looking for opportunity and the right environment to have success. And there was no question that the opportunity to get to Philadelphia and play under Ray was absolutely the right decision."
During training camp, Hall, who had been waived six times before arriving in Philadelphia, appeared to have indeed made the right decision and was starting alongside Andy Harmon in the Eagles' 4-3 defense. However, as the preseason was wrapping up, he developed a respiratory problem.
"We had just come out of training camp and our physical conditioning was pretty much all coming together and I had shortness of breath," Hall recalled. "Just simple little movements and I couldn't breathe. Thank goodness at that point, Mike Trgovac, the defensive line coach, pulled me out and said, 'Rhett, why don't you take it easy?' and I did.
"I had no idea what was going on. The doctor took my pulse and blood pressure and told me, 'I think we're going to head to the hospital.' So I knew there was something wrong. But we're kind of conditioned at that point to ignore things that are going on in our bodies that are holding us back from performing at a high level. And I wanted to do that, not just because of the kind of person I am, but also because I had just come to Philadelphia and had a lot of expectations.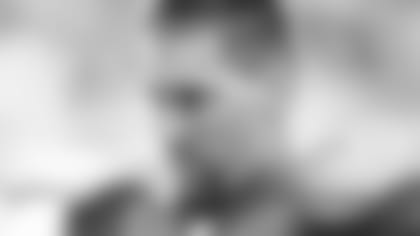 DT Rhett Hall
"I know that Ray had expectations and the people of Philadelphia had expectations that you'll show up and you'll help the team win."
Hall was diagnosed with a pulmonary embolism, as multiple blood clots were detected in his lungs.
"When you're diagnosed with something like that, it helps you put football in perspective," Hall said. "My first and foremost thought was getting healthy. It was just within a matter of weeks I felt like I'm going to be fine and I'm going to play again. It's just a matter of how long it's going to take to get back out there."
Hall played in the final two games of the 1995 campaign and was excited to begin fulfilling his, Rhodes' and the fans' expectations the following season.
"Our mentality as football players is to get between the white lines and compete," Hall said. "We do enjoy the offseason, but particularly in my case where I missed a bunch of time, I was very eager to get back out there. I was very eager to compete and very eager to help the Philadelphia Eagles win football games."
Playing in every game in 1996, Hall notched 4.5 sacks and returned a fumble for a touchdown. In 1997, he led the Eagles with a career-high eight sacks and intercepted Cowboys quarterback Troy Aikman. It seemed that, at last, the perseverance that Hall had demonstrated early in his career was paying off. Well, that was until the second-to-last game of the season when he suffered a knee injury. Following the 1997 season, the team placed the transition tag on Hall.
"I was rehabbing my knee all offseason trying to come back and then I fractured my patella early in the (1998) season," he said. "That was kind of a result of me tearing my knee up the prior season." The injuries limited Hall's production in 1998 as he played in just two games. He subsequently retired after four seasons in Philadelphia.
Looking back, Hall says the fondest memories from his Eagles days occurred off the field with teammates like Michael Zordich, Andy Harmon, Mike Mamula, William Fuller, William Thomas, Brian Dawkins and Kevin Turner.
"The relationships that you build while you're accomplishing something are great to have at the time, but they are very meaningful after you walk away from the game," Hall said. "My time that I had in the NFL was great and I cherish so much of that, but in the grand scheme of things, it really was a chapter in my life that I enjoyed. I was also able to walk away from it and know that I was able to do something that not too many people get to do."
Hall said his perspective on life has certainly changed. He and his wife have four children, the youngest of which was born with Down Syndrome.
"I'm most proud of being a parent and the time that my wife and I put into our kids," Hall said. Hall and his family reside in Morgan Hill, Calif. He is a financial advisor with Wells Fargo Advisors in San Jose.