 Some nicknames just don't fit. But Hollis Thomas and Tank? C'mon, that could easily have been on his birth certificate.  
A 6-foot, 300-pound defensive tackle, Thomas came out of Northern Illinois, a small Division 1 program, in 1996 with a goal to play in the NFL. Scouts, however, weren't showing up on campus armed with clipboards and stopwatches.
Thomas solved that problem with a plan and postage stamps.
"My agent at the time said, 'Put a little highlight reel together and send it to all 30 teams,'" Thomas said. "I got the audio-visual department to make me one. It wasn't too long and it wasn't too short. I want to say six or seven minutes. I was just trying to give them pretty much a highlight of what I do in games.
"They made 30 copies and I sent it to all 30 teams. A few teams responded: San Francisco, Denver, the (New York) Jets, Carolina and the Eagles."
There were 254 players selected during that year's NFL Draft. And even though Thomas wasn't one of them, his performance on the video tape was still on the mind of Eagles head coach Ray Rhodes.
"I talked to Ray Rhodes before I committed to come here," Thomas recalled, "and one of the things that Ray told me was if I came and did the things that I did in college that I will make the team. No ifs, ands or buts."
Sold! Convinced, Thomas signed as a rookie free agent and made his way to Training Camp.
"I was lucky because I came to a veteran team," Thomas said. "We had William Fuller, Ronnie Dixon, Greg Jefferson. There were so many guys that had been in the league for a while and knew how to be professionals. I just pretty much watched to see what they did.
Thomas not only made the final roster, but he started the final five games and was named to the Football News' All-Rookie Team.
"It was real rewarding," Thomas said. "When I came to the Eagles, I had one thing in mind. I wanted to show them that they made a mistake by not drafting me. I pretty much wanted to show everybody that they made a mistake by not drafting me."
He hammered that point home the following season by co-leading the Eagles in tackles with linebacker James Willis. An immovable object in the middle of the defense as his nickname would suggest, Thomas didn't budge from his starting position when Andy Reid replaced Rhodes as Philadelphia's head coach in 1999.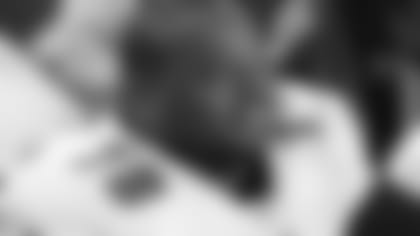 Thomas said Reid brought organization, discipline and ... "great preparation."
"There was so much stuff that we prepared for in games that when you're doing it in practice, you don't realize it until you're in a game and you're in that situation."
The Eagles began a string of five straight double-digit win seasons in 2000. The key?
"Basically believing. Believing that we would win," Thomas said. "Going out and believing in what (defensive coordinator) Jim Johnson and Andy were teaching us. And seeing that it works. Toward the end of their first season, we won two games in a row, and we were kicking people's (butt) with what they were telling us would work all along.
"And once we won those last few games, it seemed like it was just momentum. So when we came back the next season everybody was healthy, and man, we just felt like we were going to shock everybody."
The next three seasons ended with Philadelphia on the short side of the scoreboard in the NFC Championship Game. But with 2004's conference title on the line against Atlanta, Thomas stepped up with four tackles and a key second quarter red zone sack, which helped the Eagles reach Super Bowl XXXIX.
"I didn't know how big that play actually was until Coach told me because if they had scored a touchdown there, the game's a little different going into halftime," Thomas said. "I felt like that was one of my biggest plays.
"That was the only NFC Championship Game with the Eagles that I played in. I was hurt for the other three. I got a couple of calls from some of my former teammates. Bobby Taylor was one. 'So that's what we needed to get on top, just you being healthy.' And I'm like, 'Nah, I'm just one person.' We had a nice camaraderie amongst the players. We cared about each other. I still talk to a lot of the guys today."
Playing 10 seasons with the Eagles before finishing his 14-year career with New Orleans, St. Louis and Carolina, Thomas felt that Philadelphia gave him as much as he gave its fans.
"I think what happened when I got here was I kind of grew up and became a man in Philly," Thomas said. "Philly taught me how to be myself. I was already myself, but I was a little bit reserved when I first got here. Because as a rookie, you don't want to come in and think they you're top dog because you really don't know what's about to transpire. I just listened and learned."
Making his home in Philadelphia, Thomas, the father of two daughters - Hydeia, 18; and Hallie, 7 - is on SportsRadio 94.1 WIP. He co-hosts weekend shows with Rob Charry, and is a regular guest on the WIP Morning Show with Angelo Cataldi, Rhea Hughes and Al Morganti.
"It's a good time. You get to talk about not only sports, but you get to talk about what's going on in the world," said Thomas, who also makes appearances around the city and is active on Twitter @darealtank78. "I think I get credit because I try not to have an ulterior motive when they ask me my opinion on something. A lot of times I hear different guys and I'll say I don't want to be like that. It seems like they're taking it personal. It's not personal. It's just the way it is. I'm not going to sugarcoat anything. I just try not to be biased."
That is, except when it comes to his former rivals.