 As a high school junior in Centerville, Ohio, Andy Harmon was convinced by his gym teacher to begin playing football. The fact that he also happened to be the football coach may have just been a coincidence.
Nevertheless, despite the late start, Harmon went on to play at Kent State, where he was named as the Mid-Atlantic Conference Defensive Player of the Year as a senior. The defensive end was then selected by Philadelphia in the sixth round of the 1991 NFL Draft.
"I was excited, of course," Harmon said. "Coming out of Kent State, we had a really bad team. So just to be actually drafted and not a free agent was a plus.
"I didn't know a whole lot about the Eagles. I didn't even know their new head coach, actually, because (Rich) Kotite had just taken over. But growing up, I always watched Reggie White play and I knew he was there."
Yes, White was there. And so was Clyde Simmons. The combination offered Harmon two defensive ends who proved to be valuable mentors.
"Reggie told me, because he always seemed to be hurt during the week, 'Andy, don't worry. I'll be there for you on Sunday.' So I would practice for him and then he would play for me. He was doing me a favor playing for me on Sundays," Harmon said with a laugh. "Clyde Simmons and Reggie were awesome. Just like (my Training Camp roommate, defensive tackle) Jerome (Brown). The whole group was outstanding.
"My first game was (the 1991 season opener against Green Bay) at Lambeau Field and we lined up numerically. So I'm standing on Lambeau Field on a beautiful day right next to Reggie White, going, 'Oh my gosh! Is this really happening?'
"There are a lot of things you can learn from both of those guys. Reggie White did some things that weren't normal, a normal human being couldn't do. So it's not like I could take his technique and incorporate it into my own, but there were definitely some things that I learned from just watching him."
Following Brown's death in June of 1992, Harmon moved from being a backup at defensive end to a starter at defensive tackle.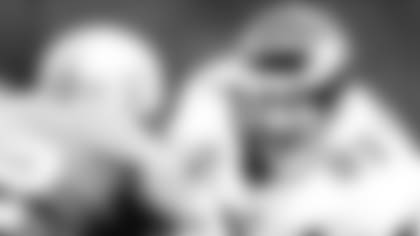 "They didn't have time to get any other defensive tackles and there really wasn't anybody on the market," said Harmon. "So they said, 'Andy, we need to see what you can do inside because that's where you've got to play. We're short now.'
"I was undersized for a defensive tackle, but I was able to play with enough leverage and whatever to make some decent things happen. And then, of course, being surrounded by two All-Pro defensive ends doesn't hurt."
In 1994, Harmon left some opposing offensive linemen and coaches around the league wondering what hit them when he led the Eagles with 11.5 sacks - an extraordinarily high number for a defensive tackle.
"Nowadays, the tackles are kind of there to just clog things up, and the ends are the ones that are making the plays typically," said Harmon. "In our defense, that was fine. But also, I think part of it was just hustling. I got a lot of cleanup sacks also. But even getting cleanup sacks, people don't get 11, right? You might pick one or two up here and there.
"I think I was decent on the run, too, but I had decent acceleration. When we did conditioning, I'd run with the linebackers more than the defensive linemen. My benefit was acceleration, that closing speed. So for me, it was a good fit. I think I was probably a better defensive tackle than I would have been a defensive end, to be honest with you."
During a span of four seasons, Harmon recorded 39 sacks from 1992-95. A knee injury, however, curtailed his production and playing time. After appearing in just seven games the following two years, he had to hang up his helmet following the 1997 season.
"There just wasn't anything that was repairable," Harmon said. "It was one of those bone bruises where they do the microfracture surgery. My knee still gives out and there's no surgery to repair that. I just kind of got unlucky with that injury. Such is life."
Making his home in Dayton, Ohio with his wife, Kristy, and their children, Grant, Ross and Kiersten, Harmon owns and operates the Andy Harmon and Associates Allstate Insurance Agency, with two offices in the Dayton area.
"I didn't want to work for a corporation where you could be there five years, and then who knows where you go next," said Harmon. "As far as the insurance route goes, a lot of NFL retired guys end up buying businesses or restaurants or whatever that end up failing because they don't have any kind of clue what they're doing or any way to run a business. So I actually went through an internship training program with State Farm and learned the business from the ground up.
"I had to go in and be like a rookie again and work in agents' offices as basically an intern. You've got to tuck your tail and work hard and just learn everything you can. And so from that point, it was a better opportunity for me with Allstate.
"What I wanted to do was not set myself up for failure, but set myself up for success. So by doing all the legwork at the front end, we've been very successful.
"When I retired from the NFL, if I would have said in 10 years, 'I'll be an insurance agent,' it'd be like, 'Are you kidding me?' But once you look at all the different businesses out there, you can kind of write your own ticket as far as everybody needs it. The biggest thing is it's a relationship business. I'm a people person. I really enjoy meeting and talking with my customers."