A self-proclaimed student of the game, former Eagles' defensive lineman Brandon Whiting hopes to one day teach football at the professional level. His indoctrination into the profession came last summer when he served as a coaching intern for the Eagles during training camp.
"I missed it. I wanted to get back into it," said Whiting, who originally joined the Eagles as a fourth-round pick in 1998. "When you first retire from the NFL, you miss it but you don't want to be around it. But then after being away from it for a few years, you want to be back in it. You miss that locker room, you miss being around the guys, you miss the Xs and Os of football."
The son of a high school football coach, Whiting broke down film with his dad as a youth and displayed the intelligence to be a coach on the field during his seven-year playing career.
And last summer, his former head coach, Andy Reid, afforded Whiting a hands-on opportunity to work alongside NFL coaches. Whiting spent many of his mornings and afternoons helping assistant coaches Rory Segrest and Mike Caldwell with the defensive linemen.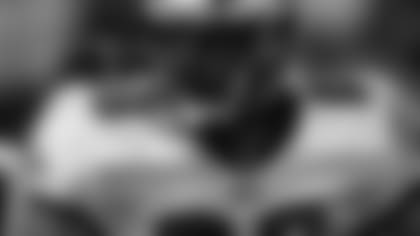 DE/DT Brandon Whiting
"It was great to sit down in the meetings and just learn and help out as much as I could with the d-line and things that I know, but also learn from these guys that are playing other positions that I never played before and just learn how to be a coach, how to teach, how to teach different techniques and different things about defense in general," Whiting said. "That was the great part about it.
"It's just so great to learn from so many different people that you can kind of piece together things from different coaches that I think are great and come up with my own thing."
A capable pass-rusher during his six-year stint in Philadelphia, he was a workhorse of a lineman who was solid against the run and brought overall versatility to Philadelphia's defensive line.
The 6-foot-3, 290-pound Whiting came into the league as an undersized defensive tackle, but made up for it with his work in the classroom, much like he did at Cal where he earned a 3.3 grade point average he earned while studying economics and developmental studies.
"I think to make it as far as I did, I had to be. It tailored to what I do well," Whiting said. "I never was the strongest, fastest, or most athletic guy on the field. That wasn't the way that I played the game. I think that I worked hard and I think that I studied film and tried to perfect technique as much as possible to kind of make up for some of my shortcomings as far as speed. I kind of used my head and heart to play and make up for some other things that I lacked."
Whiting recorded 16.5 sacks in 93 career games, including a career-best six sacks in 2002. He was credited with 187 tackles, three forced fumbles and an interception of Colts quarterback Peyton Manning that he returned 22 yards for a touchdown in a game back in 1999, Andy Reid's first year in Philadelphia.
Whiting recalled fondly Reid's early days as well as the fun he had playing in the pressure-oriented scheme drawn up by the late Jim Johnson.
"Andy came in with a vision of what he wanted, and I think he kind of ruffled a few feathers when he first got here," Whiting said. "When he first got here, there was a group of older guys that were used to doing things their way and it was hard when people didn't know exactly where he was going with everything, but he wanted everything done his way.
"It took about a year to figure out why he wanted them done his way, but once you did figure out how he was doing things and why it was done this way, it all made sense and it all kind of just clicked."
After suffering through Ray Rhodes' dismal 3-13 campaign his rookie year, Whiting was on the front line as Reid orchestrated one of the greatest turnarounds in franchise history as the team went from 5-11 in 1999 to 11-5 in 2000 and the beginning of unparalleled success.
"Jim Johnson had one of those defenses that was fun to play for," Whiting said. "It all kind of started there with Bobby (Taylor) and Troy (Vincent) and Brian Dawkins and those guys back there in the secondary that were able to cover people and allow us to do the stuff that Jim wanted us to do. You can't blitz and put pressure on guys like that if you can't cover anybody on the outside."
Unfortunately, the biggest games of his career with Philadelphia were losses in three consecutive conference championship games. And when the team did finally get over the hump and reach the Super Bowl, Whiting was no longer part of the team as he was dealt in the blockbuster trade with the 49ers that brought Terrell Owens to Philadelphia in March 2004.
"The actual trade was kind of surreal, but at the same time I knew that football is a business," Whiting said. "They were doing what they thought they needed to do to win a championship. Obviously, going to the Super Bowl the next year, he was an integral part of it.
"To see the Eagles have success was bittersweet. There was a piece of me that was there on that field, wishing I was there."
Whiting, meanwhile, struggled with injuries in San Francisco. He played in five games in 2004 before blowing out his ACL on Halloween night at Soldier Field. That ended up being the last game of his career.
"I don't think it was a difficult decision. I think it was difficult to swallow," Whiting said of his decision to retire. "I didn't have any other options."
Involved with real estate investment around the city of Philadelphia, Whiting is keeping his options open.
"Doing the coaching thing ... that was always something with my dad and being around great coaches was something that I always wondered if I wanted to do," Whiting said. "After doing the internship, it's something I really want to pursue. It's something that I enjoy."