The Eagles are fortunate that the statue of limitations has run out otherwise they could be charged with stealing Clyde Simmons in the ninth round of the 1986 NFL Draft.
Excited to be chosen at all, the defensive end from Western Carolina couldn't have cared less whether he was overlooked or not. He arrived at Training Camp realizing that late-round picks need to be noticed to have a chance of making the team.
"I was fortunate to have a good group of veterans who taught me a lot," said Simmons. "Reggie (White), Kenny Clarke, Greg Brown, Tom Strauthers, Byron Darby, those were the guys that were there who pushed us and got us in the right direction.
"Plus, I had a pretty good defensive line coach in Dale Haupt. He really stressed on technique and learning how to play the position. And with me it was learning the position and getting stronger."
Granted, he was the one who said, 'Jump!' before the others replied, 'How high?' but Simmons, Keith Byars, Seth Joyner and the rest of Philadelphia's 1986 draftees weren't the only rookies in camp. There was also first-year head coach Buddy Ryan.
"You didn't know what to expect from him until you started being around him," Simmons said. "He was like most coaches that you end up developing a pretty good relationship with. You find out that they're alright.
"They've got their own personalities and he definitely had a larger than life personality and it really grew during his time in Philadelphia. But he knew what he was talking about when it came to football, and he was a pretty good motivator."
Quickly proving that he was a pretty good player, Simmons became a starter on the right end in his second season. In 1989, he led Philadelphia with 15.5 sacks to go along with 135 tackles, and was selected as the Defensive MVP by his teammates.
"It was one of those things that I took as a great honor. It was a good year for me and they looked at what I did, my body of work that year, as being special," Simmons recalled. "I took a lot of pride in that."
His teammates looked at what Simmons did in 1992 as also being special and chose him as their Defensive MVP again.
"Every year you just try to get recognized by your peers," Simmons said, "that they realize that you do bring something to the table, and that you're not just a guy out there collecting a check. That you bring something that's a value to the team.
"You want your peers and the coaches to really understand what you're going through as a player. The fans see the end product but they don't see the body of work that you put into it to prepare yourself for that."
Simmons' body of work that season included recording 19 sacks, second all time in team history to White's 21-sack performance in 1987, and a second consecutive trip to the Pro Bowl.
"I was still mourning the (June) death of Jerome (Brown) and the only solace besides going home and being around my family was football," Simmons said. "I just really honed in and didn't have all the distractions that you would normally have during the season as a player. I just kind of came in there and was willing to do anything and everything. And being that I had long arms and was pretty good with my hands, I was a mismatch with most guards."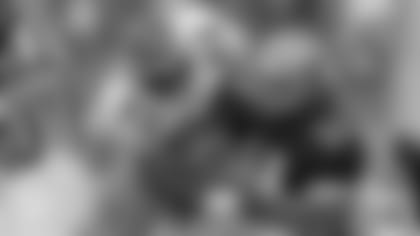 Philadelphia's defensive end duo of Simmons and White helped give most opposing guards, tackles, quarterbacks and coaches fits for the seven seasons they were teammates from 1986-92.
"I appreciate my time of being opposite of Reggie," said Simmons. "With him drawing so much attention from the media, from other teams, it gave me a true opportunity to hone in my one-on-one pass rushing skills as a young player. You grow frustrated some times when you're constantly getting double-teamed and he was great about it.
"He was our leader. He was a verbal guy who everybody looked to when he had something to say. Everybody asked him questions. With my personality back then as being somewhat quiet, especially when it came to the media, it just gave me a chance to just be who I was and just let me be a player."
Simmons moved on to Arizona following the 1993 season. During his eight seasons as an Eagle he recorded 76.5 sacks, and never missed a non-strike game.
"Granted, it was with five teams over the course of 15 years, but the longevity (is what I'm most proud of my career)," said Simmons, who also played for Jacksonville, Cincinnati and Chicago, collecting 121.5 career sacks. "Not missing any games. I'm sure that there are a lot of other guys that did the same thing, but I take pride in that I was able to play through some injuries and still play at a high level."
After he retired as a player 2001, Simmons stepped away from football for a while, working as a private mortgage officer and a probation officer in Georgia, but then ...
"I started off just watching my son, Corey, play," Simmons said. "I'd sit with (former Denver Bronco) Steve Atwater, our sons went to the same school, and I'd say, 'What are they teaching these kids?' And so I just asked the head coach if I could volunteer and help the kids out with technique work and some other things. I found out that I enjoyed the teaching side of it and I had an opportunity to have an internship with the (New York) Jets in 2010.
"I didn't want to get into coaching when I finished football, but once I got in there I found out that the job is a lot of fun. It kind of reminds me of the days when I was playing, coming to work and enjoying being around the people you're with. It was an easy decision for me to say, 'OK, this is what I want to do for the rest of my life.'"
Simmons is now in his third season as an assistant defensive line coach of the St. Louis Rams.
"It's my job to help guys with the techniques that we use to play this game," said Simmons. "They do a good job about asking questions. But I don't really get into what it was like when I was playing, I get more into making them a better player. The best thing about coaching is seeing the growth, seeing the excitement of guys growing and absolutely winning."