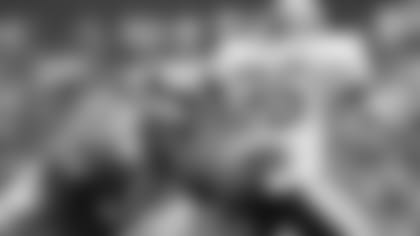 Following two seasons with the New Orleans Saints, Terry Hoage was waived 12 days before the start of the 1986 regular season. Because NFL team rosters are typically all but finalized by then, the defensive back found himself on the outside looking in.
However, before filing for unemployment and scouring newspaper want-ads, Hoage signed with the Eagles just four days before their opener in Washington.
"It seemed like a year. The days go by very, very slowly," Hoage said with a laugh. "I had been drafted in New Orleans by Bum Phillips and Wade Phillips was the defensive coordinator. When Bum retired and they replaced him with Jim Mora, Wade had gotten a job as defensive coordinator for Buddy Ryan in Philadelphia. And so I got waived and picked up by Buddy, I'm sure because of Wade.
"Getting waived on the last cut of Training Camp is really about the worst time you could possibly get waived because teams have made moves and they kind of have set rosters. Unless they have a very particular need, you usually would have to wait a few weeks into the season as people get hurt to get picked up. So I was very fortunate.
"I signed with the Eagles because I felt like it was the best opportunity for me. Buddy had just come off of the Super Bowl (XX victory as Chicago's defensive coordinator) and there was a huge reputation for his defense. It seemed like a great opportunity."
Hoage, who had been New Orleans' starting strong safety, had the opportunity to step up for his new team when All-Pro free safety Wes Hopkins was sidelined with a season-ending knee injury in the fourth game.
"I was ecstatic to be playing. I had been unemployed a few weeks earlier and so it was fun just to be out on the field again," Hoage said. "There's a little bit of difference (between strong safety and free safety). The proximity to the play, the angles you have to take, what they ask you to do.
"In Buddy's defense, the 46, the strong safety lined up on the weak side of the formation, kind of as a weakside linebacker. I felt really comfortable there because basically that's the position that I played my entire collegiate career (at Georgia) – a weakside linebacker/strong safety kind of thing. So I felt right at home and was really excited to be able to drop into that position from time to time because it just fit so well with what I did in college."
Although used as the fifth defensive back in nickel situations, Hoage led Philadelphia with eight interceptions in 1988, the most by an Eagle since Bill Bradley had nine picks 16 years earlier.
"I was just having a whole lot of fun," said Hoage, who earned second-team All-NFC honors. "Wes had gotten well and Buddy decided to let him play the first couple of downs and then I got to play nickel stuff. I was pretty happy with it. I got to play quite a bit and I think it just kind of fit my abilities. He was asking me to do things I could do.
"Plus, the defensive line that we had in front of us at that time was amazing – Jerome (Brown), Reggie White, Clyde Simmons and Seth Joyner was up playing linebacker. When you've got those kind of guys in front of you, playing defensive back is easy."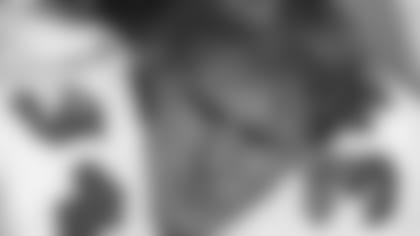 Not only did Hoage enjoy an outstanding season, but so did the Eagles. By winning six of its last seven games, Philadelphia finished 10-6, its first winning season in seven years, and captured the division title.
"It was wonderful. Buddy used to say, 'Winning cures all ills,'" said Hoage. "I came up there in '86 and that was a tough year. It was a rebuilding year and we took our licks. The next year was the strike year. But when we came back, we'd all kind of stayed together and that's when the team really started to turn around.
"I think we did really well when we came back from the strike and actually had a chance at making the playoffs. If the strike team had done anything while we were gone I think we would've made the playoffs. I don't know if Philadelphia('s fans) felt as good about what we were doing in '87 as we did, but in '88, it was kind of the fruition of that hard work.
"There's nothing like winning in Philadelphia. The fans are awesome. They like winners. They like to see people do well. It was really a great experience for me and my wife to live in Philly at the time. You were a special guy. You were a Philadelphia Eagle."
After a 13-year playing career (including five with Philadelphia), Hoage is now a proprietor and winemaker. He and his wife, Jennifer, own a 26-acre vineyard in Paso Robles, California, called TH Vineyards
"I tried a couple of things when I was done playing ball," Hoage said. "I did the stocks and bonds thing and a couple of other things to see if I liked it, but everything was in an office. I'd spent my entire life outside in the weather, in the elements, and it was really hard for me to sit in an office. I just really didn't enjoy it."
Purchasing the vineyard in 2002, TH Estate Wines sell around 2,500 cases per year.
"We're starting to increase a little bit over the course of the next three years," said Hoage. "We're an estate winery, so basically all the fruit comes off of our property. We're kind of constrained in size in that respect. We don't really distribute. We sell pretty much everything out of the front door or to our wine club. So for a small winery, that's a huge benefit because we get the full margins of our wine.
"There's a whole bunch of things that I could list about what I enjoy about what I'm doing, but probably one of the biggest is the satisfaction that Jennifer and I have built something from scratch that creates a livelihood for our five employees and my entire family, my kids.
"It's pretty cool to watch an ongoing concern that you've created become its own entity and create benefits for so many people. I think that's probably the biggest joy I have and one of the largest surprises that I have."
The Hoages have two adult children. Christopher is a successful computer programmer. Natalie is a college student who will soon travel to the Netherlands to complete a master's program.