1.
a. The supposed force, principle, or power that predetermines events.
b. The inevitable events predestined by this force.
2. A final result or consequence; an outcome.
3. An explanation of how Darwin Walker became a Philadelphia Eagle.
Darwin Walker, a two-time All-SEC defensive tackle at Tennessee, would have liked nothing more than to have been heading to Philadelphia following the 2000 NFL draft.
"I was hoping they were actually going to take me at the number six slot (of the first round)," said Walker. "I knew that it was going to be either myself or Corey Simon, and they took Corey Simon. So I fell in the draft and the way that it happened, I ended up going there anyway. I thought it was fate because I felt that I was going to be a Philadelphia Eagle."
Because of fate, destiny, or even dumb luck; Walker became an Eagle after being drafted by Arizona in the third round, playing in one game, and then waived by the Cardinals.
"It just didn't work out. But I ended up becoming really good friends with Mean Joe Greene, who was my (defensive line) coach there. And throughout my career, he would call me if I had a big game," Walker said. "He said that he was against what had happened and he stuck to it the whole time. Even after I left."
Claimed off waivers by the Eagles on September 12, 2000, two days after the second game, Walker was inactive for the remainder of the season.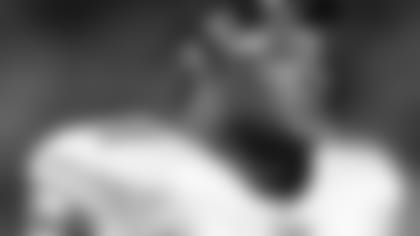 "I looked at it like a learning experience, and to not make the same mistakes I made in Arizona," he said. "It was a real opportunity. Everything happens for a reason and thank God that it happened because all the success that (would happen) in Philadelphia versus what I would have been in Arizona would have been awful."
In 2002, Walker was anything but awful. In his first season as a starter, he recorded at least half of a sack in six consecutive games, and finished the year third on the team with a career-high 7.5 sacks. That tied him with Tampa Bay's Warren Sapp for the lead among defensive tackles in the NFC.
Did he appreciate the success more because of everything he had gone through to get on the field?
"Absolutely! After I went through what I went through, I absolutely appreciated it more," he said. "I felt like it was kind of going from being in the situation I was in to being one of the top D-tackles in the game, one of the top players at my position. I felt it was kind of redemption. Here's what you missed out on."
Walker started at three different positions – his normal right defensive tackle post, and at both defensive end spots – during the 2004 season, as the Eagles snapped a three-year streak of coming up short in the NFC Championship Game. They beat Atlanta for the conference title and met the New England Patriots in Super Bowl XXXIX.
"It was the greatest thing ever," said Walker. "I still treasure that win (over the Falcons). And even though we didn't win the Super Bowl, to have the opportunity to make the trip and play in a close (24-21) game was an experience that I'll never, ever forget for the rest of my life.
"Sure. I think if it had been in Miami or L.A. or somewhere like that it might have been a bit different experience. But Jacksonville was still a good experience. More so than just the city, but all of the hype around the game was amazing. From all around the world, all the people you meet, everybody wants to have a part of you. Anybody who's somebody wants to be a part of you. You just feel like you're on top of the world."
Through six seasons, Walker posted 27.5 sacks; played in four conference championship games, starting three; and also started in the Super Bowl. What is he most proud of of his Eagles career?
"I would say for a good stretch, maybe four of five years, I felt like I was one of the top players at my position," Walker said. "I was selected as an All-Pro once. Not the official one, but by CBSSportsline.com. I never made the Pro Bowl, though. It was tough in those years because you had Warren Sapp, you had La'Roi Glover, and one year I think that Kris Jenkins made it.
"I think that Warren Sapp would always win the popularity contest, for sure. Not that he wasn't a great player, don't get me wrong. There were some years where he was really a game-changer. But then there was also years where I was a game-changer and he wasn't, and he still made it. But I don't hold that against him because he absolutely deserved it. He was a good player."
The same could be said about Walker, who is now splitting time between homes in Marlton, New Jersey, and Miami Beach, Florida, with his wife, Danielle, and their sons, Darwin II, and Davis.
He sits on the board and is a shareholder in Pennoni Associates, a Philadelphia-based multi-disciplined engineering and design consulting firm. Walker earned his bachelor of science degree in Civil Engineering from Tennessee.
"When I was in the league, I started my own firm, Progressive Engineering, with a partner, and we later merged that practice in with Pennoni. We have about 1,000 employees and 28 offices in the northeast, and I had worked in Philadelphia," Walker said. "I also own some commercial real estate in South Carolina, where I'm from. Shopping centers, that kind of thing. And I own office buildings in Knoxville, Tennessee, where I went to college."