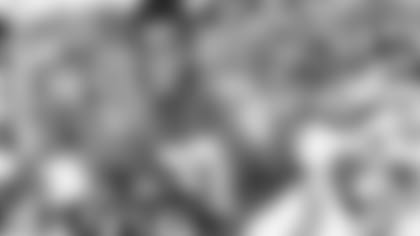 On one hand, Irv Cross was excited to be selected by Philadelphia during the 1961 NFL Draft. The Eagles were, after all, the defending world champions. But on the other hand, he was disappointed not to be picked by Chicago.
"I'd always wanted to play for the Bears," Cross said. "I went to school at Northwestern, and they would come up to (the campus in Evanston, Illinois) to practice on bad weather days because we had an indoor facility. I got a chance to know some of the Bears people a little bit, so my dream if I were to play at all in professional football was to play for the Bears."
While Cross' dream failed to come true, playing for the Eagles didn't exactly prove to be a nightmare for the defensive back. As a rookie, he went from third string to starting at cornerback midway through the season after Tom Brookshier suffered a career-ending leg injury. The following season he collected a career-high five interceptions.
"In my second year, I was very comfortable," Cross said. "I studied a lot. I was one of those goofy guys who studied film all the time. I looked at all the receivers and all the backs in the league and tried to pick up technique on what the great defensive backs did."
Prior to the 1964 campaign, the Eagles named Joe Kuharich as their new head coach and general manager.
"The team had gone through a lot of changes. Not only the coaching change, we had a lot of personnel changes," said Cross. "Sonny Jurgensen was traded to the Redskins and Norm Snead came in. That was a huge move because Sonny was a well-established quarterback, a very popular guy in Philadelphia.
"Then he traded Tommy McDonald, who at the time was one of the top receivers in the league. Whatever Kuharich's reasoning was he felt a need to make those changes and bring other people in. His approach to the game was different. (He) wanted a new system and we had to adjust to that."
The new system wouldn't include Cross following the 1965 season. The two-time Pro Bowl selection was traded to the Los Angeles Rams.
"I didn't expect to be traded, but I was a player rep. And in those days, the Players Association wasn't really very strong. Player reps got traded a lot," Cross said with a laugh. "If you were a guy that was representing the club and there was controversy, you were the person they would move because you were a team leader."
After three seasons with the Rams, Cross returned to Philadelphia, and was still a team leader. Only now he wore a whistle part of the time during practices. A defensive backs coach, he was activated as a player/coach during Training Camp. The following year he retired as a player, but remained on the coaching staff.
"I always enjoyed thinking about football, thinking about strategies, coming up with ways to break offenses and design defensive concepts," Cross said. "That's always been a real exciting thing for me to do. So with that job, I was able to do that as well as do contracts with some of the guys who were lower-round draft choices. My hope one day was to be a general manager some place in the league. That never developed."
What did develop, however, was a career in broadcasting, which began by happenstance while he was a rookie. 
"The club was the defending world champion, so a lot of the guys were in great demand for public speaking engagements," Cross said. "And, of course, the guys would charge a fee for it. I told our P.R. guy, Jim Gallagher, 'If anybody needed a speaker I'd be happy to do it at no charge.' So one afternoon I got a call to go speak to a group.
"When I finished, a guy in the audience came up and said, 'You have a great voice. You ought to be in broadcasting.' He was the sports director at WIBG and they wanted to change their format from rock and roll and expand it for sports and news during the drive times.
"So he got me involved in that, how to write and report and everything. And the show wound up being one of the top shows in Philadelphia. As a result of that, KYW-TV called and said you can be our weekend sports anchor and do both radio and television. That was a pretty good deal, so I did that."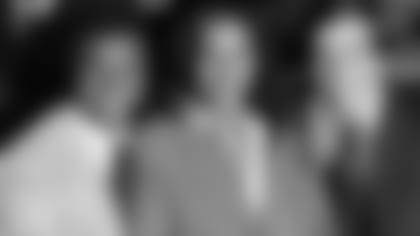 Not long after that CBS Sports hired Cross to be football game analyst. And then in 1975 ...
"They decided to start a new show, the NFL Today, with Brent Musburger, Phyllis George and me. Brent was going to do the news packages. Phyllis was going to do the personality profiles. And they kind of projected me to be the sex symbol," laughed Cross.
"They hired some outfit from advertising and they took me to a men's store and picked out an outfit. And what they selected was a light blue leisure suit with dark stitches around the collars. A blue and white silk shirt with big flowers on it. And they chose a gold medallion to sit on the middle of my chest.
"I had a basic rule that I wouldn't respond until I gave myself a day to think about it. So I went back to Philadelphia and called (the CBS Sports president) and said, 'I can't go on the air dressed like that. If you want somebody like that you'll have to get Sammy Davis Jr. or somebody like that who has a great sense of humor.' He calls back and says, 'OK, come on the air dressed like you want to dress.'
"Well, it turned out that the network had already committed themselves to the NFL Today with Brent, Irv and Phyllis with about 220 stations. So they couldn't kick me out of there. And, of course, one thing led to another and it wound up being a great success for us. But had I called back the day they put the outfit on me, I probably never would have been on the show."
Cross, who is now retired and makes his home in Minnesota, would enjoy a 23-year career with CBS Sports as an NFL studio and game analyst. And in 2009, he was the recipient of the Pro Football Hall of Fame's Pete Rozelle Award, which recognizes long-time exceptional contributions to radio and television in professional football.
"The first things that flashed through my mind were Curt Gowdy, Ray Scott, all the guys with the great voices of pro football over the years. To be put in that category, it was really humbling. It meant a great deal to me." !