 After being named to numerous All-America teams, Bobby Taylor, despite having one year of eligibility left at Notre Dame, thought he was ready to take the next step and play in the NFL. The Eagles agreed and selected the cornerback in the second round of the 1995 NFL Draft.
"I was happy," said Taylor. "I just wanted to have an opportunity to reach my lifelong dream of making it to the NFL. So once the Eagles drafted me, I was super excited and ready to go to Philadelphia."
Even though the rookie found himself in the starting lineup after just four games, Taylor didn't find adjusting to the NFL to be an easy task.
"It was kind of difficult coming from college and playing against bigger receivers, faster receivers that ran better routes," Taylor said. "And you also have to add the quarterback aspect. We had quarterbacks that were able to get balls into very small windows. So if you weren't on your game from a defensive back standpoint being in your coverage, the chances of you even getting a fingertip on the ball were not likely."
Getting his hands on five interceptions in his first two seasons, Taylor suffered an ACL injury in 1997 and missed 10 games. Taylor's dedication and hard work during rehabilitation didn't go unnoticed and he was presented with the Ed Block Courage Award. Voted on by teammates, it honors players who exemplify commitment to the principles of sportsmanship and courage.
"Those types of awards are the best ones I feel you can receive," said Taylor. "Because my teammates, they obviously saw that after my injury and surgery that I worked hard to try to get back out on the field to help them win some ballgames. So to be voted the winner of that particular award by my peers, that's probably one of the best awards that I received while I was in the NFL."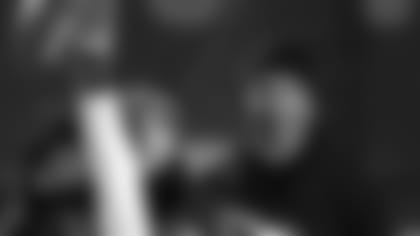 Following three losing seasons and the hiring of Andy Reid to replace Ray Rhodes in 1999; the Eagles started to turn things around in 2000 with the first of five consecutive years making it into the playoffs.
"I think it was just guys maturing as football players," Taylor said. "We added a couple of key free agents here and there, but for the most part we were guys that were drafted by the organization. They were able to develop us and we became more mature and good NFL football players. And it showed out on the field."
Three of those "good NFL football players" shared Philadelphia's defensive secondary. Taylor, fellow cornerback Troy Vincent and free safety Brian Dawkins' exceptional play was recognized when each was selected to play in the 2002 Pro Bowl.
"We all pushed each other," said Taylor. "We all knew that we had a specific skill set. But day in and day out, we just worked hard at everything when it came to technique, to the way we watched film. We were our own toughest critics. Even more so than our coaches. And I think that really just became infectious among the three of us and also with the other guys that we played with in the secondary, as well."
With Philadelphia for nine of his 10 seasons in the NFL, what Taylor cherishes the most from his time as an Eagle is where he actually played the game.
"I'm from Texas and so we would see the Cowboys play a lot (on television)," Taylor said. "And to see some of those games in the past with the Reggie Whites and all of those different guys who were playing for the Eagles against the Cowboys in games at Veterans Stadium, and then for me to be able to play in Veterans Stadium, I think that's probably my fondest memory of playing for the Eagles."
Taylor and his wife, Michelle, live in Houston and have two sons: Bobby Jaiden, 11, and Alexander, 2. He recently began taking online classes offered by the University of Louisville to finish his degree in organizational leadership, and plans to soon start a sports agency.
"It's called First & Goal Sports," said Taylor. "We'll be representing NFL players and coaches. I'm getting that off of the ground and should be launching everything probably in the next 30 days to two months. I have a partner who is an attorney.
"I grew up in Longview, Texas. And one of the good things about the place I'm from, the East Texas area, is there's a lot of talent there. I found myself constantly mentoring a lot of younger guys that were blessed enough to get scholarships to go to school to play ball. And I did some training as well. So I've always been around the sport, so to speak, since I've retired.
"I looked at it as being a natural step for me to put together a sports agency where in an official capacity I can help some of these guys with my own testimony – being able to go to college, playing at a big school and being able to play for a substantial amount of time in the NFL.
"I could definitely use and pull from some of the mistakes that I've made and some of the positive things that I've been able to accomplish as well, to try to affect some of these younger guys."