Eagles running back Brian Westbrook and quarterback Donovan McNabb are listed as questionable for Sunday night's game in Chicago, but McNabb practiced and could play despite a chest contusion suffered last week against Pittsburgh.
Among the other injured starters are right guard Shawn Andrews, tight end L.J. Smith and wide receiver Kevin Curtis. All three are listed as doubtful to play against the Bears.
Head coach Andy Reid said McNabb was able to make all the necessary throws in practice without any restrictions, and had been preparing for the game through study and observation when he was sidelined earlier in the week.
In fact, Reid said he did not think McNabb would have to wear any extra padding or protection around the injury, and seemed confident that his quarterback would be able to go.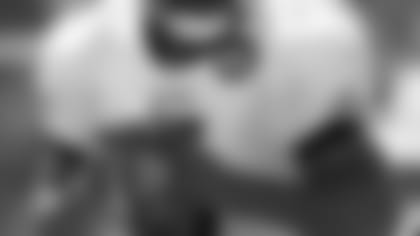 QB Donovan McNabb
"He felt good," Reid said. "We'll see how he does here, but during the practice he felt good."
Though Westbrook might not play this week, the good news is that his ankle injury isn't as severe as it initially seemed. Though he left Lincoln Financial Field on crutches after last week's game against Pittsburgh, Westbrook made notable improvements throughout the week after his MRI turned up negative for any ligament damage.
Considering Westbrook a game-time decision would probably be fair based off of Reid's comments since the injury. Reid said treatment methods don't change too much on the road, and Westbrook will see where he's at on Sunday.
"He's getting better every day here," Reid said. "I mentioned before that it's going to go right to the wire there. So we'll see how he does."
Across the board, though, Reid says he is confident in how his offense will shape up on Sunday. Even if Westbrook plays, Correll Buckhalter could still see increased reps, especially after his 87-yard, one touchdown performance against Pittsburgh, a game in which Max Jean-Gilles filled in for Andrews at right guard. Andrews missed the game with lower back spasms.
The wide receiver position, already somewhat surprising in its high level of production without its two starters from a year ago, got some good news Friday.
Reid said Reggie Brown's reps should increase from his first game action against Pittsburgh, and, though doubtful for Sunday, Curtis remains ahead of schedule in his recovery from sports hernia surgery. Curtis saw limited practice time this week.
But obviously the biggest sigh of relief came Friday when McNabb returned to the practice field. Second-year man Kevin Kolb had taken the majority of reps in practice this week, and filled in for McNabb for the first drive and a half of the third quarter last Sunday.
"You don't want to take anything away from Kevin, but Donovan is the No. 1 quarterback and the best in the business at what he does," Reid said. "So it's good to have him back in there and going."
Chicago hasn't been without its own share of injuries, either, but Reid is planning around the notion that wide receiver and play-making return specialist Devin Hester will play despite a rib injury. Last year against the Bears, the Eagles largely kicked the ball away from Hester. This season Hester has also been seeing reps as a big-play target for quarterback Kyle Orton.
"You've got to be very disciplined, but yet very aggressive (with Hester)," Reid said. "So it's a nice challenge for our players. We've got to go after him. And you got to do it aggressively, but yet maintain your technique, lanes, and so on."