An opportunity Tycen Edwards could not pass up was tickets to a preseason game at Lincoln Financial Field. Tycen, a Tulsa, Oklahoma native, had never been to an NFL game before. That all changed when he received tickets to watch the Eagles take on the Patriots on Thursday, August 19.
When you see Tycen in person, his smile just lights up the room. In this case, it lit up the entire stadium. The 20-year-old has had a tough year and a half.
In March of 2020, he was diagnosed with testicular cancer. Immediately after the diagnosis, he had surgery to remove a tumor. Tycen thought he was in the clear … until another CT scan showed that the cancer had spread to his lungs. This time, it was Stage 3 lung cancer. Tycen had multiple major surgeries to try to put the cancer at bay. But, after another setback, doctors discovered that his cancer had aggressively returned in his lungs and brain.
The bad news continued for Tycen and his family. They found out last month that surgery was no longer an option due to the multiple areas involved.
"It's been really tough, but without all my family and friends, I don't know where I'd be today," he said.
For one night, the Eagles wanted to give Tycen a special experience at Lincoln Financial Field. Tycen knew he was headed to the game, but he did not know what little surprises the Eagles planned for him, one being his tickets getting upgraded to on-the-field club seats in the end zone.
Growing up in Oklahoma, it was only in his nature to be a University of Oklahoma fan, and Tycen has been wearing crimson and cream his whole life. On this night, Tycen wore a light pink shirt that said "Tycen Strong" as he met former Sooner, tackle Lane Johnson, who walked over after pregame warmups.
"I knew he was gonna come over here and talk to me. He actually messaged my dad on Twitter. He just said he wanted to meet me and that's how it started," Tycen said as he smiled in his seat.
"He was just non-stop smiling," said Brian Edwards, Tycen's father, when he saw pictures of Lane with Tycen.
"I know it was special for him to get a change of scenery and get out to a game," Lane said.
The moment the two connected on the field meant so much to both of them. For Lane, that is what this profession is all about.
"It is always about the fans and will always be," the All-Pro said. "To be able to make his day with what he's going through, to get his mind off of that and turn it into something he enjoys, is tremendous for him. I just want to do as much as possible in the future for him. I want to help keep his confidence up and keep him pushing forward."
Lane did not just stop to say "Hi." He gave Tycen something that would last forever. He signed a custom jersey with #TycenStrong on the back and a football.
"I was definitely overwhelmed when I saw the video of Lane giving him a jersey with his hashtag on it. It was truly inspiring and amazing," Brian said.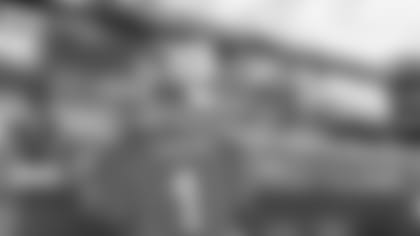 After the game, Lane and Tycen were able to talk more over FaceTime.
"I've stayed in communication with him to hopefully get him into as many games as he wants this year. That's the plan," said Lane.
Brian was initially hesitant to let Tycen and his best friend, Cameron Bourgeois, fly to Philadelphia to go to the game by themselves, but he felt like it was an opportunity Tycen could not miss. The whole family was originally going to fly to Philly, but in an effort to save money only Tycen and his friend made the trip.
"We decided to go ahead and send him because we figured that it would lift his spirits and it was the best thing for him," Brian said.
"It was insane. I never thought I'd be in these seats. It's a real blessing. I'm really thankful," said Tycen.
Tycen's good friend, Patriots rookie defensive end Ronnie Perkins, gave him the tickets to the game. Ronnie was a defensive end at the University of Oklahoma. A week before the 2021 NFL Draft, Ronnie found out about Tycen's battle with cancer, so he reached out asking to meet Tycen. The two met up for lunch and their friendship has continued to grow.
"He's a really nice guy. He's been texting me ever since. And we talk off and on, like, every week or so," Tycen said.
The hashtag "TycenStrong" was started to keep everyone updated on Tycen's journey as he fights cancer. While Tycen continues to battle, the one thing he needs to keep his spirits lifted is the support of his family and friends. But, Tycen's story is more than just a hashtag. The Edwards family really wants to use what Tycen is going through to bring awareness to testicular cancer. Tycen had a feeling something was wrong with his body, but it was a little too late when he told his parents.
"For young men, if there's anything that's abnormal with your body, do not be scared to tell your parents because he had a tumor growing for maybe over the course of two years and was too embarrassed to say," said Rebecca Edwards, Tycen's stepmom.
Brian continued, "When push came to shove, it was his lower back that hurt and the pain that forced him to tell his half-brother, who immediately knew something was wrong. They told their grandfather who took him to the ER and that next day he was having a tumor removed from his testicle along with his testicle."
Tycen maintains a positive attitude because his family and friends are there for him through all the ups and downs.
"We're just doing our best to stay strong for him. Really, he gives me the perseverance to continue because through this whole process, I've never heard him complain one time. If you ever look back over the course of these two years that he's had cancer, you'll never see anything but a smile on his face in any of his pictures," Brian said.
Rebecca adds that Tycen is the toughest person she knows.
"He stays positive and just always has such a great attitude," she said. "And he's never let it get him down. He's never been negative. I mean, he keeps us strong. He's just such a tough kid. We've got a big faith in God, and that keeps us strong."