I know you want to know everything that happened with a collection -- 29 strong -- of rookies and selected veterans on hand to open camp at the NovaCare Complex, and the most accurate explanation is that the players warmed up for when the entire team arrives on Thursday and practice starts on Friday.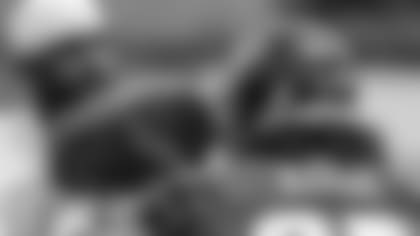 "It pretty much was a chance to get out there and move around," said center Jason Kelce. "For me, it was a great thing. I feel great, ready to go. There's a lot more going on when everyone is here."
Kelce reported early, along with tight end James Casey, to have two practices to run around and shake off any rust from injuries. Kelce, of course, suffered a torn ACL in Week 2 of the 2012 regular season, had a strong rehab and then got on the field for spring practices. Casey underwent an arthroscopic procedure on his knee in the spring and missed practice time, so he had two days to get his legs under him for the grind ahead.
For the rest of the group, other than the five quarterbacks, it was an opportunity to refresh some terminology and some technique learned in the spring. It was, really, a prep course so that when Friday comes, the rookies know where to line up, know what to do, and have a sense of what is expected of them.
"It's day by day," said offensive tackle Lane Johnson, the team's first-round draft pick who lined up in the individual drills at left tackle as Michael Bamiro lined up at right tackle. "You learn every day and you improve every day. That's the way I look at it."
This is the schedule for the next two days: The entire team reports on Thursday and the first full-team workouts begin on Friday. Can't wait. Eagles football is about to ramp up!
Head coach Chip Kelly wants to explore every opportunity possible to give his players an edge, so for the last couple of days he's had a 12-year Navy SEAL as a visitor. The Eagles held "High Performance Mindset Meetings" on Wednesday, something we haven't experienced around here. "It's just making sure you can optimize absolutely everything about your training, your practice, your recovery so you can get the most (out of) every single day and you can be ready to go on game days," linebacker Jake Knott said. "That training curve that you've been at, you raise that up a little bit and everybody else is staying a little bit lower because you're optimizing everything." Fair enough.
An interesting move, claiming William Powell off of waivers from Arizona. The Eagles appear to have a super situation at running back, but Powell did enough last year for the Cardinals and to catch the Eagles' attention as a ball carrier and return man. Let's see how he does in camp in a very competitive situation.
I am impressed at how the young Eagles have handled the media throng through the spring and early part of camp. There are dozens of reporters, cameras and questions for these kids, and they've handled the scrutiny very well. Virtually every player coming off the field the last two days has had at least a handful, and in most cases a very large handful, of reporters asking questions.
Both running back Matthew Tucker and punter Brad Wing, who did not practice Tuesday and Wednesday because of their inability to pass the conditioning test, will try again on Thursday.
There is no practice on Thursday. Veterans report throughout the day and meet as a full team on Thursday night.
OK, so if you really want to know, the play that made me take a lot of notice on Wednesday was seventh-round draft pick Jordan Poyer making a pretty play coming back and closing nicely on a sideline pass. Looked to me like Poyer showed excellent closing speed and direction, but that was just a glance. It all starts new when the pads go on.
My day on Wednesday: Good football at the NovaCare Complex, a quick drive to Atlantic City, N.J. and the unveiling of the 2013-2014 Eagles Cheerleader Calendar and a chance to run into some great Eagles fans. I think that every year Eagles fans are super excited, but this year is a different feeling. A curious nature by everyone about what's ahead. As evidenced by the 225,000-plus tickets distributed for the five open practices at Lincoln Financial Field, the fans are jacked for this season.