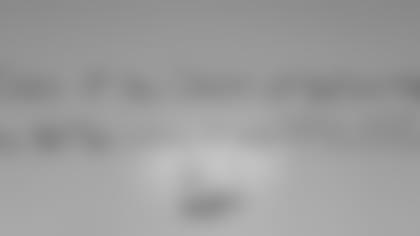 Written above the door of the Eagles' running backs room in black and red dry-erase markers are the words of Muhammad Ali.
"Even if you dream of beating me," it reads, "you better wake up and apologize."
Each time the position group meets, it sees that quote and is reminded to be competitive, to focus on perfecting its craft and to never accept defeat, which is exactly why running backs coach Duce Staley ensured that powerful sentence was part of his room.
Staley has first-hand experience with how far drive and passion can take a player if he endures the grind and puts in the work. The mindset is half the battle.
"You have to understand this is a competitive game," Staley said. "This is ruthless, hard, tough, all the words that associate themselves with waking up in the morning - eat, sleep, breathe football. That's the toughness, the mental mindset that you've got to have when it comes to this game.
"I just look at the defensive side of the ball and I look the offensive side of the ball, every day you have to compete. Every day it has to be a challenge. Every day as an offensive player, I have to prove to my defense that I'm better than you every single day. Now, guess what? I'm not going to win all the battles, but I'm going to win some of them."
That's his message to the Eagles' running backs this season, veterans and rookies, alike. Staley has a few familiar faces returning for the 2016 season in Kenjon Barner, Ryan Mathews and Darren Sproles, but there are also an abundance of first-year hopefuls looking to soak up all the knowledge they can and make this football team.
However, all the backs are in the same position when it comes to learning the offense. While Barner, Mathews and Sproles grew accustomed to the up-tempo attack from last year, they're all now mastering head coach Doug Pederson's scheme.
The new philosophy is one that will play to Sproles' strengths, which is why the Eagles signed him to a one-year extension last month. Staley firmly believes his two other vets can also excel because he knows they can play, especially Mathews.
"Football is football at the end of the day," Staley said. "No matter if you're going fast or slow, you still have to line up and be able to dominate your opponent offensively and that's our mindset and that's what we want to do. So no matter if we're under center, gun, pistol, empty, whatever you want to call it, we want to be able to put our best guys out there to make plays and Ryan is one of those guys. You saw last year in the Carolina game, he was able to break lose for a (career-long) 63-yard run and he still has those skills."
With those three veterans leading the way, it also gives rookies Wendell Smallwood, Byron Marshall and Cedric O'Neal an opportunity to grow and learn from the example their teammates set. Training Camp and the upcoming preseason games allow the backs to gain a better understanding of what is expected in the NFL.
And, with so many bodies to work with in the preseason, Staley can experiment and explore all the different ways he can deploy his guys, a strategy he says will change from week to week.
"I look at a hot hand, if that's what you want to call running back by committee," Staley said. "I also look at situational football. If we can get a linebacker matched up on Sproles, I want him in the game. If we go into that game that week and we know we have a mismatch with their linebacker or safeties versus Sproles or whoever is in that position, that's the guy that's going to get the bulk of the carries and the bulk of the passes. It'll be a game plan thing."
The Eagles' coaches will have decisions to make over the course of the next month as they work toward solidifying the 53-man roster, but Staley is confident that as long as these players stick to the process and are ready to compete each and every day, this team will be able to achieve its goals.