Our coverage of the 2017 Senior Bowl (Saturday, 2:30 p.m., NFL Network) begins today with a look at the top offensive prospects. Just last year, Carson Wentz was the top quarterback in attendance and proved to the Eagles that he was worth the No. 2 overall selection. Who will be on the team's radar after this week?
Top of the Heap: Nate Peterman (Pitt)
Peterman is clearly the best pro prospect at the quarterback position in this game. The Tennessee transfer started 24 games the past two years for the Panthers, and what makes him stand out is his ability to execute pro-style passing concepts at a high level thanks to his repetitive accuracy, good decision-making, and natural touch to all areas of the field. Capable of making big-time throws in tight windows, Peterman flew under the radar most of the season, but is now getting buzz as a potential second-day selection in April.
Practice Standout: Davis Webb (Cal)
Arm talent is usually what shines brightest from quarterbacks in practices throughout the week, and Webb has that. The replacement for Jared Goff started his career at Texas Tech, but transferred to Berkeley for his senior season and enjoyed a very successful campaign. Webb has started a total of 26 games in his career, and what stands out most with him is his arm and touch on vertical throws. Like Goff, he needs to improve his ability to work from the pocket under pressure and get through pro-style progressions, but Webb has NFL talent as a thrower.
Most Productive College Player: Josh Dobbs (Tennessee)
Dobbs has spent a lot of time as the starter in Knoxville, and while he is flawed as a pro prospect he was productive at the college level. The Georgia native threw for 53 touchdowns and ran for 32 more in his career. Dobbs has arm talent and natural athleticism, but can he prove himself this week as a pro prospect? That's the big question for him.
Best Story: Antonio Pipkin (Tiffin)
Pipkin faces a similar issue as Dobbs, but add in the uphill climb of coming from a much lower level of competition. The Division II All-America reminds some analysts of Dallas Cowboys starter Dak Prescott because of his size and his release. He has a lot of mechanical issues to work through, but he is an incredible story because of the opportunity he has this week to prove himself in front of NFL decision-makers. This senior quarterback group is underwhelming as a whole, meaning there's room for prospects to rise throughout the pre-draft process.
Philly Connection: Sefo Liufau (Colorado)
A three-and-a-half-year starter for the Buffaloes, Liufau has NFL size and athleticism for the position. He's a drive thrower with light feet, and is viewed by some as a moldable ball of clay for a prospective quarterback coach to work with and develop into a future backup and spot-starter in the NFL. The senior hails from Tacoma, Washington which is the same hometown of former Eagles safety Ron Medved.
Rest of the Pack: C.J. Beathard (Iowa)
Top of the Heap: Kareem Hunt (Toledo)
Hunt is one of the sleepers in this running back class, and he's been producing at a high level for the Rockets for a few years now. He added weight going into his junior season, and as a senior he played to that size between the tackles. Hunt seems like a safe bet to stick in the league as even a potential starter because he's a competitive runner with very good contact balance, decisive vision, elusive wiggle, and the ability to catch the ball out of the backfield.
Practice Standout: De'Veon Smith (Michigan)
Smith was my "Top of the Heap" pick for last week's Shrine Game, and he got the call up to the Senior Bowl. Smith is a physical runner with good vision and the ability to impact the game on third down as both a receiver and a blocker. His athleticism is a bit of a question mark, but he has the look of an NFL ball carrier. After standing out last week in St. Petersburg, Florida, can he do the same at the Senior Bowl?
Most Productive College Player: Donnel Pumphrey (San Diego State)
Pumphrey has put up video game numbers during his career with the Aztecs, rushing for at least 1,600 yards in each of the past three years including 2,133 as a senior. A diminutive ball carrier with a small frame, Pumphrey is quick, tough, has good vision, and catches the ball well out of the backfield. How will his lack of size impact his ceiling in the NFL? That's a question he can begin to answer on the field in Mobile this week.
Best Story: Sam Rogers (Virginia Tech)
A high school football star who stood out as a quarterback, receiver, and linebacker in his early years, Rogers walked on at Virginia Tech in 2013 and immediately took over the starting job as a fullback, a position he had never played before. He was one of the biggest playmakers in the Hokies' offense as both a receiver and a runner by the end of his senior year. He lines up at a number of spots and wins with his athleticism and savvy route running.
Philly Connection: Jamaal Williams (BYU)
Many analysts are high on Williams, who ran for over 1,300 yards as a senior, and for good reason. He's a physical back who, like Smith, can impact the game as a blocker and a receiver. His vision in between the tackles is a bit up and down, and there are questions about his overall athleticism. But this is a great showcase for Williams against some of the best backs in the country as he builds off what he learned at BYU, where former Eagles running back Reno Mahe was his position coach throughout his college career.
Rest Of The Pack: Corey Clement (Wisconsin), Matt Dayes (N.C. State), Freddie Stevenson (Florida State)
Top of the Heap: Taywan Taylor (Western Kentucky)
There's no question in my mind that Taylor is the best receiver in Mobile this week. He's gotten better as a route runner every year for the Hilltoppers. He is athletic, reliable at the catch point, and great with the ball in his hands after the catch. He doesn't have great size and isn't going to blaze in the 40-yard dash at the Combine, but Taylor has the makings of a starting NFL receiver.
Practice Standout: Josh Reynolds (Texas A&M)
Reynolds is a bit of a "boom or bust" type prospect, and if he "booms" this week he will be considered one of the big winners at practice. Reynolds has size at just under 6-4, speed to get vertical, and Velcro-like hands. He's not a polished route runner and needs to improve getting off press coverage, but he's a talented prospect with a pretty high ceiling on the outside.
Most Productive College Player: Cooper Kupp (Eastern Washington)
Kupp has been scorching stat sheets since his true freshman season, catching a total of 428 passes over four seasons, more than any other wide receiver drafted in the last five years. Now the 6-2, 209-pound wideout is hoping that his collegiate success translates to a productive NFL career. Kupp isn't a burner, but is a reliable pass catcher, an above-average route runner with decent athleticism with really good hands who could potentially project to the outside or inside to the slot in the NFL. Could Kupp follow in the footsteps of his father and grandfather, who played in the NFC East for the Giants and Cowboys, respectively?
Best Story: Jamari Staples (Louisville)
Listed at 6-4, 191 pounds, Staples was a big man without a home after UAB shut its doors and disbanded the football team after the 2014 season. He was left without a program and was, in essence, a free agent. I'd say things worked out all right for the Alabama native as he returns to his home state for this game after a productive two-year stint with the Cardinals. Staples was third on the team this year with 36 catches for 615 yards and a pair of scores, catching passes from the Heisman Trophy winner Lamar Jackson.
Philly Connection: Isaiah Jones (East Carolina)
Jones set the FBS record for catches in a career (339), a record set by one of his former teammates a few years ago in Justin Hardy. At 6-2, 193 pounds, Jones has good size and really reliable hands. He's not a burner, and there are questions about whether he can separate on the outside, but he has a place in the NFL. It also helps to have family who members have been through it before. Jones' brother Cayleb was with the Eagles last summer in Training Camp, while his uncle, former pro quarterback Jeff Blake, was a member of the 2004 NFC Championship team.
Rest Of The Pack: Ryan Switzer (UNC), Trent Taylor (Louisiana Tech), Travin Dural (LSU), Fred Ross (Mississippi State), Artavis Scott (Clemson), Amara Darboh (Michigan), Amba Etta-Tawo (Syracuse)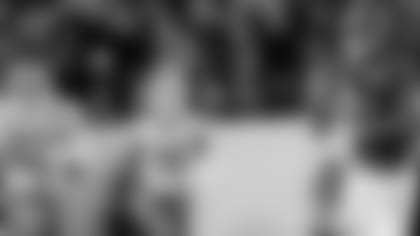 Top of the Heap: O.J. Howard (Alabama)
You can argue that Howard (above) is the best overall prospect at this game. An all-around tight end who can impact the game as both a receiver and a blocker, Howard has been making plays in the SEC since his true freshman season. He's had some drop issues throughout his career, so that's something he can definitely prove to talent evaluators this week, but it seems at this point that Howard is a lock for the first round of April's draft as, potentially, the first tight end off the board.
Riser of the Week: Gerald Everett (South Alabama)
Everett won't have to acclimate to new surroundings this week, as the senior tight end called Mobile's Ladd Peebles Stadium home for the last four years with South Alabama. The athletic tight end is a problem for defenses after the catch, and he has the ability to get in and out of breaks quickly as a route runner. In a talented tight end class, Everett is flying way under the radar. If he can make some plays down the field during practice, I think he'll start to catch the eyes of media and fans as we begin the pre-draft process.
Most Productive College Player: Michael Roberts (Toledo)
We got a chance to see Roberts and his freakish hands last week at the Shrine Game, and he fared well. Scouts are clearly intrigued by the in-line tight end, as he got the call to go to the Senior Bowl late last week. The Cleveland native wasn't largely productive during the entirety of his career, but there's nothing like saving the best for last, as he posted 16 touchdowns in 13 games as a senior in 2016.
Best Story: Evan Engram (Ole Miss)
I could've easily picked Engram as the player who could stand out this week in practice. The supersized wideout is only 233 pounds, but his speed down the seam and ability to play the ball in the air is outstanding. Coming out of high school, Engram went to the same high school as former Alabama running back Kenyan Drake, and he was hoping for that same offer from the Crimson Tide. That offer never came, and as Signing Day grew closer it looked like Engram was ready to go to Wake Forest until Ole Miss swooped in with a late offer to bring Engram to the SEC, where he has torched defenses ever since.
Philly Connection: Jonnu Smith (FIU)
One of the most productive tight ends in the country over the last four years, Smith reminds me a bit of Trey Burton in that he's undersized and athletic, but he's also competitive as a blocker. Burton was a better route runner coming out of Florida, but it's not the similarity to Burton that connects Smith to our city. Smith he actually was born and raised in the City of Brotherly Love, starring for the Northwest Raiders during his Pop Warner days. After the passing of his father, Smith's mother thought it best for him to move to Florida for a better life, and Smith is now on the doorstep of reaching his NFL dream.
Rest of the Pack: Jeremy Sprinkle (Arkansas)
Top of the Heap: Taylor Moton (Western Michigan)
Whether it's at guard or at tackle, Moton has a future in the NFL based on what I've seen on tape. The senior has played both positions throughout his career, and what stood out to me most about his game was his strength and his "Energizer bunny" feet that never stop on contact as he runs defenders out of the frame. Moton is a well-rounded lineman who is always in the right position and stepped up in a big way against the best competition on his schedule. He could be the latest MAC offensive lineman to benefit from a big week in Mobile (just ask Central Michigan's Eric Fisher how that worked out for him in 2013).
Riser of the Week: Antonio Garcia (Troy)
I was very tempted to put Garcia at the "Top of the Heap," because his ceiling is the highest of any blocker at this game. Garcia reminds me a bit of All-Pro tackle Tyron Smith because he's a great athlete with extremely light feet, long arms, and a nasty demeanor. Garcia started 42 games for the Trojans. He can be a bit wild with his hands and late off the ball at times, but Garcia has the look of a starting blindside protector in the NFL. It would not shock me at all if the first-round buzz picks up on this prospect at the end of this week's slate of practices.
Best Story: Forrest Lamp (Western Kentucky)
One of the sleepers of the class this fall doesn't feel so "sleeper-ish" right now because many analysts think Lamp could hear his name called on the second day of the draft. At 6-3 and just under 300 pounds, Lamp was a four-year starter at Western Kentucky and has all of the key traits you look for in a quality NFL offensive lineman. He's smart, tough, plays under control, and he uses his hands really well. He more than held his own against Alabama's devastating front four earlier this season, and a performance like that this week would cement himself as one of the best interior linemen in the draft.
Lamp's background story is really interesting as well. The Venice, Florida native grew up in the same hometown as Eagles tight end Trey Burton and went to the same high school. John Peacock, the same coach who convinced Burton to move to quarterback that eventually got him to the SEC, convinced the then 210-pound high school junior to put on 50 pounds for his final high school season because he had a future as an NFL offensive lineman. That seems to have paid off, and Lamp is ready to cash in on that gamble.
Philly Connection: Jordan Morgan (Kutztown)
I could've gone with the Temple Owl (with the legendary last name) in Dion Dawkins for this spot, but I chose Morgan because he's from right here in the city. The Philadelphia native went to Parkway Northwest High School, and after getting little attention in recruiting he went to nearby Kutztown University and became a Division II All-America selection. A three-time first-team all-conference player, Morgan is athletic and has bad intentions for defenders. He has to prove that his skills will carry over to the NFL as the first Kutztown player to go to the Senior Bowl since former first-round pick John Mobley in 1996.
Rest of the Pack: Dorian Johnson (Pitt), Ethan Pocic (LSU), Dion Dawkins (Temple), Danny Isidora (Miami), Zach Banner (USC), Adam Bisnowaty (Pitt), Dan Feeney (Indiana), Tyler Orlosky (West Virginia), Isaac Asiata (Utah), Nico Siragusa (San Diego State), Julien Davenport (Bucknell), Conor McDermott (UCLA), Justin Senior (Mississippi State), Jessamen Dunker (Tennessee State), Jon Toth (Kentucky), Kyle Fuller (Baylor)
Fran Duffy is the producer of "Eagles Game Plan" which can be seen on Saturdays during the season. Be sure to also check out the "Eagle Eye In The Sky" podcast on the Philadelphia Eagles podcast channel on iTunes. Prior to joining the Eagles in 2011, Duffy was the head video coordinator for the Temple University Football team under former head coach Al Golden. In that role, he spent thousands of hours shooting, logging and assisting with the breakdown of the All-22 film from the team's games, practices and opponents.