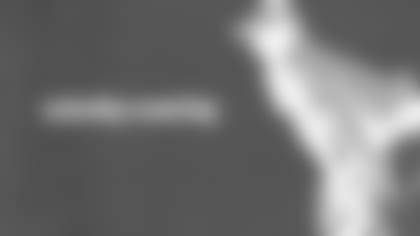 One of the first things NFL scouts do when looking at draft prospects in the spring in preparation for the NFL Draft is watch them against the best competition they faced in the previous season. How did a wide receiver fare against the best cover corner on his schedule? How did a pass rusher do when he faced a top-flight left tackle? How did "Quarterback X" perform against the best defenses he faced? This fall we're going to take a look at the best head-to-head matchups in each week's slate of college football games, and give fans a preview of the top names around the country in the process.
We've reached that time of the fall where every week in college football is bigger than the last, but that's certainly the case this week. There are a number of huge games with playoff implications in the balance on Saturday. With the end of the season just around the corner, NFL Draft discussion is starting to pick up around the country. This week on the Eagle Eye in the Sky Podcast, I spoke with Larry Williams from Tiger Illustrated to get the scoop on all of the top prospects for the Clemson Tigers, ranked as the No. 1 team in the College Football Playoff rankings this past week. And this week on the College Draft Podcast with Ross Tucker, we broke down all the best matchups from the two top games of the week - Alabama vs. LSU and Florida State vs. Clemson - and heard from our old friend Lance Zierlein of NFL.com.
1. Ohio State QB Cardale Jones vs. Minnesota Defense
Ohio Stadium, Columbus, Ohio - 8 PM - ABC
At 6-5, 250 pounds, Cardale Jones possesses a unique skill set with his frame, athletic ability and arm strength. His inconsistencies at the quarterback position, however, are what cost him the Buckeyes' starting job earlier this season in favor of J.T. Barrett. After Barrett's announced suspension a week ago, Jones re-enters the lineup and should see a full workload for the first time since last winter's title run after splitting reps throughout the fall. Can he take the job back for good? Jones has all the tools, but has been unable to put it all together. His spats of inaccuracy, bad decision-making and questionable poise in the pocket have caused the otherwise potent Ohio State offense to stutter this season. He'll have a chance to rectify that tonight against a hungry Minnesota team.
Minnesota has been on the upswing since Jerry Kill took over. This is a team on a mission following Kill's retirement due to health concerns two weeks ago. They've got a handful of NFL prospects, specifically on the defensive side of the ball. They'll present Jones with his biggest test since Virginia Tech in Week 1. Let's start in the secondary, where two senior cornerbacks caught my eye this offseason. Listed at 6-0, 196 pounds, Eric Murray reminded me of a poor man's Kevin Johnson, last year's first-round pick of the Houston Texans out of Wake Forest. An instinctive corner who has pretty clean feet, Murray has solid athleticism and the look of a mid-round pick in the NFL Draft.
Teammate Briean Boddy-Calhoun, who looks much smaller than Murray despite being listed just one inch shorter, is the one who really popped though. Boddy-Calhoun has great athleticism, with the ability to hang in man coverage in every area of the field. His ball skills are what he hangs his hat on, however, as he made a number of acrobatic interceptions as a junior where he played the ball better than most wide receivers did. I would expect to see Murray matched up often on standout junior receiver Michael Thomas, while Boddy-Calhoun should see extended work against Braxton Miller in the slot.
At linebacker, I've always been very intrigued by De'Vondre Campbell, who has great size at 6-5, 241 pounds plus the athleticism to run with tight ends down the field. He's used often in coverage, and is very active against the run. While he's still coming along as a pass rusher, his position versatility will go a long way toward his draft grade in the spring. One of the team's leaders in sacks, senior edge rusher Theiren Cockran has an NFL frame at 6-6, 257 pounds, and his long arms allow him to keep blockers at bay. He's still learning how to use his hands as a pass rusher, but his burst off the ball will get him looks at the next level, perhaps late in the draft.
2. LSU RB Leonard Fournette vs. Alabama LB Reggie Ragland
Bryant-Denny Stadium, Tuscaloosa, Alabama - 8 PM - CBS
Easily the best one-on-one matchup of the weekend, watching the Heisman Trophy front-runner Leonard Fournette go up against star Alabama linebacker Reggie Ragland is a battle I've waited for since the start of the season. Fournette is a treat who every football fan should enjoy before he leaves for the NFL in a couple of years. He's got outstanding size, has springs for legs and the ability to run through you or past you in the open field. He's not eligible for the 2016 NFL Draft, but expect Fournette to be a first-round pick when he enters the league.
I've been a huge fan of Ragland since I first watched him a year ago after he stepped into the starting lineup in place of former first-round pick C.J. Mosley. Ragland should follow in Mosley's footsteps as a Day 1 selection, as his range, physicality and instincts have all stood out to me this season. Many questioned his coverage ability entering 2015, but I've seen him make a number of plays both down the field and underneath as a zone defender that should put all of those fears to bed. Ragland is one of the most physically imposing defenders in all of college football. There are a lot of battles to watch in this game, my favorite college football game of the year, but this is going to be the one I'm most focused on.
3. Clemson RB Wayne Gallman vs. Florida State LB Terrance Smith
Memorial Stadium, Clemson, South Carolina - 3:30 PM - ABC
When the No. 2 team faces the No. 4 team in the rankings like you have with Alabama vs. LSU, the stakes are going to be high. But they are just as high in this Florida State-Clemson matchup, with the Tigers being named the No. 1 seed in the first set of playoff rankings, and Florida State nipping at their heels in the ACC. There are a number of big-time prospects on both sidelines in this game, but let's focus on Clemson running back Wayne Gallman first. The bell cow of the Tigers' offense, Gallman is a violent runner who looks to run through tackles and fight for every yard he can scrape up on the ground. At 6-1, 205 pounds, the junior has good lateral agility with the ability to jump cut and make defenders miss to get himself out of harm's way. A solid receiver in the passing game as well, the only question I had about Gallman coming into this season was his vision. I thought he left some yards on the field in 2014. This Florida State defense will be surefire way to test that vision this afternoon.
Defensive back Jalen Ramsey, who I think is the best corner in the nation and might be one of the top five players in the entire country overall, is the premier prospect on this Seminoles roster, but I'm a fan of linebacker Terrance Smith as well. Smith has good size at 6-3, 234 pounds. In fact, a lot of pundits saw Smith as a defensive end coming out of high school. The FSU staff kept him at linebacker, however, and he has flourished. Smith has great speed in the open field, loose hips in coverage and he uses his hands very well at the point of attack to keep himself clean in the run game. Teams are looking for big, long, athletic defenders who can match up with the tight ends of today's NFL. Smith could potentially fit the bill as one of those players, but watching him come downhill to take on Gallman will be just as fun to watch today.
4. Pitt WR Tyler Boyd vs. Notre Dame CB KeiVarae Russell
Heinz Field, Pittsburgh - Noon - ABC
A lot of people are touting Ole Miss wideout Laquon Treadwell as the top draft-eligible receiver in the country. He is surely a talented player, but I lean more toward Pitt's Tyler Boyd in that slot. A true junior who has been an impact player since his freshman year with the Panthers, Boyd has the size and speed combination to be a dynamic X receiver. A good college route runner with the potential to be even better, Boyd's strength lies at the catch point, where he often makes things look easy when he goes up to attack the football in the air in contested situations. Pitt lost running back James Conner, the focal point to their offense a year ago, so they've had to lean even more on Boyd this fall. He has been used in the screen game, on jet sweeps and even in the backfield as a ball carrier at times as well. Look to see plenty of Boyd today when the Panthers take the field against the Fighting Irish.
When I attended the Temple-Notre Dame game last Saturday night, I looked at the opposite sideline and you could see the level of NFL talent. Players like Jaylon Smith, Ronnie Stanley, Will Fuller and Sheldon Day made plays all night long, but it would be KeiVarae Russell who would end the Owls' night with a clutch interception late in the fourth quarter to seal the victory on Temple's final drive. Russell passed the eye test for me in person a week ago, as he has the body of an NFL cornerback at a well put-together 6-1, 196 pounds. He's got fluid hips, great change of direction and his ball skills were put on display with that interception in the closing moments. After missing all of last season, he was a bit slow to start the year, but he's hitting his stride and he is well on his way to being one of the first corners drafted this spring.
5. Oregon State OL Isaac Seumalo vs. UCLA DL Kenny Clark
Reser Stadium, Corvallis, Oregon - 4:30 PM - Pac-12 Network
Viewed by many as one of the top interior lineman in the entire country, Isaac Seumalo flies under the radar right now at Oregon State, but people continue to take notice. After missing all of last season due to foot surgery, Seumalo was still ranked by ESPN's Mel Kiper as the top underclassmen center prospects in this draft class over the summer. He's got good size for the position at 6-3, 310 pounds. His strength at the point of attack is what a lot of analysts point to as his most impressive characteristic between the lines.
Seumalo will get a tough test this week in one of the top defensive tackles in the entire country in UCLA's Kenny Clark. At 6-3, 308 pounds, Clark is a very impressive athlete, with the quickness, flexibility and burst to win off the ball and make plays against the run and the pass. His ability to anchor down at the point of attack against a double team is unique, and his heavy hands allow him to jar opponents on contact, letting him control the blocker and find the ball to make the play. Little things such as eye discipline, two-gapping effectiveness, ability to stay square to the line of scrimmage and his consistent hand placement result in him being very disruptive. He'll be a big test for Seumalo this afternoon.
Fran Duffy is the producer of "Eagles Game Plan" which can be seen on Saturdays during the season. Be sure to also check out the "Eagle Eye In The Sky" podcast on the Philadelphia Eagles podcast channel on iTunes. Prior to joining the Eagles in 2011, Duffy was the head video coordinator for the Temple University Football team under former head coach Al Golden. In that role, he spent thousands of hours shooting, logging and assisting with the breakdown of the All-22 film from the team's games, practices and opponents.