A veteran of the league, DeMeco Ryans has been through enough to know that with a new group of players around him, new coaches and a new scheme to learn, he's going to be occupied mentally every minute of the season ahead.
Add to that the task of making sure his teammates are looking ahead, and not back at the remains of the 2012 struggles, and Ryans has as complete a task list that he's ever faced.
"The biggest thing," says Ryans, "is understanding that this is a business and that you have to take it day by day. You don't look back and you don't look ahead. You want to have a great day that day. That's all you can control.
"I'm excited about all of this, all of the new faces and the changes and the energy. It's a new season. What happened in the past doesn't matter at all."
What needs to happen very quickly when Training Camp opens in a couple of weeks is that Ryans helps his linebacker mates organize their assignments very quickly. The Eagles say they are going to have a hybrid scheme defensively and that the looks upfront will vary between a 3-4 and a 4-3. Thus, Ryan's role and responsibilities would vary with the fronts called by coordinator Billy Davis.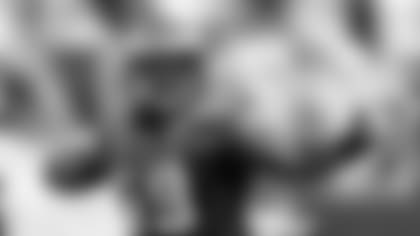 It is all part of the daily grind that Ryan will soon encounter in the center of an ever-changing Eagles defense. The coaching staff has been coy about its plans for the defense and the roles of certain players – for example, what is the exact role of Trent Cole? How will Connor Barwin impact at linebacker? – but this much the coaches know: Ryans is the leader here and he's going to be an invaluable piece of the defensive puzzle.
All of that sits perfectly fine with a player acquired by the Eagles prior to the 2012 season in a trade with the Houston Texans. Ryans has already been through much in his career – he was part of a Texans franchise looking to establish itself, he gained early recognition for his early play, he was sidelined with a major injury and then he had to work to get back to form after suffering the Achilles tendon tear in 2010.
Then Ryans was traded away to an Eagles defense that in the course of the '12 season changed coordinators and philosophies in mid-stream and ultimately tailed off after an extremely strong start to the year.
Anyway, the past is the past and we're moving forward. All of us. The players. The organization. Me. You. Everyone. All together. What's ahead is the great unknown on many levels.
The rock in the middle of it all is Ryans, a role model on and off the field to admire. He is a lifetime achiever who is a complete man – academically motivated in his classroom days, very involved in the community and recently married – in every phase of his life. There are a lot of moving pieces within this Eagles defense and how it turns out, nobody knows.
Ryans understands that he has to look at the picture in small steps.
"We won't know just where we're at as a defense until we're on the field and the games are being played and we have to adjust and make a stop," he said. "All of what we're doing before then is preparing for September and the season.
"We have a lot of players here who are working hard, working together. We haven't had a chance to put on the pads and get after it yet. That's going to be a good indication of how much progress we have made, when we get to that point. It's really something new for all of us, so we have to work together and understand that the entire team is going to succeed together. It's not an individual thing at all. It's what we do collectively that will allow us to have success."
That's the message, then. When training camp begins and the heat gets turned up and the young players on this team look for a leader, Ryans is one of the veterans delivering the message. It's going to be about a team coming together as one, not one standing first in line taking the team by the facemask.
"We're still getting to know each other," said Ryans. "It's a new start for everyone here. We all have a lot to prove to help this team win. I know I'm going to enjoy it."