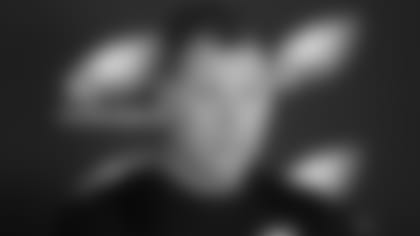 Q. You're the connection to QB Sam Bradford initially. How did the idea come up to get Bradford here? Do you remember at what point you thought this might be a possibility? Did you bring it up to Chip Kelly? How did you guys start thinking about Sam Bradford?
COACH SHURMUR: There was no really definite day. I think in the offseason teams make changes. You do things that change the roster. We just made some changes to guys that would be considered household names. But certainly I had experience with Sam in his first year in St. Louis, so I knew a great deal about him. Basically, I was able to just give some insight to what Sam was all about as a player, and then all the other stuff kind of happened down the hall from me.
Q. When you looked at tape of Sam in his last three years -- when you worked with him in St. Louis compared to when you weren't working with him, did you see anything different?
COACH SHURMUR: Well, I watched him. He's the same player. He's a guy that takes great pride in his work, whether it's calling the play and making sure the guys get lined up to executing the cadence, to dropping back and throwing, his ball handling, his decision making. So I saw the same player. Unfortunately, he just had some injuries and some of those things you just can't control.
Q. How did he change in terms of being a few years older and going through some of the hard times he's gone through?
COACH SHURMUR: Well, I think experience makes us all better. It's not always pretty. There are times when you've got to experience  I like to think sometimes when you have some things go wrong it ends up being sort of a blessing because you learn from them. I think just in the time that we've been together here in Philadelphia, I think he's gotten his body and his knee right, and you can see he's executing out here at a high level.
Q. Speaking of changes, this team has had a lot of changes in the offseason. Nine new starters, maybe ten if LB Kiko Alonso starts. What sort of challenges does that present and how does the team manage that process?
COACH SHURMUR: I think it would be a challenge if you didn't train the way we did. We had a great deal of reps in the spring. The way we practice and the way we train. guys get a lot of reps. These guys have all played other places before, but the new guys that we brought in were able to get the reps they needed, and they got up to speed quickly.
Q. What did you think about RB Ryan Mathews before he came here, and how has your perception changed now that you have him?
COACH SHURMUR: Well, I had a little smile on my face when he came here. I remember when he came out of college, coming out of Fresno, I thought he was an outstanding running back, and we certainly weren't in a position to draft him. But I've always kind of appreciated what he is as a player. He's showing out there that he's a real, solid, sturdy guy. I wouldn't call him a downhill runner, but I think because he has really good vision and he catches the ball well and he does a good job in pass protection. So we're very fortunate to have him.
Q. Do you think it was just health in San Diego that sort of slowed Mathews?
COACH SHURMUR: I think so. Again, you can't control all that. I've spoken to [former Chargers Head Coach] Norv Turner about him when we kind of interact at NFL functions. I know he had a lot of really great things to say, much like [Chargers Head Coach] Mike McCoy.
Q. What was your message to Mathews when he was here at the same time as you guys were courting RB DeMarco Murray? He was kind of in a little limbo there --
COACH SHURMUR: There is no message when all of that is going on. I think we're fortunate we've got some really fine players. We brought in guys that were starting running backs and we have them here and I think that's great. So I think when guys look at making changes or moving to another team, they look at the things that are good about an organization and I think it says a lot about our organization when we have guys that choose to come here.
Q. How do you see the battle at right and left guard going? Where do you see that?
COACH SHURMUR: Well, we're working a bunch of guys in there. I shouldn't say a bunch, but a small handful. It's going well. Again, we're only into really the end of our first week of competition out there, so it's a little too early to tell what's going to happen. But we feel good about the progress that the guys that could potentially play there are making.
Q. Since last year ended, you've got potentially a new quarterback, two new running backs, change at wide receiver. Could you describe the level of on the same pageness?
COACH SHURMUR: Yeah, I'll go back to the answer I gave a little earlier. It's not a big concern for us because we get a lot of reps and they get to do it over and over and over. If we were in a different setting, like in a couple of my former lives, where you don't get as many reps, then that might be a bigger concern. But for us I think these guys have picked it up pretty well. It's a credit to them. They're very professional. I think we have a system that can be learned in a way where they can pick it up quickly.
Q. You said last year at this time in relation to WR Josh Huff that he was going through a process of realizing that this isn't Oregon's offense. This is a different offense. Where is his development in terms of the offense and understanding the plays, et cetera?
COACH SHURMUR: Well, he's made huge improvements. I think when you look at his game as a receiver, he's done some really good things with his release technique. He's making more plays down the field, and he's kind of a quick, powerful type guy that does a nice job in the run game as well. So he's just developed his total game and I think from an individual kind of fundamental basis to also being more familiar with what we do. So it's just kind of a well rounded improvement and we're expecting big things.
Q. As you watch Sam, what do you look for on the field, on film, to show you that he's back from the injury?
COACH SHURMUR: Well, when he's out there playing, the team drills are kind of uncontrolled in some ways. We don't hit the quarterbacks, but there are times when everything's always designed to drop back and throw or play action and throw. He's had a handful of plays where he's had to scramble and make a play where it's a little bit uncontrolled, both to his right and to his left, which he's done. We just sort of are checking off the boxes as we go and watching. He's doing a good job with that.
Q. Bradford has a reputation as an accurate thrower, but his career completion percentage doesn't reflect that. I'm wondering why you think that is? Are there stats that coaches use that may be a better determining factor?
COACH SHURMUR: I can't speak to that. It takes two to tango when we're talking about completion percentages. We do know he's a very accurate passer, and in the progressions that we're running he's displayed an ability to throw the ball accurately and on time for us.
Q. How is WR Nelson Agholor doing and what is the progress that he's making?
COACH SHURMUR: He's doing terrific. He came in in a little bit of  it's always a little bit of a slow start. When you're a high draft pick, you're sort of on the rubber chicken circuit up to the draft, and then you're quickly thrown into competition where there is a lot going on. But he's actually done a really, really good job. You can see he's becoming more and more comfortable out there playing.
Q. How about Agholor's blocking? It's a big part of the receiver scheme. How is he in that end of things?
COACH SHURMUR: He's a tough, competitive guy. He understands angles, and I think he's done a good job with those.
Q. Back to the right guard, has anyone jumped out at this point?
COACH SHURMUR: Yeah, we really haven't decided at this point. As I mentioned earlier, they're just out there battling. It's too early to tell. Too early to tell.
Q. Do you feel comfortable with the options at that position?
COACH SHURMUR: Yeah, I guess the guys that we're all talking and writing about, we feel comfortable with them all being in there. So it's just a matter of us picking one and that's sort of where we're at right now.
Q. When do you think you will get that position settled?
COACH SHURMUR: At the right time, and I can't tell you exactly when that's going to be.
Q. Bradford has had a lot of different offenses he's had to learn since being in the league. Has that stunted his growth?
COACH SHURMUR: You certainly would like continuity. It would have been nice to see what he could have done in his second year in the system we employed when we were first together. But he's a very smart guy. Quarterbacks get used to learning new things and they take great pride in learning it, and Sam's done that. I think we're just moving forward with him. He's got all the things we need to get it going.
Q. As far as that goes, QB G.J. Kinne is a quarterback learning a whole new position. Has he done enough to give himself a chance?
COACH SHURMUR: Heck, he's learning two positions. You saw him at running back. We put him at receiver. He's like that utility infielder. He's kind of [former Detroit Tigers second baseman] Lou Whitaker and [former Detroit Tigers shortstop] Alan Trammell all wrapped up in one. But he's done a really good job. And he's one of those unselfish players that will do anything to help us win football games. He's one of those guys. We tell all the players, we want you to make our team, and if you don't make our team, we want you to make somebody else's, and that is the way you have to approach your training, and I think he does that.
Q. When you look at WR Jordan Matthews production last year, in what way did his size specifically create problems for opposing nickels?
COACH SHURMUR: Well, it can be a problem and certainly being a bigger guy and being a physical kind of release-technique-type guy, if he gets matched up on a littler player, certainly it's an advantage to him. But he certainly is nifty enough to beat a guy his size, but it does help. It's always good to be bigger.
Q. RB Darren Sproles played 29% of the snaps last year with only one running back ahead of him. Now there are two ahead of him. How do you get him on the field more with that equation?
COACH SHURMUR: You've seen us and had a chance to watch us. We'll line him up in a lot of different places. We'll find a way to get him on the field. We just think that's a smart thing to do. Whether we're handling the ball or throwing it to him, we'll certainly make sure that happens.
Q. What about the tight ends after TE Zach Ertz and TE Brent Celek. Who do you see looking good there?
COACH SHURMUR: Well, [TE] Trey Burton has done a good job. He kind of burst on the scene as a guy that kind of came here at the end of the draft and he did a great thing. He's one of those guys that's really talented as a receiver. He's become a better blocker. He had the same kind of offseason mindset that Ertz did. He and Zach, I think, have improved their blocking. And he made such an impact on special teams that he's always going to be sort of relevant for us, and he's done a good job.
Q. In this case, it looks like Burton has added a lot of bulk --
COACH SHURMUR: Yeah, a little bit thicker. I think he kind of re proportioned his body. Kind of a sports science thing.
Q. How about a guy like G John Moffitt who came on after OTAs and Mini Camp? How is his progress? Is he a guy that could potentially lineup and start?
COACH SHURMUR: He's one of those guys that's in the mix there. I think for him he's got to do extra on the side to catch up. He's one of only two players that didn't go through the whole process on offense with us. But he's a smart guy. He's been in other systems, and it's just a matter of kind of converting what he knew. What they used to call inside zone is what we call it now in some of the techniques. And then certainly all the pass protection stuff which is critical. But he's done a good job.
Q. The other tight ends…the young guys?
COACH SHURMUR: We've got [TE Eric] Tomlinson, [TE Justin] Tukes, and [TE Andrew] Gleichert. All guys, they come out here each day, and it's kind of like one day one does a little better than the other, and they're all just sort of in the mix there competing. That's really a good crew of guys. We'll just have to see if somebody can pull out of that.
Q. Is it too early to see if there is going to be a big difference in Ertz's blocking technique?
COACH SHURMUR: Yeah, we've seen a difference. A lot of it comes down to your initial footwork, whether you hit the target the right way. Then once you hit your target, can you finish with your feet? I think that's the key thing for tight ends is to make sure they use the right foot work, hit the target and then finish. Because a lot of times they're outmanned or the guy they're blocking has got a little bit bigger  if you go into the defensive line room, they're all bummed out if a tight end whips them. So that's where you start.
Q. Are you working Huff exclusively outside?
COACH SHURMUR: No, he's got some slot work as well. I think, yeah, inside or out. It doesn't matter.
Q. Do you have a preference with Huff?
COACH SHURMUR: No, I don't think so. I think he's gotten most of his work outside, but certainly through last year and now through the early camp, he's worked inside. No preference.
Q. Is there any concern about DeMarco Murray? He was out sick, and then the first day he only went through a couple of the drills.
COACH SHURMUR: No, he was just a little bit under the weather yesterday.
COACH SHURMUR: Yeah, he's better. Yeah, he's here.
Q. What about Agholor? How has he been doing both inside and outside?
COACH SHURMUR: Good. I mentioned earlier, I think one of his strengths is his ability to release the line of scrimmage because he's got some initial quickness and a good feel. But, yeah, he's worked both inside and out.
Q. What do you think so far of RB Raheem Mostert?
COACH SHURMUR: Raheem, he's fast. He's really fast. He's caught our eye because he's caught the ball well. He's run the ball well. And he's one of those guys, if you give it to him, I think he's got a chance to go the distance, so that is the type of speed that he has. We'll just see how it plays out.
Q. Sam and QB Mark Sanchez are the top two guys, but with the two QBs behind them, what are you seeing from QB Tim Tebow and QB Matt Barkley?
COACH SHURMUR: I tell you what, Matt is such a night and day difference from when he got here when he came here a couple years ago. He's throwing the ball much better, he's playing with a great deal of confidence. He hasn't gotten in games of late, and I think if he had, we would have seen him produce. But he's done a good job. And Tim, Tim's, I think, a little bit of a gamer. These team settings which are a little bit uncontrolled, he gets out there and makes plays. And we've seen great improvements in him from his ability to execute our offense. Then he's got that skillset where if it's not right, he's willing to take off and run, and when he's running with it, he's like a running back.
Q. Does that decision come down entirely to how they function as a quarterback or do you look at the other ways they can help the team?
COACH SHURMUR: I think as we go through the preseason games, we'll watch how they move the team. I think, again, that's one of those things that I'm sure we'll circle back on it here a lot this preseason. But it's still got to be played out.
Q. You have G.J. really doing a lot of things. I saw him doing blitz pickup with the running backs yesterday. Do you think the outside perception is that as a guy who used to be a quarterback, he's trying all these things, that it's a little gimmicky and he's got no shot? Is this a plan to just try him at everything to see what he's best at, or do you already think...
Q. What is the plan then?
COACH SHURMUR: We know he can play quarterback. Because he's a competitive guy, we're giving him the opportunity to learn and do other things so he has an opportunity to make this team.
Q. For what? Does he have to have a strength somewhere at some position? You're moving him around so much.
COACH SHURMUR: I think a guy that can become and display an ability to be multiple makes you better.